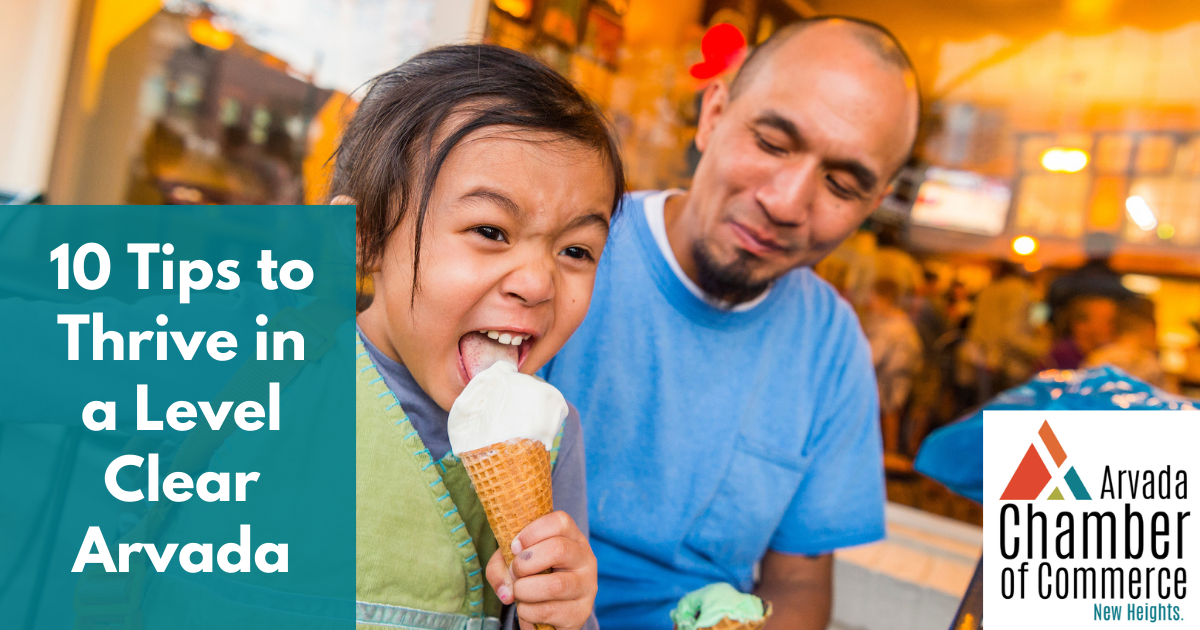 Level Clear dial status for Jefferson County and counties across the Denver Metro Area means a return to many of our favorite pre-pandemic activities, without restrictions. As more businesses and events return as usual in Arvada, keep in mind these tips to navigate a successful post-pandemic Arvada with grace, open communication, and healthy curiosity.
1. Start with kindness and patience
Even though we have all shared the COVID-19 experience, we have all experienced the pandemic differently. Businesses are adapting to new processes and workforce concerns as they ramp up capacity. Front-of-house essential workers like restaurant hosts or gym receptionists may be stressed and anxious. Keep in mind that you don't know what was affecting someone's life through the pandemic, be it financially, emotionally, or physically.
As you enter into new and familiar places again, do so with kindness, patience, and civility. Think about how you can go above and beyond as a good neighbor, client, customer, colleague, co-worker.
2. Be honest and upfront
Help out your family, friends, neighbors, and employer by sharing your anxieties, feelings of awkwardness, and burnout. It may be scary and embarrassing at first but being vulnerable can help you realize others are struggling with the same issues as you and reduce anxiety in uncomfortable situations.
3. Focus on what's in your control
State and county public health guidelines have relaxed mask requirements in public spaces. It is up to the individual to make the decision based on their comfort level and health to wear a mask in public. Please focus on your own decisions with this issue, not others.
Remember that businesses can still require COVID-19 mitigation steps, such as continued mask-wearing and social distancing measures, even if they are not required by the county or state. Support the rights of all businesses to determine how best to protect their customers and employees given their specific business environment and respectfully comply with house rules when visiting a business.
4. Shop local, #InvestInArvada and become a new regular
Last year saw accelerated digitalization across the economy as consumers increasingly turned to e-commerce and virtual options. Consider where you can start to replace big box and digital orders with local goods and services, including pet supplies, coffee, clothing, alcoholic beverages, office supplies, and fitness.
5. Make a list of the things in Arvada you are excited to do again
Level Clear and the prospect of a post-pandemic Arvada is exciting! Think about old favorites and new experiences in Arvada you can't wait to try in person. Make a list, put it on your fridge, share it on social media, and invite someone from out of town to explore the city with you.
6. Get engaged with Arvada
One way to help out Arvada right now is to get engaged with organizations, programs, and groups that advance our community. Reach out to a local non-profit or service club for information on volunteering or board roles. Participate in the City of Arvada's Neighbors Connected Program. Look into the many engagement opportunities offered by the Arvada Chamber of Commerce.
7. Leave a review and thank a local business
Two of the easiest ways to make a big impact for Arvada small businesses are to leave a review online (Google, Yelp, Facebook, etc.) and share your support on social media. Carry that energy of gratitude in person as well by writing a card, ordering flowers, or sending a gift to the staff of your favorite small business. A simple thank you to the staff can go a long way to brighten someone's day.
8. Tip big on takeout
Arvada restaurants, bars, breweries, and coffee shops shifted to provide increased takeout options in the last year to serve the community. As these small businesses adapt again to balance rising dine-in demand, you can support restaurants with takeout by ordering directly from the business and tipping big when you pick up your meal.
9. Know before you go
Before you head out to a local establishment, check on the business' website and social media for protocols and tips for you to have the best experience. You may find the business is operating under new hours or has a preferred method for reservations and ordering. Keep a mask in your car or pocket just in case.
10. Embrace different
"New normal" is just a polite way of saying "different." And different…can be awesome! As we head out into a Level Clear Arvada that may look and feel like pre-pandemic Arvada, be prepared to embrace some change. Be prepared to ask what's different and what's new, exciting, challenging, and unknown. The more that we understand this new normal for all Arvadans, the better we'll be able to thrive and take on the next challenge together.
---
Take the Arvada civility pledge!
The Arvada Chamber of Commerce is focused on advancing civility to foster leadership, open discussion and respect for all who live, work, learn and play in Arvada. Take The Arvada Way civility pledge (and pass it on!) at arvadachamber.org/civility.
---