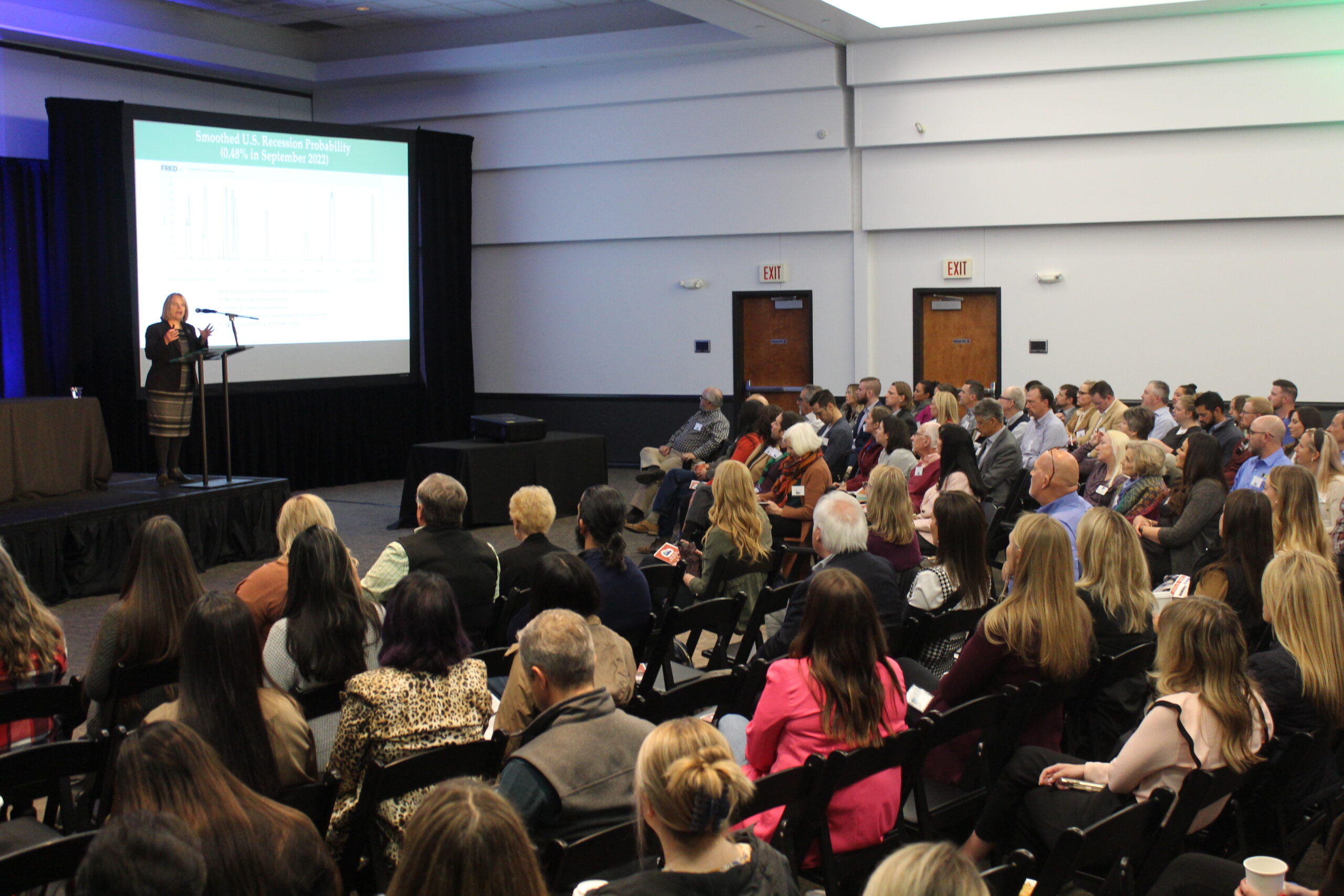 The Arvada Resiliency Taskforce hosted the 2022 Arvada Business Summit on November 9, 2022, to help Arvada professionals tackle the top local business challenges. Over 130 business and non-profit professionals attended the half-day Summit at the Arvada Center for the Arts & Humanities. Below find resources and key takeaways for each session.
Keynote Presentation: "Recession…Or Correction?"
Patty Silverstein, president and chief economist of Development Research Partners, presented on 10 key indicators of the Colorado and national economy and discussed signs of a recession or correction. The early indication is that inflation has potentially peaked, but is still at the highest levels since the 1980s. Inflation, real GDP, and the stock market signal a recession. However, indicators such as consumer spending and housing prices, which were inflated in 2021, show signs of a market correction to pre-COVID figures.
Here in Colorado, a major concern is that the state has experienced the slowest population growth since 1999. In Jefferson County, Baby Boomers (136,200) outnumber Gen X (120,100) and Millennials (130,000). Gen Z and younger represent just 28% of the county's population. Population growth, or lack thereof, can be a key factor in employment figures. Metro Denver and Colorado employment rates remain positive, as the state has recovered 116% of jobs lost to COVID. Today, the state's unemployment rate of 3.4% ranks 25th in the country as openings outpace the number of unemployed. According to Silverstein, Colorado employers are currently 110,000 employees short.
[su_panel background="#e5ebec" border="0px solid #ffffff" url="https://arvadachamber.org/wp-content/uploads/2022/11/Arvada_2022-Update_110922.pdf" target="blank"]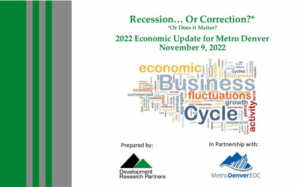 Breakout Sessions
Planning for Economic Uncertainty
In this session, Economist Patty Silverstein and our panelists above helped attendees better understand the steps they can take in business to prepare for economic uncertainty.
Kristin McCarty reminded the group that Colorado Enterprise Fund has a community loan pool with Arvada and would love to work with any businesses looking for financing at this time. The community loan fund provides favorable rates and flexible terms to businesses in the community. Learn more at this link. CEF is also launching the Quality Jobs Initiative in January in conjunction with the Aspen Institute and Gates Foundation to help teach small businesses how to create quality jobs.
If you are concerned about financing your business, the panel had the following advice:
Don't do anything rash and keep an eye on fundamentals. Ask yourself: "Is this a responsible debt burden I'm taking on?" Fast loans can impair your ability to get quality long-term funding.
Don't wait for things to get dire before getting loans. Think strategically about how now may be a good time to get a loan or a line of credit. This is easier to do when things are healthy in your businesses than when you are struggling.
On entrepreneurship, the panel is seeing a trend of people wanting to move towards being entrepreneurs, but there are blocks. Individuals want freedom and flexibility, but not accountability and risk. "Entrepreneurial freedom means the freedom to work 24/7," said Silverstein.
Innovative Hiring Practices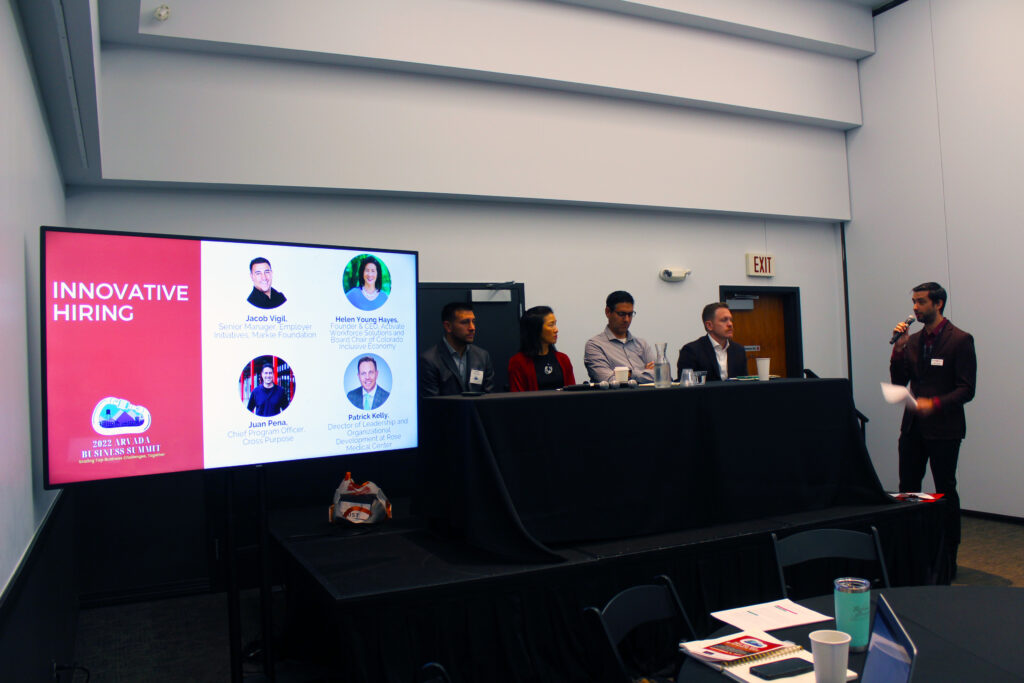 Hiring remains a top challenge for businesses of all sizes. This session helped highlight a wide range of strategies to increase your likelihood of finding and retaining the talent your company needs to thrive.
What are the barriers to hiring and retaining talent here in Colorado? The panel offered a multitude of challenges, including the cost of living, employee burnout, housing, childcare, wage inflation, outdated HR practices and cultural competence, and declining birthrates. While some of these challenges require large-scale regional solutions (such as those developed through the B.O.L.D. 2026 initiative), many of these can be solved internally.
Patrick Kelly highlighted the need for organizations to invest in high Emotional Intelligence (EQ) leadership development. "Double down on making supervisors high EQ, empathetic people," said Kelly. "What keeps people around is a team and people that care about you.  Create bosses and leaders who truly care. If you do, you solve many problems."
Helen Young noted the authenticity of organizations should be evident from the top down. That can show up in all of your public promotion, including job descriptions. "If it's not authentic, don't even advertise it," says Young.
On hiring, the panelists suggested changing your mindset in hiring to focus on the skills required to start and then build a model for training. "In the last five years, there's not as much of a skills gap as much as lack of skills recognition," said Jacob Vigil. "The degree is used as a proxy. Is the degree being utilized as a skill, or as a proxy for skills? Are you making an assumption they have certain skills?"
Vigil also noted that Markle has free resources to help businesses adopt skills-based approaches, such as a skills-based job posting generator and a sourcing and hiring playbook. Young mentioned the in-depth Colorado Inclusive Economy toolkit, which was built to support executives and senior leaders of mid-to-large sized companies and the owners of small businesses.
The panel's top four pieces of advice for hiring effectively:
Start small: change just one or two hiring best practices at once
Be a champion for your employees and culture
Update your job descriptions to ensure they are really attracting the skills and people you want
Keep a pulse on the values, goals, needs and expectations of your people
Data-Driven Marketing
Do you know who your customers are? This session helped highlight strategies to effectively use customer and demographic data to improve how you target your marketing efforts.
Christopher Lovejoy highlighted the extensive menu of data and resources offered for free by the Jefferson County Library. This includes trends, news, SWOT analysis and more of public companies, demographics for grant writing and potential funders, E-books, legal forms, and much more.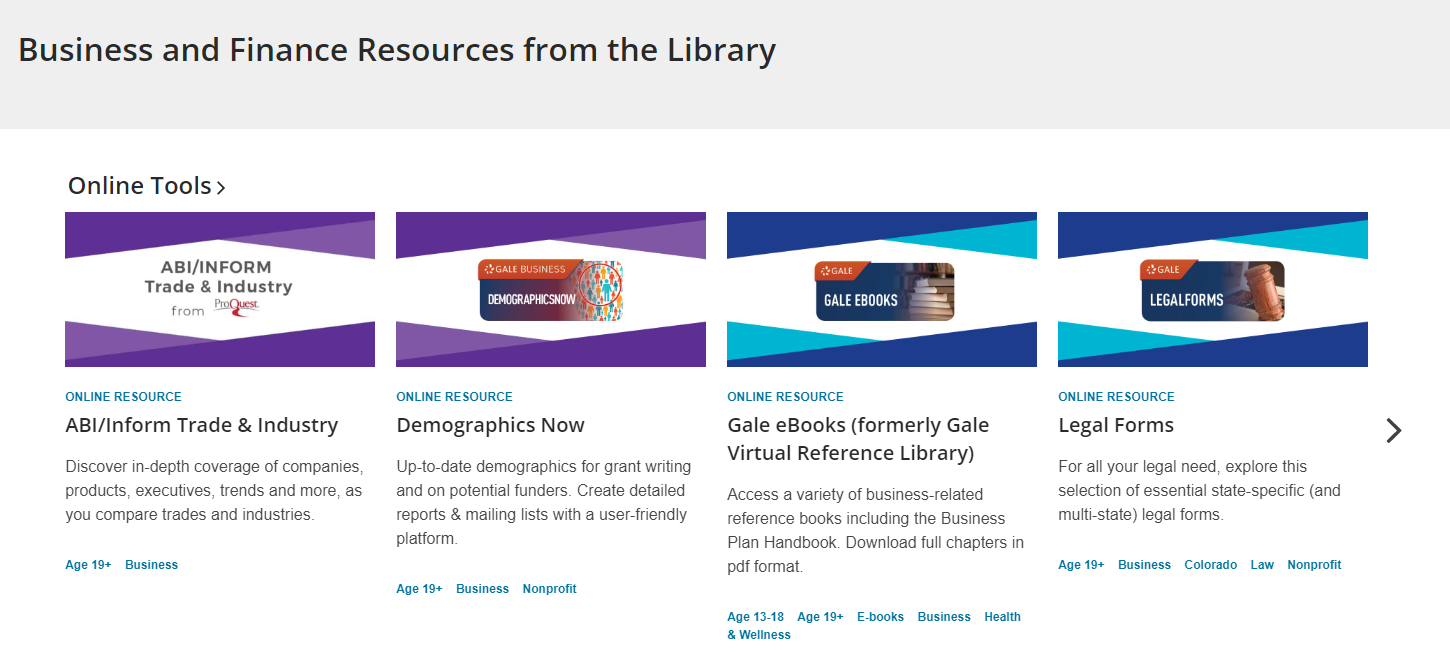 For businesses starting to take a data-informed approach to marketing, the panel suggested starting small. David Kennedy suggested carving out a piece of data that can help get quick wins. For instance, on one project he looked into tracking where clients originated. Doing so showed the biggest marketing effort and expense was yielding the smallest results.
Janelle Herrera also suggested starting with bite-sized chunks of data and building out 90-day and six-month strategies to track and build campaigns. She also highlighted the importance of building the journey of a marketing campaign from the bottom up and ensuring content is first available on the website. With the right content on the website for, say, vehicle loans, she could track the On-Tap members who visited that page and design workflows for specialists to reach out with curated support. "It's not about selling," said Herrera. "It's about helping."
Non-traditional ideas for collecting data from the panel included a raffle, a QR code at events, and a loyalty program. Kennedy noted that if you are using another business to help with data-driven marketing, it is critical to know at the start how you control and manage that data if and when you leave that relationship.
Keynote by former Denver Broncos receiver Mark Jackson, titled "Mind Your Business: How to Live Your Best Life."
Mark Jackson is eighth in Broncos history in both receptions and yards and his 16.3 average per catch is ranked 3rd. He also established the record for the longest reception in postseason play, 80 yards. Now Mark "The Drive" Jackson is a Lifestyle Trainer. He founded Jack & Associates in 2007 to assist people with proven strategies for wealth preservation and growth. He believes everyone has a Champion inside just waiting to be discovered.
In his engaging and energetic keynote speech, Jackson emphasized the winning strategy of attitude over skill for your team. As we learned in the day's previous sessions, skills are critical in assembling the right team, but coalescing around a shared attitude determines the ceiling of your team's potential.
---
The Arvada Resiliency Taskforce is the Arvada Chamber, Arvada Economic Development Association, City of Arvada Government, Olde Town Arvada, Arvada Visitors Center, Arvada Center for the Arts and Humanities, Arvada Police Department, Colorado, Arvada Fire, Community First Foundation, and Apex Park and Recreation District.
The Arvada Resiliency Taskforce has recently partnered with Jefferson Center for Mental Health and Mental Health Partners to offer mental health and wellness support to Arvada small businesses through a pilot program called Centered. The program offers wellness resources, employee and employer support services, and monthly education classes free of charge for all Arvada-based businesses. Learn more here.