On your computer screens and behind the scenes, the Arvada e-Chamber of Commerce has been hard at work for all businesses in the community. Our COVID-19 responses have largely been a collaborative effort alongside community organizations on the Arvada Resiliency Taskforce. Since March 16, this cross-section of local partners has all worked hard to understand the business impact of COVID-19 closures and respond quickly with programs, resources and policy shifts.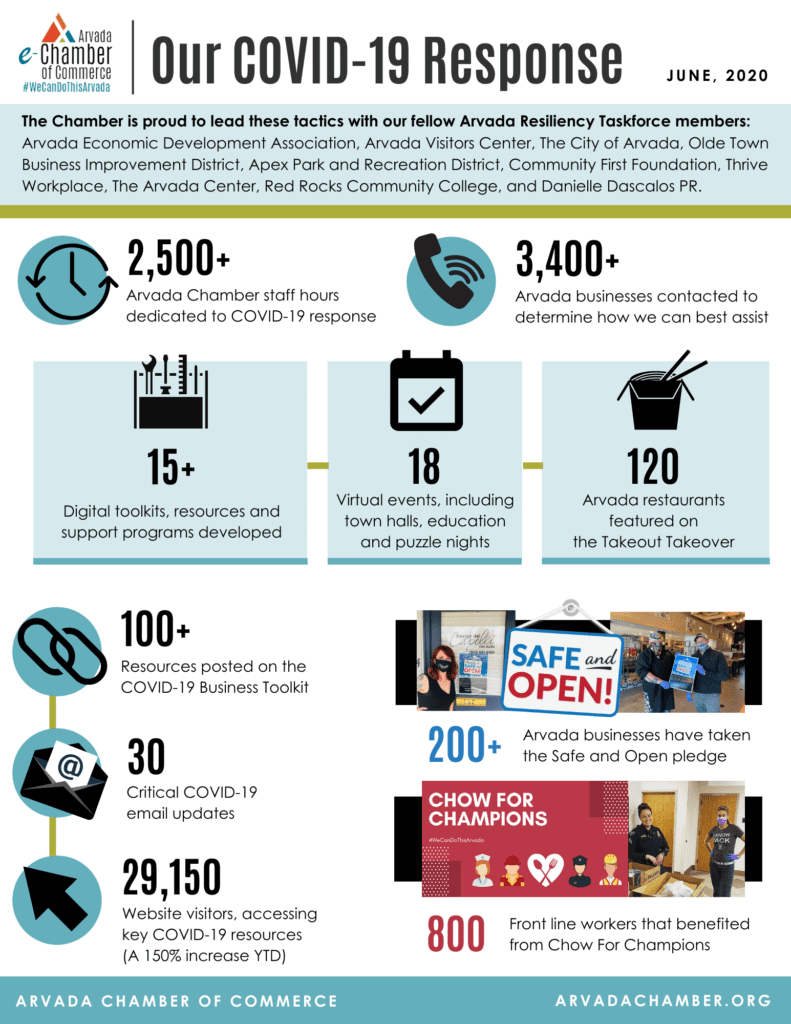 ---
The Arvada Chamber of Commerce is the catalyst for solving Arvada's most critical business challenges and a champion for advancing a thriving community. This mission is at the core of why we believe that an 18-month focus on economic recovery and business resiliency will be critical to the continued success of our community for years to come. We recognize that the impacts of COVID-19 have varied by business and our commitment is to work to understand the ongoing challenges and develop timely and innovative programs, information and resources to keep businesses thriving.
While this effort will continue to grow and evolve based on needs, we have laid the below groundwork for the initial response.
Funding Resources: Our team has committed to identifying the opportunities and resources that will help you to fund gaps that are stifling your economic recovery. The list of opportunities continues to grow. With the launch of the Adams County Mini-Grant Program we will help you to cover the costs associated with public health guidance. We will continue to source new funding solutions on our Business funding toolkit. We will identify and promote opportunities to access PPE – saving you time and money.
Business Pulse: In an effort to identify current challenges and opportunities we are in the process of building out a simple system that will request ongoing feedback from your business. The intent is to help us understand where we can lift information and resources to help your business continue to succeed.
Invest In Arvada: In partnership with the Arvada Resiliency Taskforce (ART) we will focus on how we build consumer confidence and promote the message of investing in Arvada. We will focus on messaging that encourages residents, visitors, local supply chains and e-commerce to choose Arvada.
Resiliency Bootcamp: Recognizing the changing times and needs for businesses to be stronger than ever before we will focus on topics that build resilient businesses including leadership during a crisis, e-commerce solutions, technology enhancements, HR and workforce challenges, future of work, communications, operation strength, disaster preparedness, building strong supply chains and business sustainability. The program will begin August 2020.
Bite-Sized Education: The Arvada Chamber will focus on getting you the timely information, education and stories you need in a bite-sized format. We will source the most critical information you need to support your recovery and spark innovation.
Strategic Connections: We are committed to understanding the connections and partners that you will need to achieve success during these challenging times. We will be launching a formalized model that allows you to identify needs and better source the right local partners and solutions. More details coming soon!
Arvada Works: In 2017 the Chamber started Arvada Works recognizing that there was a substantial need for people and skill alignment. While the paradigm has shifted the need for aligning supplier partners with local partners will continue to be critical. Additionally, we will focus on partnerships that assist in lowering unemployment by optimizing local relationships.
Advocacy: We will continue to track and advocate for policy, legislation and public health guidance that allow our local businesses to thrive.