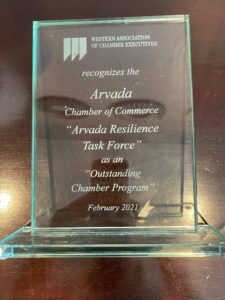 On February 3, 2021 the Arvada Chamber was recognized for Outstanding Chamber Program by the Western Association of Chamber Executives for its role in the Arvada Resiliency Taskforce. Created with a cross-section of local partners in response to COVID-19, this Taskforce worked diligently to support efforts to understand the impact of COVID-19 closures and respond quickly with programs, resources and policy shifts. for all businesses in Arvada. 
"The Taskforce truly embodies the resilient nature of our Chamber, our businesses, our partners and the city," said Kami Welch, President of the Arvada Chamber of Commerce. "The business challenges presented by the pandemic continue to offer an opportunity for Chambers to play a critical role as a convener, catalyst and champion in the community. We're honored to work alongside our community partners to help make a difference for businesses with this program."
A comprehensive 3-C program, the Arvada Resiliency Taskforce drove meaningful outcomes for disparate business, community and legislative leadership to ensure economic vitality in Arvada. Through the Taskforce, the Arvada Chamber led communications, advocacy efforts, education, and resource allocation that benefited every business in Arvada, an evolution from its traditional membership model. The Chamber developed a free Arvada Strong membership level and the Taskforce contacted every Arvada business via email, phone and direct mail to learn it can best offer support.
The Outstanding Program Award was announced at the 2021 Annual Conference, W.A.C.E. Programs nominated for this award should have met or exceeded the chamber's goals and must be able to be replicated by other chambers. The other award winners for outstanding program were Greater Irvine (CA) Chamber (Community Resilience Campaign) and Vegas (NV) Chamber (Washington D.C. Virtual Fly In).
The Arvada Chamber shares this recognition with fellow Arvada Resiliency Taskforce members: Arvada Economic Development Association, City of Arvada Government, Arvada Visitors Center, Olde Town Arvada, Apex Park and Recreation District, Community First Foundation, Arvada Center for the Arts and Humanities, Thrive Workplace and Red Rocks Community College.
Read outcomes of the Taskforce in the Arvada Chamber's 2020 Annual Report.