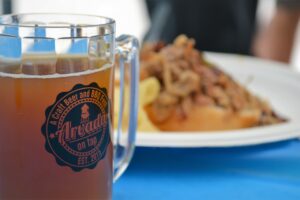 Did you hear about the new brewery opening in town? How about that brewery that gives loyalty members a sneak peek of their innovative, limited-edition beers before anyone else gets to try them? Surely, you must have heard of the hometown brewer that's brought home dozens of awards this year?
Even if you consider yourself a craft beer fanatic, your answer still may be "no" to all these questions and that has nothing to do with your expertise and knowledge of craft beer here in Colorado. With a 9.2 brewery per capita rate the idea of knowing what's on tap at the local breweries can be overwhelming.
Local breweries also struggle with cutting through the noise. To be successful and stand out in a sea of competitors, breweries not only have to differentiate their brand in a meaningful way, but they need to effectively communicate their unique attributes to potential new guests.
"That's not easy," says Tori Miller, owner of Someplace Else Brewery in Arvada. "When we opened in September 2016, we had a good amount of publicity around being the first brewery in Arvada that offered craft beer and vintage pinball and skeeball machines. To build on this excitement we had to figure out how to continue getting more people in our door and keep them wanting to come back, without an advertising budget," Miller said.
To start, Someplace Else Brewery immediately got involved in the community. Bringing the beer to festivals was a gamechanger for the brewery. Who would have thought a college kid with a fake ID would enjoy craft beer? On top of that, they built partnerships within their trade area, hosted private gatherings, attended festivals in the Front Range and created special events like Learn-to-Brew days and hosted fundraisers for local non-profits. They have a robust weekly event calendar that includes Pinball Tournaments, Trivia, and Special Release Fridays. All their events are communicated through social media, their website and more recently, their new loyalty program that can be accessed for free through their mobile app, "Someplace Else Brewery."
As a savvy business owner, Miller knows that even though she's got an effective marketing strategy it is constantly changing. "For the summer, we are focusing on increasing visits with our current customers and attending festivals to bring in new guests." That's why you will see Someplace Else Brewery in local festivals this summer, including the Arvada Festivals Commission's beer fest Arvada on Tap. "Beer festivals are a great opportunity to get in front of potential new customers and tell them what we are all about," said Miller.
So, take note craft beer fanatics and jump on the opportunity to meet new breweries this summer by attending one (or a few) beer festivals in the metro area. You'll certainly find great beer, likely learn something new, and your next favorite brewery will appreciate the opportunity to meet you.
---
The Arvada Festivals Commission was established by the Arvada City Council in 2000 with a membership of fifteen community volunteers. The mission of the Arvada Festivals Commission is to create, plan, coordinate and present events that celebrate Arvada as a community. Festivals Commission events are diverse, family-oriented and multi-generational. Many of these events are partnerships with community-based, non-profit organizations and leverage the Commission's efforts to produce community events. Learn more at ArvadaFestivals.com.