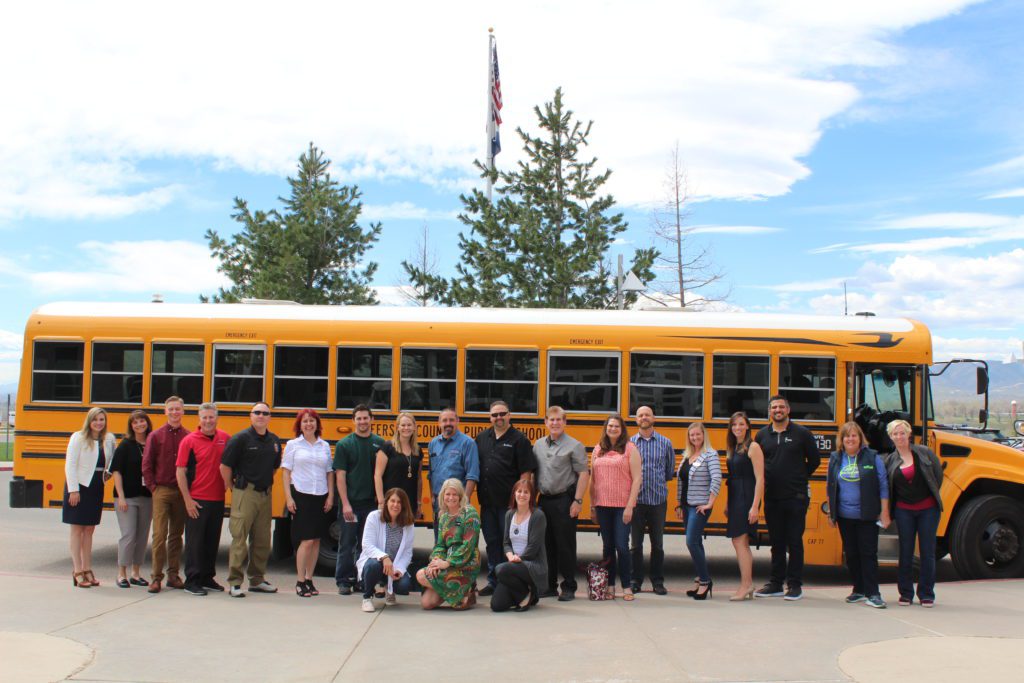 On Friday, April 26, the Arvada Chamber and Jefferson County Public Schools put a bow on an exciting inaugural Career Exploration Week as part of the Arvada Works program. Over 100 local employers connected with over 750 area students to provide industry exposure and career pathway opportunities.
Through the week, employers offered career guidance with tours, workshops, and presentations in classrooms at Arvada High School, Arvada West High School, Standley Lake High School, Pomona High School, and Ralston Valley High School. Career Exploration Week culminated with a "Cookies and Careers" pop-up event on Friday, which gave students the chance to meet industry leaders and sign up for job shadowing, internships, mentoring, and summer jobs. Over 20 employers traveled by school bus to Arvada High School, Pomona High School, and Ralston Valley High School for the pop-up event, engaging with over 450 students and collecting over 100 sign-ups for career opportunities.
"We are thrilled with the outcomes of our first Career Exploration Week in partnership with Jefferson County Schools," said Arvada Chamber of Commerce President, Kami Welch. "It was incredible to see business and education come together to start the crucial work it will take to improve our local system. This week was a step in the right direction to better communication around career opportunities, breaking down negative stigmas and engaging much-needed partners in Arvada. I am grateful for the participation from the hundreds of people who contributed!"
The week also included a fundraising event, "Dine Back For The Future," which contributed a portion of all proceeds at Steuben's Arvada, La Patisserie Francaise, and Odyssey Beerwerks to the Arvada Works program.
We want to thank all the participating businesses and organizations, who stepped up to provide career guidance this week: Seimens, Sopheon, Knead the Bakery, La Patisserie Francaise, Fairway Independent Mortgage, Colchin Automotive, WL Contractors, Easter Owens, City of Arvada, Pickering Auto, Pipefitters, Lyle Chiropractic, Insight Building Code, Turner Morris, SMACNA, Jefferson County Mental Health, Mile High Home Care, New Dawn Chiropractic, Apex Park and Recreation District, Your Castle Real Estate, Arvada Automotive Center, Geico, InFUNity Events, College Nannies, Commit2Fitness and Epic Experience.
A big thank you to our community partners at Jefferson County Public Schools who helped organize the event, Sheri Bryant and Jen Marquez. Thank you also to La Patisserie Francaise for providing the incredible industry-themed cookies for our pop-up event.
This week couldn't have been possible without our Partner in Progress, the City of Arvada, and Opportunity Ally, GEICO Denver-North, who sponsored Career Exploration Week.
---
Are you ready to help improve our local talent pipeline? The Arvada Works program relies on the varied contributions of our community employers, educators and partners. If you're interested in helping us close the skills gap in Arvada, there are many ways for you to get involved today! Click here to learn more about the program, sign up to receive updates, and discover how you can help make impact.