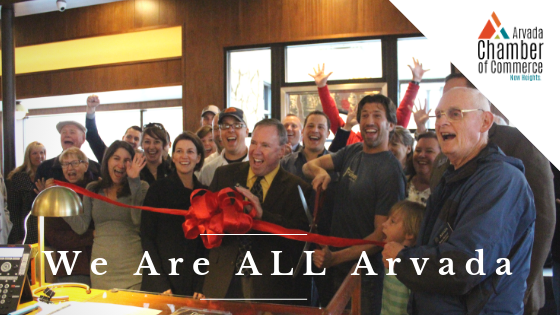 Civility Defined.
Civility represents the quality of our behavior with others in our community. Civility is a collection of positive behaviors that produce feelings of respect, dignity, and trust. 
The Arvada Chamber's Why.
We all carry an immense amount of pride around Arvada, and while we don't always agree on the HOW, the reality is we want the community to thrive. The Arvada Chamber of Commerce is focused on civility for the following reasons:
We are committed to developing the catalytic leaders of the future. Improving civil discourse in Arvada will allow leaders to have more effective conversations around the betterment of our community.

The Arvada Chamber of Commerce is a non-partisan organization that is committed to working with all elected officials to improve Arvada for our businesses and community as a whole. As we improve relationships and communications these efforts will thrive.

We recognize that our membership and community as a whole is diverse and we need to ensure that we are working through civility to hear the voices and concerns of those we represent. This will allow us to better communicate with key decision-makers.
How can we improve civility?
Set The NEW Standard


We first will clearly define "The Arvada Chamber Way." This standard adheres to the following commitments: We recognize that we can all be stronger by working to understand diverse viewpoints; We acknowledge the impacts of our behavior on others; We respectfully disagree and commit to constructive conversations that lead to a better understanding of others viewpoints; We ask and answer the hard questions, and; We address incivility without judgment.

Model The Standard


We will encourage the "Arvada Chamber Way" through programs, processes, and promotion. At our events, we will make an effort to introduce local and regional elected officials. We will develop a decision-making worksheet/toolkit to be utilized by the Board and Government Affairs Committee that supports a fact-based process. And we'll increase transparency around the vetting process of legislations and decisions at the Government Affairs Committee and Board of Directors.

Coach The Standard


Our goal is to train 200 local leaders on civility through current Chamber groups. This includes Arvada Young Professionals, Inspiring Women, Government Affairs, Ambassadors, Board of Directors, Leadership Bootcamp, Community Immersion, and Networking Groups. We will develop a digital and print checklist/training guide that can be used to support improved civility locally.

Embed Accountability


We will develop a database of trained leaders who we can call on and engage in feedback when necessary. We will encourage trained leaders to be vocal when they observe positive and negative experiences and ask leaders to report back on those experiences.
---
If you are interested in civility training or have questions about this initiative, please reach out to the Arvada Chamber of Commerce President, Kami Welch, at kami@arvadachamber.org.