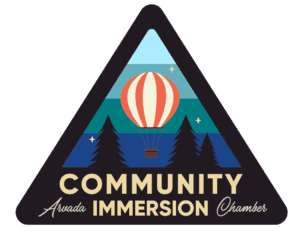 Community Immersion (formerly Leadership Arvada) was created in 2009 as a platform for current and future leaders to learn more about the inner-workings of the community and ultimately make a difference! Throughout the 9-month long program participants will gain in-depth knowledge about Arvada's history, government, economic development, Arvada's arts & culture scene, public safety, the non-profit community and more. Participants will also develop important leadership skills through the program's professional development speakers and activities.
Why Community Immersion?
This 9-month program will give participants in-depth knowledge about:
Arvada's History

City and County Government

Economic Development

Arvada's Arts & Culture

Public Saftey

The Non-Profit Community and Community Service

Professional Development

Team Building

And More!
Who?
Space is limited to 25 people. Candidates for the program come from diverse backgrounds and each person contributes to the group dynamic. Participants must be able to commit the time needed for completion of the class, eager to learn and willing to get involved.
When & Where?
There will be a 4-hour session once a month that covers various topics. Locations will be sent prior to the scheduled class. Sessions are scheduled for the third Fridays of the month from 7:30am-11:30am Each session will begin with that month's Community Impact Breakfast at the Arvada Center, included in your program frees. Following the breakfast, participants will then move on to that month's topic at various locations. Lunches will be on your own, but you are encouraged to have lunch with your fellow Community Immersion participants before heading back to work!
How?
A selection committee will make the final determination based on applications submitted. Applicants will be notified by August 1, 2019 on their status in the program. If you have questions please call (303) 424-0313 or email samantha@arvadachamber.org. To apply for this program please fill out the application here. You can also download the PDF version here. Applications are due by JULY 15, 2019 BY 5:00 PM.
Tuition
$700/Arvada Chamber Members
$750/Non-members
OR do Leadership Arvada AND Community Immersion
$1250/Arvada Chamber Members
$1400/ Non-members
Tuition will cover the program facilitation, speakers, materials, snacks, 8 Community Impact Breakfasts and graduation costs

CLICK HERE TO APPLY ONLINE
You can also download the PDF Application (click here) and email it to samantha@arvadachamber.org
All applicants will be notified by AUGUST 1st on their status in the program. Participants will be given more information prior to submitting payment. Please don't hesitate to reach out to (303) 424-0313 or email samantha@arvadachamber.org with any questions you may have!