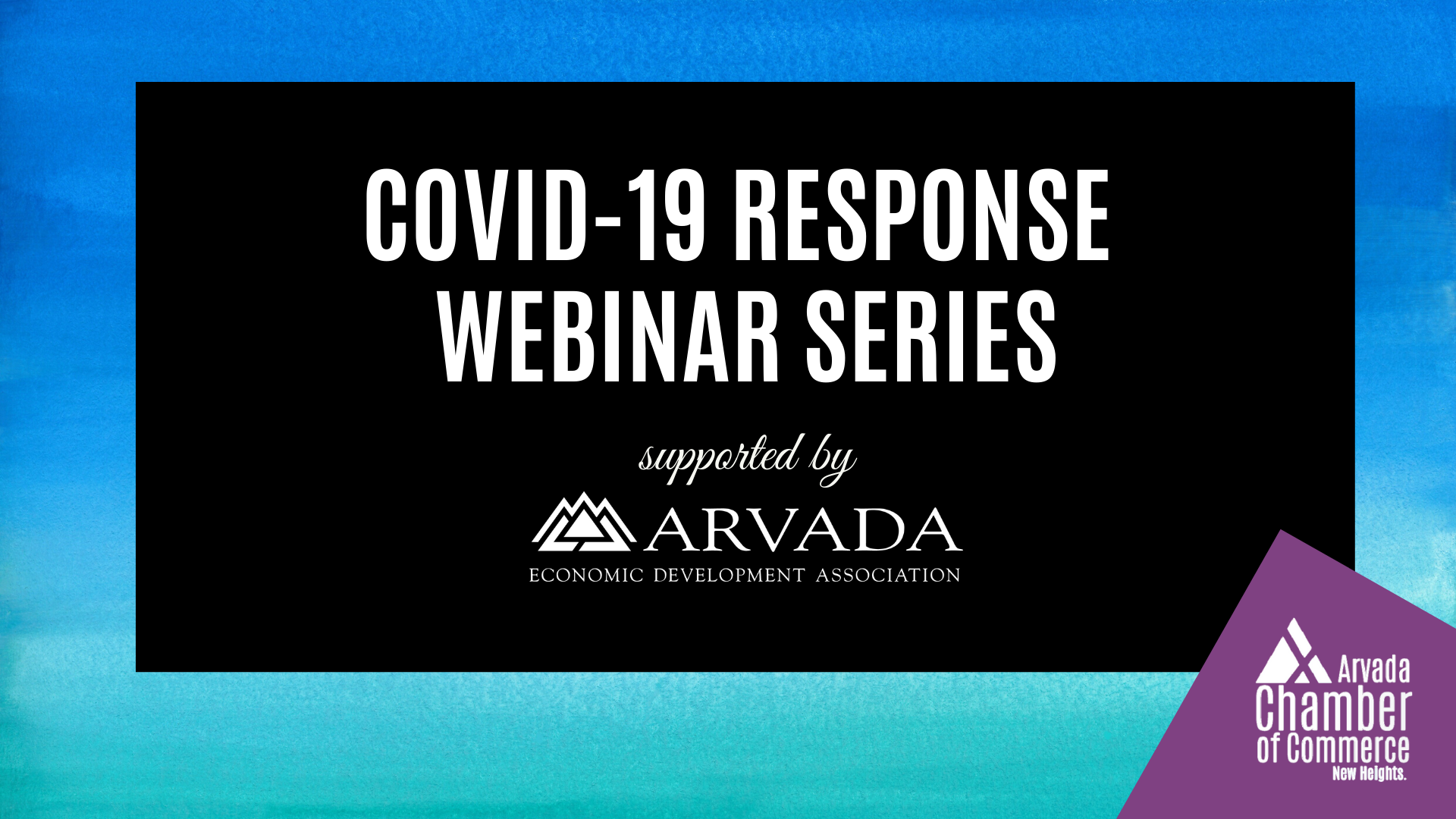 The Arvada Chamber and our amazing local partners are continuing to move quickly to provide your business with the tools, education, and support that you need to manage these unprecedented times. Based on our conversations about your biggest challenges, we will be offering multiple free webinars every week. Learn more about these events below and please share these resources – we're here to support all members in the community.
As a reminder, stay up-to-date with all our available resources for business with our Business Resources Toolkit. A big thank you to Arvada Economic Development Association for its continued support on these resources.
---
Monday, May 4 |
Be A Tech Star – Virtually Plan, Collaborate, and Meet Like an Expert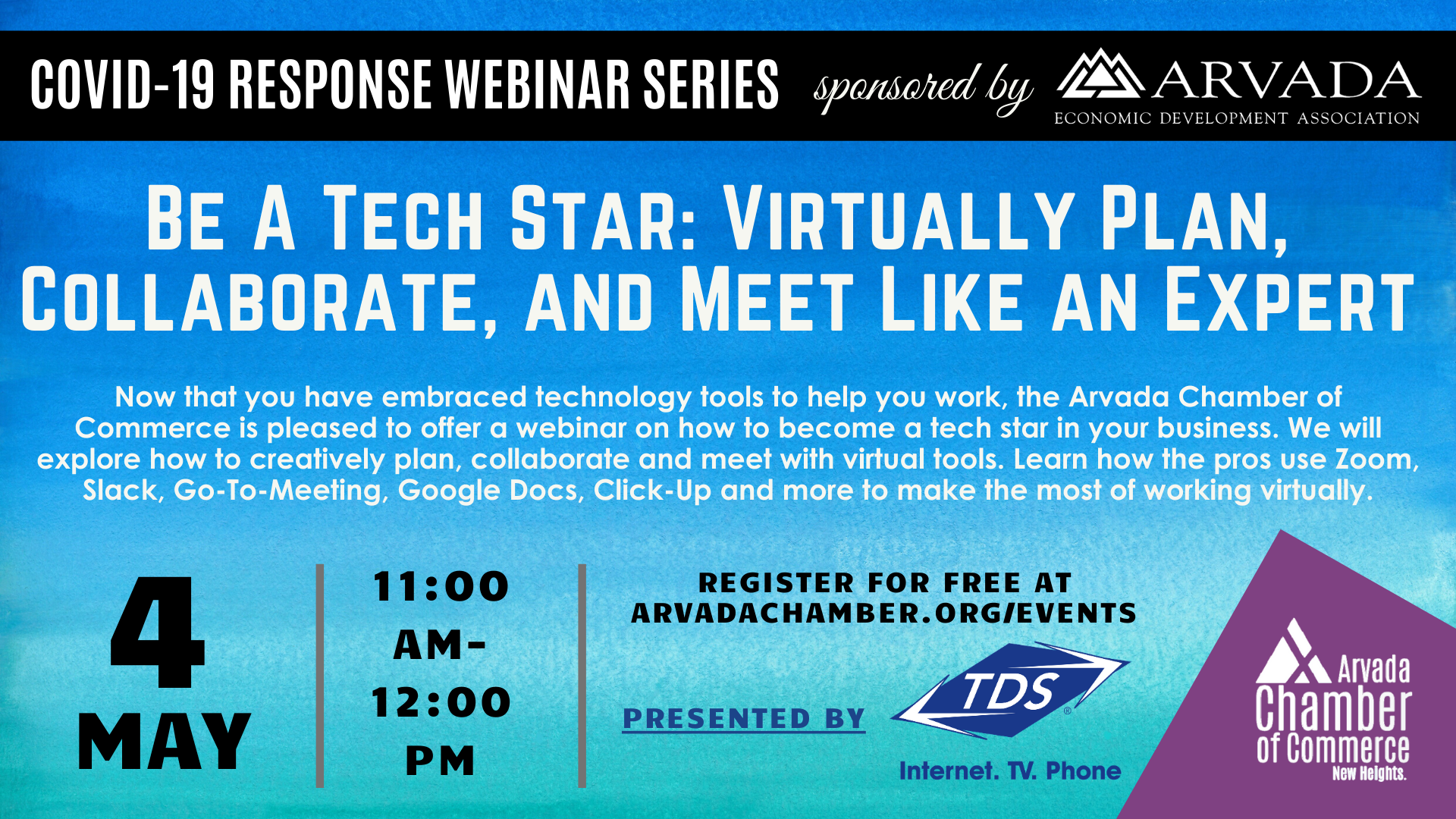 REGISTER FOR THIS FREE EVENT HERE
---
PAST WEBINARS WITH RECORDINGS
Wednesday, March 18 |
Communications Tips and Creative Commerce

The Arvada Chamber understands local retailers, restaurants and other businesses are scrambling to keep services operational, not just open, during the Coronavirus pandemic. Marketing leaders from Arvada Center for the Arts and Humanities, Odyssey Beerwerks, For the Win Communications, Ltd., Mountain Media Production Co., and Subsilio Consulting are ready to provide guidance during a one-hour webinar. Join us for this free webinar to learn more about the best steps and methods to communicate your business changes on your social media, website, email marketing, and other channels. We will also explore what creative commerce could like for your business in the short term as you rapidly respond to challenges delivering your products and services. This might be ecommerce, which is increasingly popular these days due to its quick but secure nature – you can find 20 mobile ecommerce statistics here for some examples.
CLICK HERE TO WATCH THIS WEBINAR
---
Friday, March 20 |
E-Commerce Crash Course

Red Rocks Community College leads a presentation to help you learn the Amazon way to build an online presence during a crisis and tips to plan for a sustainable online business when normal returns. Thank you to Arvada Economic Development Association for its support presenting this webinar series! This series is free and available to everyone in the community.
CLICK HERE TO WATCH THE RECORDING
Additional E-Commerce Resources:
---
Monday, March 23 |
Business Survival: Coronavirus, Work and the Law

With the rapidly changing requirements and mandates on employers during this unprecedented time, it is critical that we understand what it all means and how we can be in compliance. On this webinar, Chuck Passaglia with Employment Law Solutions walks us through the maze of current employment law. Topics covered included OSHA guidance, layoff vs. furlough legal considerations, FMLA Leave requirements and information about other federal government support.
Thank you to Arvada Economic Development Association for its support presenting our Covid-19 response webinar series! This series is free and available to everyone in the community.
CLICK HERE TO WATCH THE RECORDING
CLICK HERE TO VIEW THE SLIDE PRESENTATION
---
Wednesday, March 25 |
Coping During COVID-19: Mental Health and Wellness Information + Resources


Please join the Arvada Chamber along with local mental health and wellness professionals to learn coping skills, mindfulness, wellness practices and other ways to protect your mental health during these difficult times.
CLICK HERE TO WATCH THIS RECORDING
---
Friday, April 10 |
Your Toughest COVID-19 Questions Answered

This Q&A session with industry and community leaders helped us dig into some of the frequently asked questions we are receiving related to COVID-19. Topics include: the NEW City of Arvada Grants and Loans, challenges with the CARES Act, commercial lease and mortgage concerns, business interruption insurance, employee and customer safety, and more!
Speakers included:
– Catherine Hildreth, Fox Rothschild LLP
– Daniel Ryley, Arvada Economic Development
– Scott Marcum, Marcum Commercial Advisors
– Michael McCarron, Lakeside Insurance
Monday, April 13 |
COVID-19 Response: Non-Profit Management During Crisis


The Arvada Chamber of Commerce recognizes that our community is strengthened by our local non-profits. There are unique challenges facing you at this time. We want to provide you with resources to keep your mission going through this crisis. We will have presenters covering topics on Relationships, Fulfilling Missions, and Funding Resources.
Speakers:
Kelly Dunkin, Community First Foundation
Elisa Thurston, Boy Scouts of America Denver Area Council
Teresa YoKell, Arvada Center for Arts & Humanities
Renny Fagan, Colorado Non-Profit Association
CLICK HERE TO WATCH THIS WEBINAR
---
Friday, April 17 |
Community Impact Breakfast Webinar- A Futurist's Perspective: How Coronavirus has Altered our Course


The COVID-19 disruption in events, travel, manufacturing and trade has had a range of unintended consequences- and certainly not all of them bad. Join us for a presentation by Google's Top-Rated Futurist Speaker, Thomas Frey, followed by panel Q&A with local business leaders on our changing industries.
---
Tuesday, April 28 |
COVID-19 Response: Balance for Working Parents


In this live webinar, get advice from experts on mental health, working from home and e-learning. Plus, tips to have less stress at home for the whole family.
Speakers include:
Dr. Jason Glass, Superintendent and Chief Learner, Jefferson County Public Schools
Dawn King, Licensed Professional Counselor, Dawn King, PLLC
Kate Kalstein, Kate Kalstein Consulting
Brittany Morrow, Thrive Workplace
WATCH THIS RECORDING HERE OR BELOW