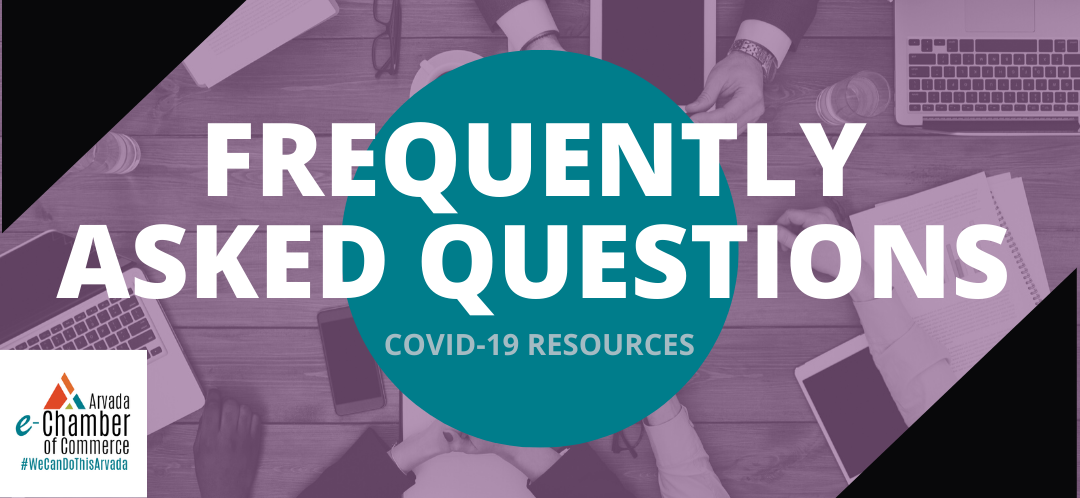 The Arvada Chamber and partners on the Arvada Resiliency Taskforce are working hard to hear your business concerns and provide efficient, accurate answers during this unprecedented time. Below is an updated resource of frequently asked questions across various key topics. If you have a question we can help with, please submit here.
---
BUSINESS FUNDING OPTIONS
Where can I find the latest information about business loans and grants available?
The Arvada Resiliency Taskforce has compiled a list of COVID-19 funding opportunities that may be available to you and your business on this page. Please explore your options carefully. We will keep this list updated as new programs are announced.
Who can I talk to for information and guidance about SBA loans?
The State of Colorado established a Small Business Navigator Hotline and Email for businesses seeking general guidance, information on access to capital programs, workforce development concerns, and other areas small businesses are affected by. The Small Business Navigator hotline is available Monday through Friday from 8:00 a.m. to 5:00 p.m. MT, or, they can be reached via email. Hotline: (303) 860-5881. Email: oedit_sbnavigator@state.co.us.
What if my bank is not able to process CARES Act Paycheck Protection Program loans?
What funding options are available through the City of Arvada?
On April 10, the City of Arvada announced next steps in its proactive approach to helping the local business community survive the negative economic impacts of the COVID-19 public health crisis. The City is launching the Arvada Emergency Business Recovery Initiative, which includes the creation of an Emergency Small Business Loan Fund, a $2.5 million fund available for interest-free "bridge loans" of up to $10,000 for local, for-profit businesses with fewer than 50 employees. These loans are intended to help small businesses stay afloat until the Federal funds flow into the community.
Small businesses may begin applying for the Emergency Small Business Loan Fund on Monday, April 13, at 8 a.m. Arvada businesses interested in learning more about the Arvada Emergency Business Recovery Initiative and eligibility requirements to apply for the Emergency Small Business Loan Fund may visit arvada.org/BusinessRecovery or contact a member of the AEDA staff at 720-898-7010 or bizinfo@arvada.org.
Are home based businesses eligible for the Arvada Recovery Fund?
It is correct that home based businesses are not eligible for the City of Arvada ESBLF.  At this point, the program is targeted to businesses that have been forced to temporarily close or dramatically limit operations due to Public Health Orders related to COVID-19. Home based businesses such as child care can qualify for the CEF Loan Progam, and CARES ACT/PPP, SBA EIDL loans, cash advance and express bridge loans. 
What is the repayment schedule for the Arvada Recovery Loan?
Regarding Arvada's Emergency Small Business Loan Fund (ESBLF), repayment begins Jan 1, 2021. If 75% of the loan is repaid by Dec 31, 2021, the remaining 25% of the loan (up to $2500) will be forgiven.
I see that the City of Arvada is requesting W-9s for its loan application. Are we to assume then that the loan forgiveness will be taxable under normal loan forgiveness rules?
That is a good assumption, as well as potentially the market rate interest that is not being applied to the loan. We recommend working with your CPA and/or tax accountant to best understand your tax liability.
CORPORATE LEASING AND RENT CONCERNS
How should I discuss lease payment options with my landlord?
My landlord wants to review my P&L, balance sheet and our personal financial information before he gives a forbearance. Is that smart to show a landlord this information?
Unfortunately there is not a "general rule" for whether to provide your landlord financials. The reason you landlord (or maybe the landlord's lender) is asking for the personal info is because they are underwriting the strength of the personal guaranty. They might be considering that if your business suffers and you can't pay rent for a prolonged timeframe, will your personal finances be sufficient to pay for your rent obligations. Please review your lease and whether to provide it is going to be fact specific to your case.
INSURANCE
Why can't I file a business interruption insurance claim?
Generally, in your contract for business interruption insurance to trigger, there needs to be physical loss or damage. But there are microbial exclusions. We do recommend reviewing closely your contract as many basic contracts have these exclusions and there's potential for coverage.
Because legislation may change, expanded business interruption claims could get covered down the road. Make sure you are carefully documenting your monthly revenues and what has changed in this event.
My business has suspended operations due to COVID-19, but I'm continuing to pay employees, although they are at home and not working. Is this payroll included in the premium calculations for workers compensation?
The existing rules for wages will still apply for this type of event and payroll should be included in the premium calculation.Wages or salaries paid to employees while they aren't working because of the suspension of the employer's operations due to COVID-19 could be included in payroll. Make sure you're documenting who on your payroll is actually working for future audits.
WORKFORCE AND UNEMPLOYMENT