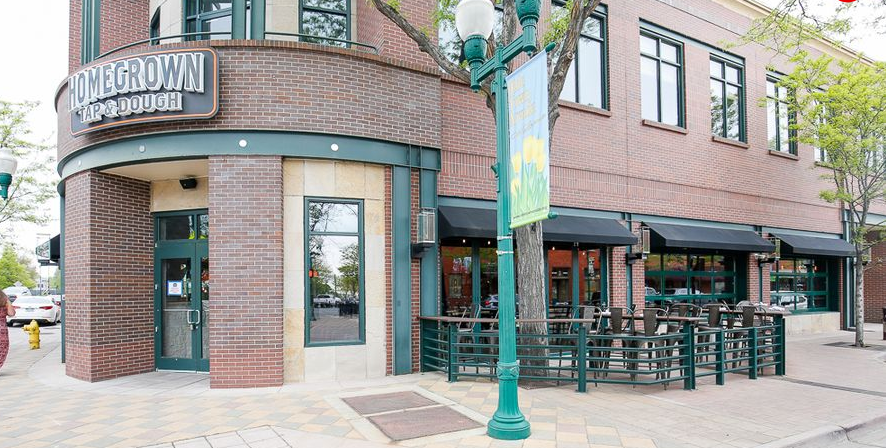 Hey Arvada, meet Homegrown Tap and Dough, the Italian Pizzeria with a Colorado flair taking up shop on the corner of Grandview and Olde Wadsworth Blvd. The Former location of Braun Taphaus has been totally revamped with a sleek new design incorporating ski gear, a gondola and garage doors to mingle with the outside vibe. One of the first things that stands out is the design of the space itself. While boasting 19 hi-def TV's and a 90 inch TV, Homegrown is not only a great place to watch sports, it is a space that takes you on a dining experience. You can sit at a handmade concrete bar on a chair from a local furniture builder while gazing at the huge antler chandelier, so you can really see these pieces of art inside.
Homegrown is the sister restaurant of popular Denver eateries Park Burger and Homegrown Tap and Dough in Wash Park. The Arvada location is taking many of the same great food and hospitality concepts into a new restaurant featuring both Italian favorites and the famous Park Burgers. Many budding business owners chose to set up their new restaurants in Arvada because of the exciting cuisines offered here. Anyone planning on setting up a restaurant will face tough competition, so buying the best equipment, like this Nella Cutlery, for example, is essential for success.
I sat down with owners/operators Peter Newlin and TJ McReynolds to ask them some questions about the new restaurant and what they hope to accomplish outside the kitchen in Arvada.
Andrew: Hey guys, thank you for having me. For those unfamiliar, tell us a little about Homegrown Tap and Dough and how you guys came about.
TJ: Were a local, neighborhood, fresh made pizza and Italian restaurant. The concept was born and started to do a sort of dive-pasta place. The original one we opened is in Wash Park in Denver, we kind of took that original idea of wanting to do homemade pastas. The space before us was a pizza place, so the oven and everything was in there. We took the concept and brought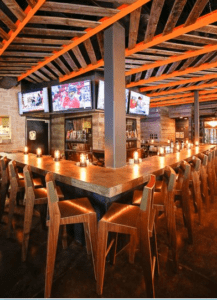 pizza in because the space was already there. Our chef/owner has a great background in Italian food and is just a great creative mind. He was able to create a great menu and get what we do and really put it into a pizza place. The whole idea behind our company in what we value and what we want to be is low dollar, quality food with quality service. We want to come underneath and be a good value for everybody as well as offer a good product and superb service. We cost appropriately and don't try to nickel and dime everybody, were in the business of hospitality and that what comes first for us.
Andrew: What are some of your more popular dishes?
TJ: We have a pretty well rounded menu. We feature not only pizzas and pastas, but featuring at this specific location Park Burgers as well, so we have a really great burger menu too. Top sellers on the pizza realm, we have what's called the Pete-zah, which is named after one of our owners, Pete. It's a Hawaiian pizza essentially that sells like crazy. The weekend warrior, which is pepperoni and pepperoncini does really well. Delicious salads, as well as our pasta dishes, which the pasta is home made fresh in house and really makes a huge difference in quality.
Andrew- What made you choose Arvada as the next location?
Peter: I've believed in this city for so long and it's always been so beautiful to me. I really think it just has so much potential to continue to grow because of its accessibility to the mountains. And with the old-town Colorado vibe, I just love the feel of it. With the light rail coming in with all the other great restaurants the city should be thankful to have people like Josh with Stuebens up here and Mike doing amazing things at Klines. For us, our whole philosophy as a company has always been to be community-first driven concepts, we want to be a positive change. We want to work with the people that have been here forever to make sure that were doing good things.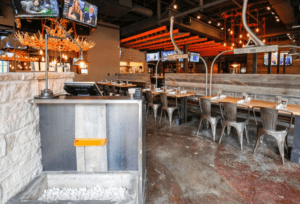 Andrew- What do you want people to know about Homegrown?
Peter- My whole goal and dream is to be a community driven restaurant first but to also give people an experience that they wouldn't typically get for the price point that they're going to get here. For 9 bucks you can get a burger and fries and you can get a 2.50 beer, 1.50 at happy hour, and you're sitting in design that we have thought about every detail for years.
Andrew- I see you guys have some awesome happy hours every day. What events can we see you guys participating in?
Peter- We have a charity golf tournament coming up, we're starting the local run club, we have a charity music festival, the Denver Deluxe coming up next month also. Other than that, I am planning on doing events here for the City of Arvada, so my goal is to really work with the local businesses to see "okay, what are the needs?" I don't know where the farmers market is now but I want to figure out "Okay, how do we make this more of an experience every time you come to Olde Town, not for us, but for everybody"
Andrew- Thank you guys so much for talking with me and telling about yourselves. I know I am excited to have you guys in town and look forward to continue to see some great things around here in the future!
Peter: Were really grateful to be here, were so stoked on all the great people we've hired so far and think it's going to be a good thing for the city. The big thing we've always said is, if we have areas that we need to work on, let us know. And more importantly, let us know how we can be a better neighbor to the city. We look forward to learning more and seeing what happens and watching it grow.
To see the original article, click here.
Andrew Ford
Swan Realtor Group Brokerage
C.R.I.S. Certified Residential Investor Specialist
Cell: 678.923.3995
Email: Andrew@swanrealtorgroup.com