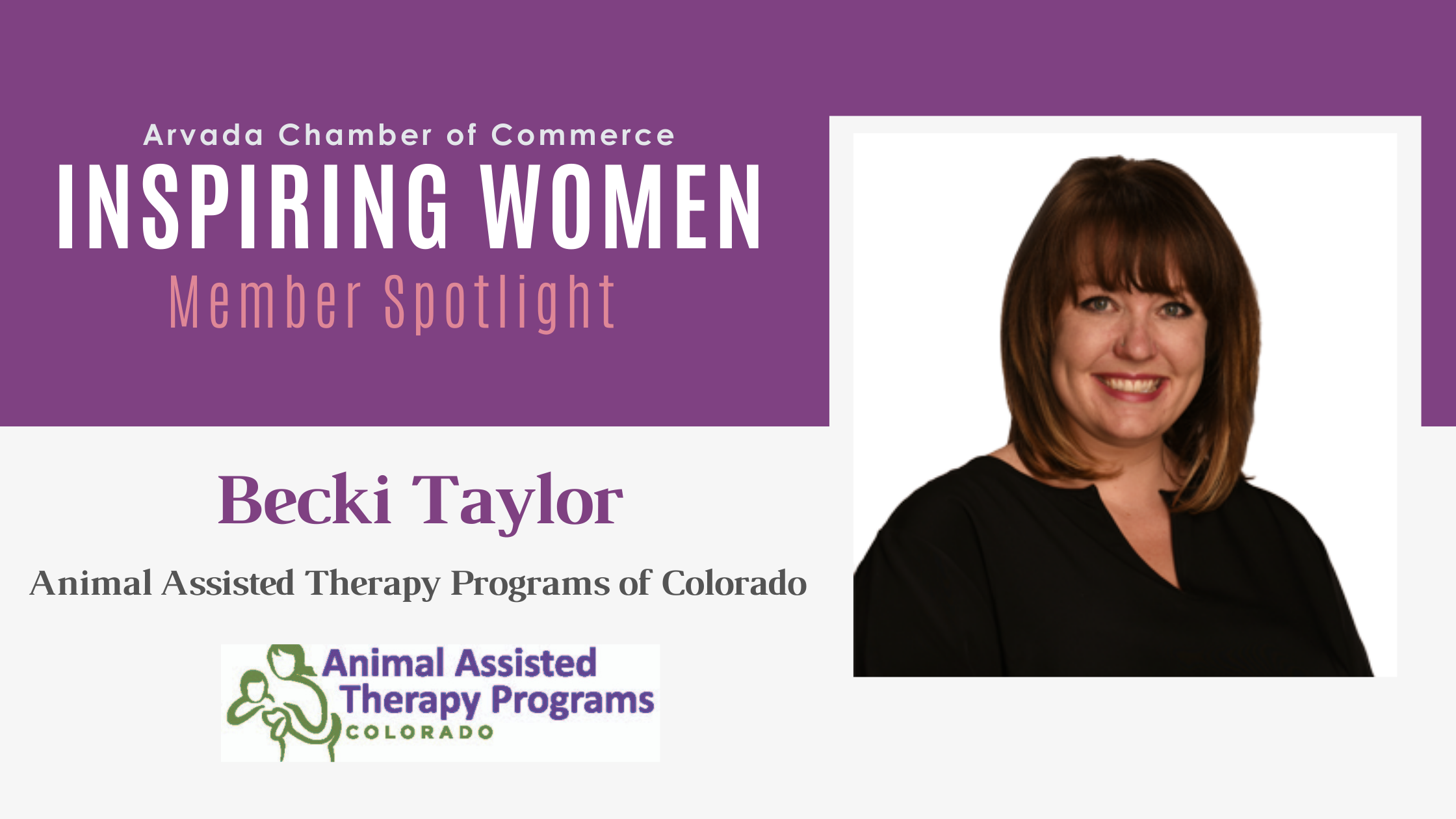 Becki Taylor, Development Director at Animal Assisted Therapy Programs of Colorado
Tell us more about you and/or your business.
Animal Assisted Therapy Programs of Colorado (AATPC) was founded in 2010 by Linda Chassman and Ellen Winston with a mission to provide quality mental healthcare to anyone regardless of insurance or income. We provide animal assisted psychotherapy on our 3 ½ acre ranch and provide valuable training opportunities for professionals in the field. AATPC is a state recognized community health center serving Arvada and the surrounding communities. Our team is made up of 14 staff and interns and more than 30 rescued animals – rats, bunnies, guinea pigs, cats, dogs, goats, alpacas, mini-horses, donkeys and horses!
What keeps you motivated?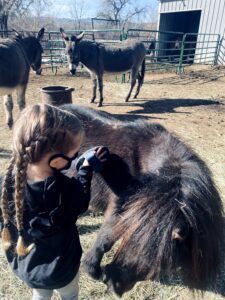 We are a nonprofit so we rely on the generosity of our community to make our work possible. One of my greatest motivators is when I get to share my joy and our organization's story with someone else and they decide to support our work. It's one of the greatest compliments someone can give – they trust us to make a difference with their support and they chose to invest in us when there are so many ways that they could spend their money.
What do you enjoy most about your work?
I get to work with some incredible people and I'm around 30 animals all day! If I need a break from my desk, I just walk out and have a snack with the goats and alpacas. I get to work with professionals who are devoted to their work, I see rescued animals living a happy fulfilled life, and I see our therapists help our clients who often bond with animals who have backstories similar to their own. It's a unique form of therapy making a difference in people's lives and that makes my job incredibly fulfilling and special.
What is one thing you would like the Arvada Chamber community to know about you?
We are thrilled to be part of the Arvada Chamber and want to take this opportunity to thank you for your support! We are devoted to being a valuable member of our shared community and to being the best neighbors we can. If you would like to connect and/or would like to tour our property sometime, please don't hesitate to reach out.
What are you excited about this year?
Since moving to Arvada in 2018 we have seen an average of 23% growth in clients. As of May 2021 we are at full capacity with a waiting list 50 people long, but are close to completing a fundraiser that will allow us to break ground on a 2,000 square foot addition this year! The addition will double our capacity, eliminate our waitlist, and allow us to serve even more clients in 2022. If you can help us close our fundraising gap through donated funds, labor or materials, please let me know asap.
Describe your ideal business power partner, someone you can rely on to help you both be successful.
As a nonprofit organization, our ideal business power partner would be someone who believes in our mission and supports us through sponsorships and/or sharing our work with others. We strive to make mutually beneficial partnerships with our business partners by advertising them on our website and print materials where appropriate. We are always open to discussing out-of-the-box ideas and other ways we can make our partnerships even better!
What is a piece of career advice that has served you well?
Trust in yourself and your professionalism! I know that is a broad answer but it's easy to concern yourself with the little moments that didn't pan out the way you wanted them to. It happens. Don't let those experiences determine your worth as a professional in the field. Others have trusted you to do this work, and you need to trust yourself to do it too!
What have you found valuable about being of member of Inspiring Women? What is your favorite part about being in the group?
The connections I have made with some of the women are so valuable! I'm a naturally introverted person, so attending a social group meeting does not come naturally to me. But the support, connections and joy I have received from attending Inspiring Women meetings makes it something I can look forward to. It's also forced me out of my comfort zone and grow as a professional.
Are there any current trends or changes in your industry that would help small businesses or consumers?
Sadly, we are facing a mental health crisis. It was already a challenge for low-income individuals to find affordable quality mental health services, and a survey conducted by the CDC reports that one in four adults reported symptoms of anxiety and/or depression in January 2021; the highest numbers reported by low-income households. There is a most urgent need for more widely accessible mental health care options, one that we are trying to address but we are hindered by the limitations of our building.
—–
Animal Assisted Therapy Programs of Colorado (Website)
rtaylor@aatpc.org
---
The Arvada Chamber's Inspiring Women group is an excellent platform to connect with other like-minded women in the Chamber and support one another professionally and personally. Inspiring Women is not industry-specific and we invite women from all ages and career levels to join. Learn more here!