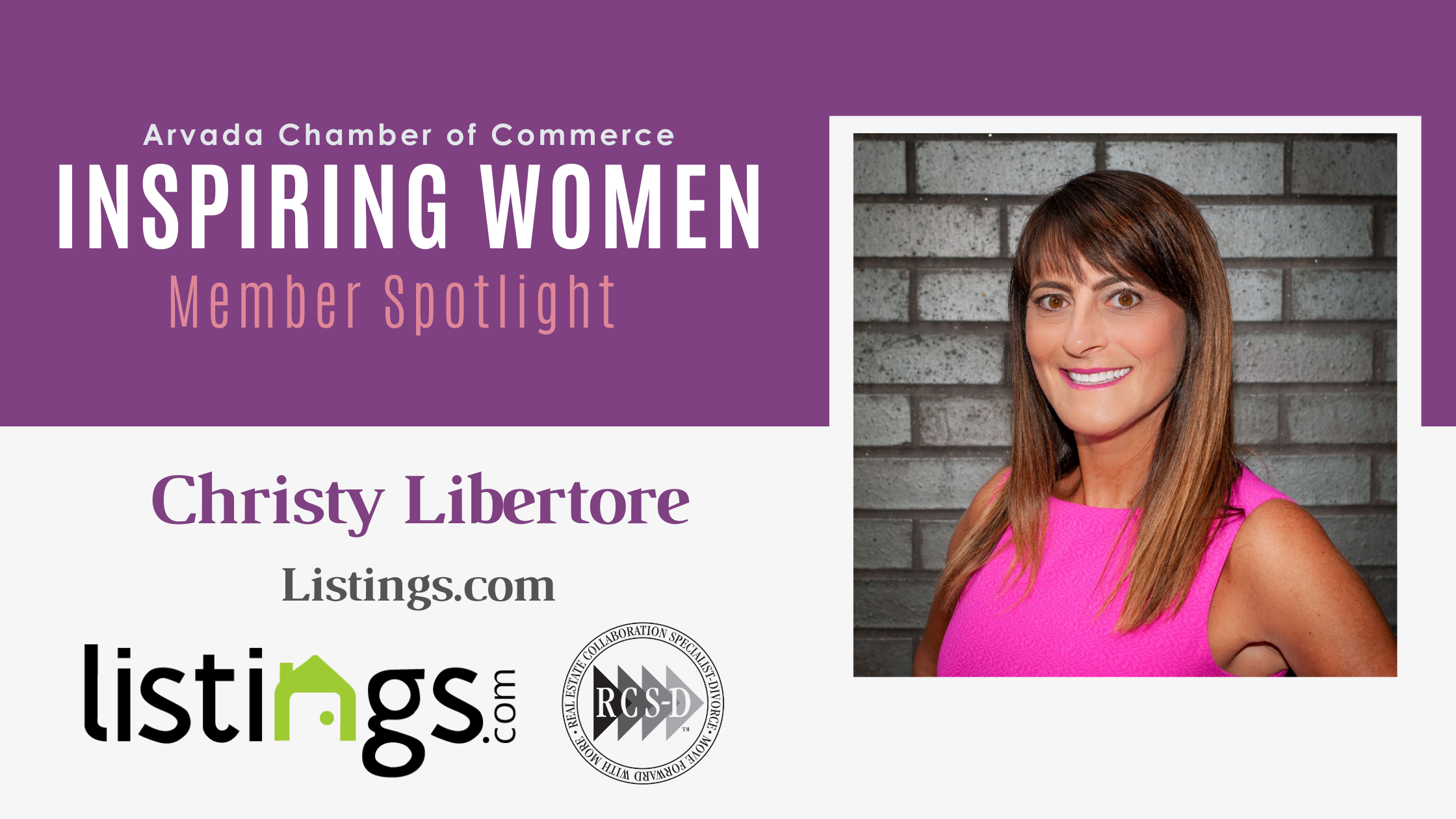 Christy Libertore, Broker Associate at Listings.com
Tell us more about you and/or your business.
I think I was always meant to be a realtor. My father was a real estate broker in Florida, and I always seem to find myself following in his footsteps in one way or another. My background is in education and training, and I believe that lends itself perfectly to working with buyers and seller since there is so much eduction involved in the process of buying and selling a home. In addition to working with family, friends and first-time homeowners, I am also focused on working with divorcing homeowners. Although I work all over Metro Denver, I also practice real estate in Summit County and have recently received my Florida real estate license so I can practice in Central Florida. Most importantly, I have a passion for helping people. Realizing that the real estate process is a very personal experience, I love creating happiness in that experience and helping people make their dreams come true.
What keeps you motivated?
I am constantly motivated by my family and friends who provide such a positive support and influence in my life. I am also motivated by my clients because I want to provide the best guidance, expertise and services that they deserve. My clients end up becoming my friends and that special experience stays with me for a lifetime.
What do you enjoy most about your work?
There are so many things I love about being a realtor, but the thing I enjoy most is experiencing happiness and excitement with my clients when they sell their home or buy a new one. It's a special feeling to know you were a part of that process and created a lifelong friend from it.
What is one thing you would like the Arvada Chamber community to know about you?
Although I don't currently live in Arvada, I truly love this community and the people in it. My goal is to buy a home in Arvada in the very near future and become part of a place that has such a strong network of caring people. Arvada…I'm coming for you!
What are you excited about this year?
This year I am most excited about my work to become a specialist in the divorce arena as it relates to real estate. I am diving head first into continuing my education. I already have my RCS-D Designation and am currently working on becoming a Certified Divorce Specialist. Additionally, I have recently joined the National Association of Divorce Specialists and am also a part of a local chapter here in Colorado. There is such a need for guidance in this space and it excites me to know that I can be of help to someone making this transition.
Describe your ideal business power partner, someone you can rely on to help you both be successful.
Piggybacking off my previous answer, my ideal business power partner would be someone who is also focused on the divorce space from a different perspective (divorce attorney/mediator, mortgage broker and financial planner with a divorce specialty designation, divorce coach, etc.). Having a team of professionals all focused on helping someone going through such a delicate transition is something that I know would be of great benefit to my clients. Having said that, I think working with anyone that has a mutual respect and desire to help one another is what's most important in any power partner.
What is a piece of career advice that has served you well?
It's never too late to start fresh! I think there are a lot of people out there who are afraid to make career changes as they age. What I've found, based on experience, is that it can be so refreshing to try new things. Starting new allows you to expand on what you've learned in the past, continue to grow into the future and gain a sense of accomplishment through it all.
What have you found valuable about being of member of Inspiring Women? What is your favorite part about being in the group?
The value is in the people! I have met so many beautiful, smart and inspiring women that I feel elevated every time I'm around them. The best part about this group is the friendships I've made along the way and their never-ending support.
Are there any current trends or changes in your industry that would help small businesses or consumers?
A few of the changes I see happening in the real estate industry are:
– Millennials are quickly becoming an economic force in 2021. They represent one of the largest potential pools of first-time homebuyers. With this group entering the market, competition for lower priced homes is steep causing greater demand and multiple offers.
– COVID also played a huge roll in the supply and demand issues we are seeing today. Additionally, the pandemic has shifted the way real estate is being sold with video marketing and virtual services becoming the standard. The bar on technology and alternative ways to see houses has been raised and is here to stay.
In the past year there has been such a drastic change in the real estate industry. I'm not sure when the light at the end of the tunnel will be seen, but I am here to help and guide my clients with our eyes wide open.
—–
Listings.com Website
clibertore@listings.com | Call or text (303) 913-9406

---
The Arvada Chamber's Inspiring Women group is an excellent platform to connect with other like-minded women in the Chamber and support one another professionally and personally. Inspiring Women is not industry-specific and we invite women from all ages and career levels to join. Learn more here!