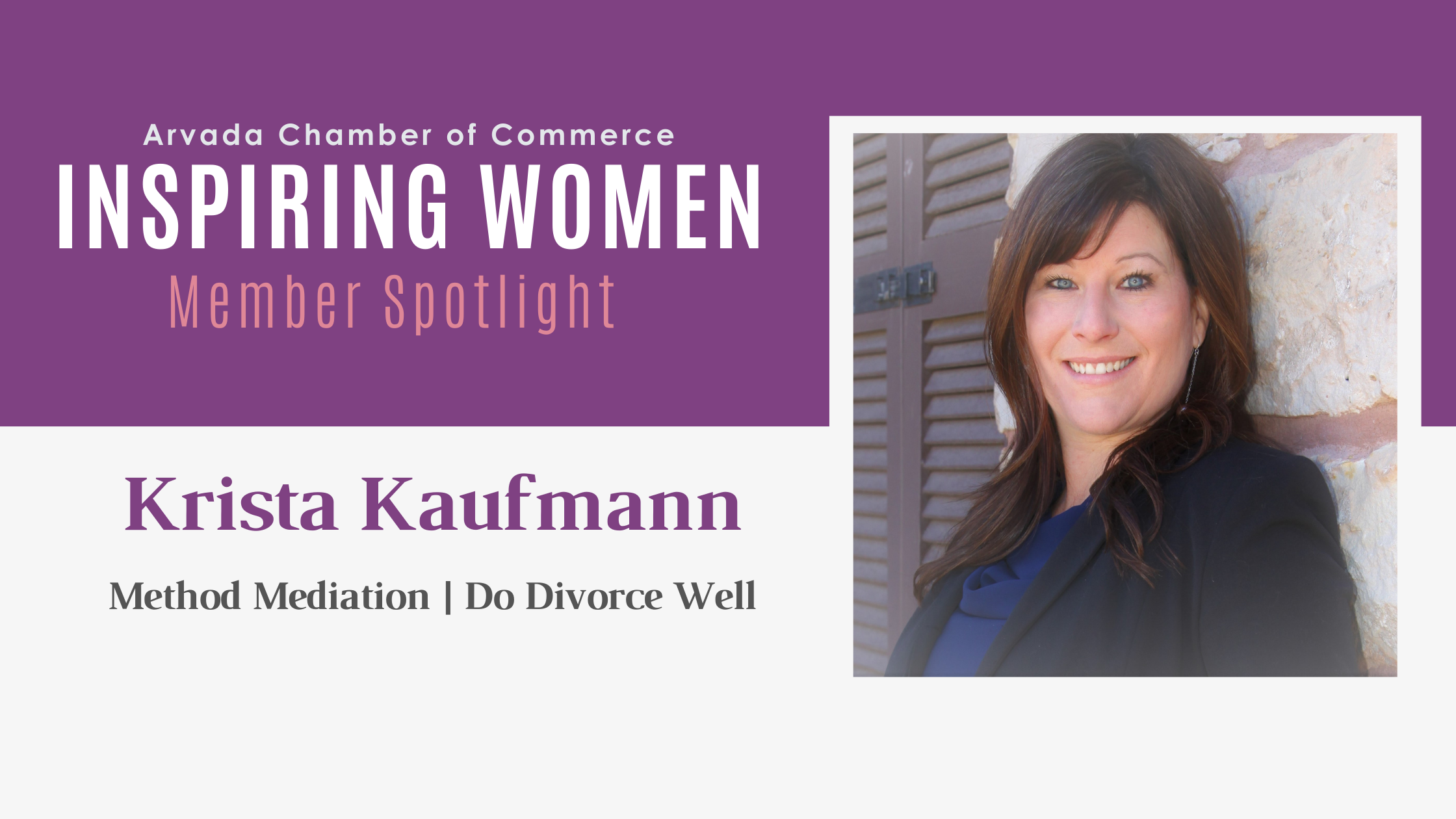 Krista Kaufmann, owner at Method Mediation | Do Divorce Well
Tell us more about you and/or your business.
We help couples who recognize the time for fighting is over, customize divorce settlements with deliberate financial strategies and child-focused parenting plans.
What keeps you motivated?
People want our process. We have assisted hundreds of good couples during the very difficult time of disentangling a life together. In a system designed to keep people positioned as adversaries, we believe if you provide a path to resolution with self-determination, transparency and communications, and the help of a trusted neutral professional, people can do divorce well.
What do you enjoy most about your work?
My clients. In spite of the difficulty of divorce, when I see a couple come full circle through the process, it reinforces the importance of our sometimes thankless work. Clients consistently tell us they would not have been able to do their divorce well without us. *Read our Google reviews* The thing I hear most is, "why doesn't everyone divorce this way." The expensive and fear-based adversarial system adds more financial and emotional cost for couples already in distress. Having an alternative process that couples consistently report is better, will hopefully become mainstream someday.
What is one thing you would like the Arvada Chamber community to know about you?
I am all things Arvada. I live, work and play in Arvada. Supporting the community, local businesses and future of Arvada is important to me and my family.
What are you excited about this year?
I am excited to see people reinvent, recover and rebalance after a long road of challenges to businesses and families. I am proud to be part of what we call a Resolution Revolution, a pivotal shift in how people perceive their roles in conflict and problem-solving.
Describe your ideal business power partner, someone you can rely on to help you both be successful.
My ideal business partners are therapists we can refer clients and to whom we can be a resource. We also partner with professionals who interact with clients' money; i.e. tax professionals, mortgage lenders, business coaches, financial planners, etc. The goal of our practice is to keep as much money in the pockets of divorcing couples as possible. Having strategic partnerships in our holistic approach to empowering clients to stay in control of their money and their future, is the cornerstone of our work.
What is a piece of career advice that has served you well?
Let go of perfection. Once you give up on trying to be perfect, you allow yourself the opportunity to be good.
What have you found valuable about being of a member of Inspiring Women? What is your favorite part about being in the group?
Inspiring Women has been a foundational part of my personal and professional development. It is not only a place to share my business ideas, plans, highs and lows, it is a place where lifelong friendships and alliances have been formed.
Are there any current trends or changes in your industry that would help small businesses or consumers?
Colorado courts require divorcing couples to mediate and attempt to resolve their differences before asking a judge to decide. With unprecedented backlogs in Court, the discretionary and unpredictable nature of divorce laws and the average costs of hiring opposing lawyers hovering about $25,000 in Colorado, coming to the negotiating table makes sense. I tell my clients to try the high road first. You can always switch to the low road, which is quite crowded if you cannot stay in the spirit of cooperation despite our help.
—–
kristakaufmann.com | krista@methodmediation.com
---
The Arvada Chamber's Inspiring Women group is an excellent platform to connect with other like-minded women in the Chamber and support one another professionally and personally. Inspiring Women is not industry-specific and we invite women from all ages and career levels to join. Learn more here!