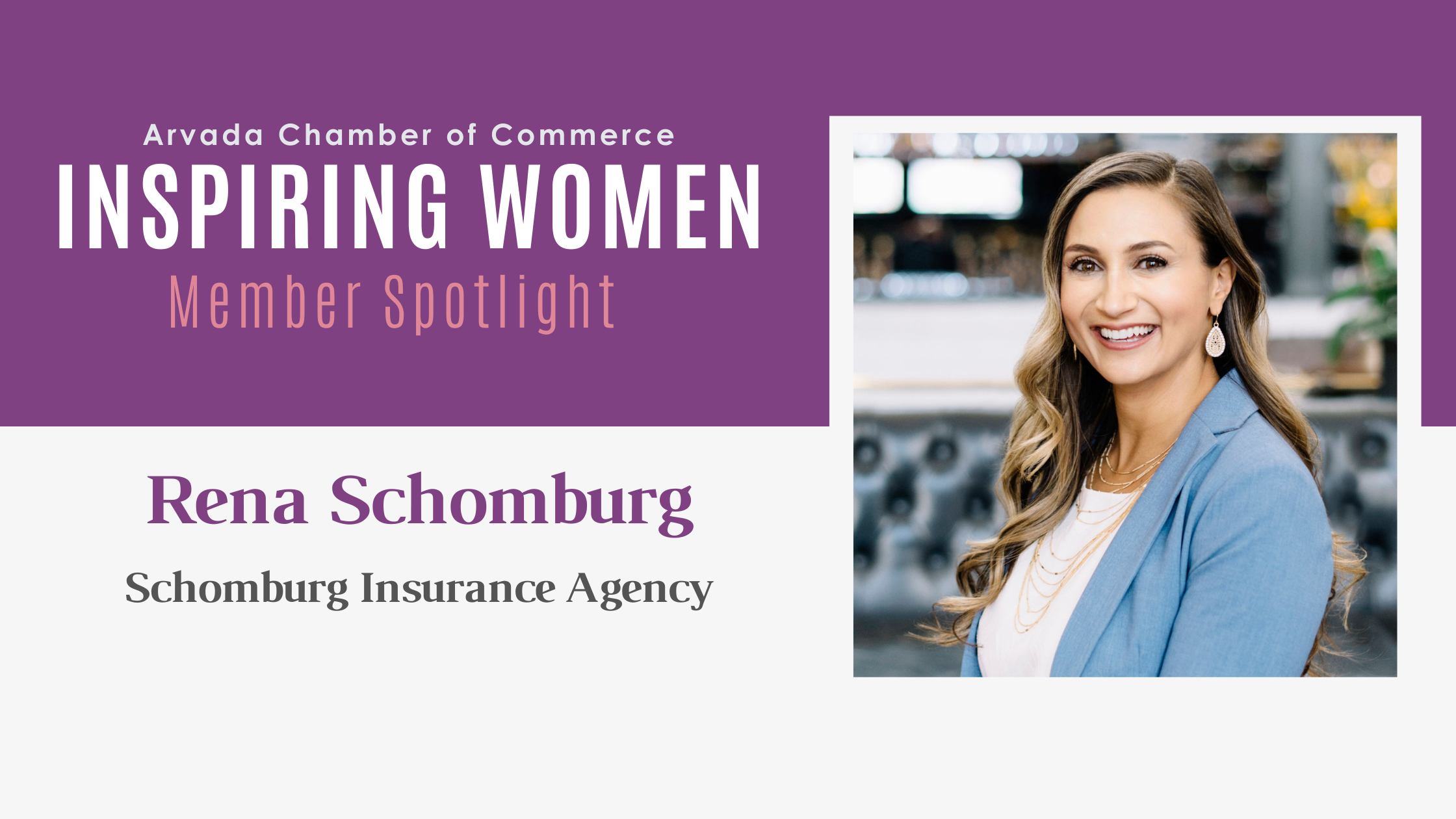 Rena Schomburg, agent at Schomburg Insurance Agency
Tell us more about you and/or your business:
The Schomburg Insurance Agency is your trusted partner for personal and commercial insurance. We are a family owned and operated local agency that specializes in commercial insurance, workers comp and bonding. We strive to be a leader in the community by creating meaningful events and making insurance fun.
What keeps you motivated?:
Knowing that clients value my advice to protect their most valued assets, from life insurance to their homes and their businesses, keeps me motivated.
What do you enjoy most about your work?:
My passion is empowering business owners with education about what types of insurance they need. Each business has unique needs and I love learning more about what they do and watching them thrive over the years.
What is one thing you would like the Arvada Chamber community to know about you?:
Building relationships is very important to me. You can usually find me at a fun community event, giving back and being a resource.
What are you excited about this year?:
2022 is a year of focus for me. It is a chance to create and further implement growth of our brand.
Describe your ideal business power partner, someone you can rely on to help you both be successful.:
My ideal power partner has the same values as me; integrity and a passion for community and education. They see value rather than cost and they know that their clients will be served beyond their expectations.
What is a piece of career advice that has served you well?:
"If you are the smartest person in the room, you are in the wrong room."
I love learning from others. There is no competition, just opportunities to learn.
What have you found valuable about being of member of Inspiring Women? What is your favorite part about being in the group?:
Inspiring Women is just that, being in a room with other like-minded professionals is simply inspiring. It is fascinating to listen to stories of resiliency of other women. Having a group like this to be a part of offers a great sense of community for myself.
Share any information about current trends or changes in your industry would help small businesses or consumers.:
In light of recent devastation to homes and businesses, I strongly am urging everyone to call their insurance agent to find out exactly what their coverage looks like. If you don't have an insurance agent, it is a good time to find out that is dedicated to knowing your policy. A catastrophe is not a good time to find out what your policy does or does not cover.
—–
Schomburg Insurance Agency | rena.bschomburg@farmersagency.com | Call or text 303-956-9865
---
The Arvada Chamber's Inspiring Women group is an excellent platform to connect with other like-minded women in the Chamber and support one another professionally and personally. Inspiring Women is not industry-specific and we invite women from all ages and career levels to join. Learn more here!