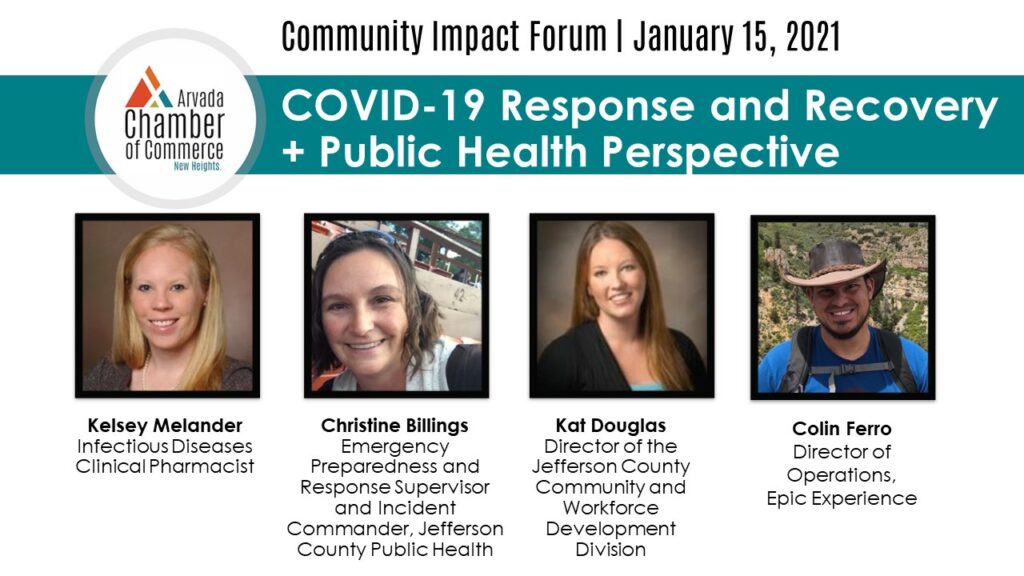 On January 15, 2021, the Arvada Chamber of Commerce hosted a Community Impact Forum on COVID-19 Response and Recovery. The forum explored what businesses need to know about COVID-19 vaccine distribution, capacity restrictions, the 5-Star Certification Program and more from public health officials.
Thank you to the following guest presenters at this event:
Kelsey Melander, Infectious Diseases Clinical Pharmacist
Kat Douglas, Director of the Jefferson County Community and Workforce Development Division
Christine Billings, Emergency Preparedness and Response Supervisor and Incident Commander at Jefferson County Public Health
Colin Ferro, Director of Operations, Epic Experience
Below, find video recordings and important resources from the event.
Vaccine Q & A, with Kelsey Melander
Resources:
Vaccine Distribution + Public Health Update, with Christine Billings
Resources:
5-Star Certification Program, with Kat Douglas
Resources:
---