Learning basic business etiquette is one of the key components that will let teenagers begin to excel in the workplace. The Jefferson County Business Education Alliance (JCBEA) spends time on this important factor during our Career Readiness Workshops that are offered at no cost to teens throughout Jeffco.
Often parents will ask us if they can participate in the workshops. The answer is no, but we have agreed to partner with our local chambers of commerce to provide bits of our curriculum each month to our business community. This month we cover:
Meeting & Greeting
The Handshake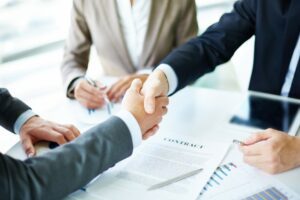 Hold out your hand – not too soon, don't wait too long
Lean forward slightly Push your hand into other hand until webs are touching
Hand and fingers firm, not too hard, never loose or limp
Range of motion is 2-3", shaking from elbow not the shoulder
2-3 seconds
Important:  Shake hands with a woman in the exact same manner as with a man.
Introductions
Say the most important person's name first!
Examples:
Introducing a client to the CEO -introduce the client first.
Introducing your spouse to the CEO – introduce the CEO first (your spouse is an extension of you).
Two individuals of equal rank – introduce per age if possible, eldest first
Elected official to elected official- highest office holder first
Elected official to CEO – elected official first (they outrank anyone in the private sector)
The JCBEA has launched a GoFundMe page in the hopes of having 2017 people donate $17 each to help keep Career Readiness no cost for Jefferson County teens.  Please visit:  
https://www.gofundme.com/JCBEA