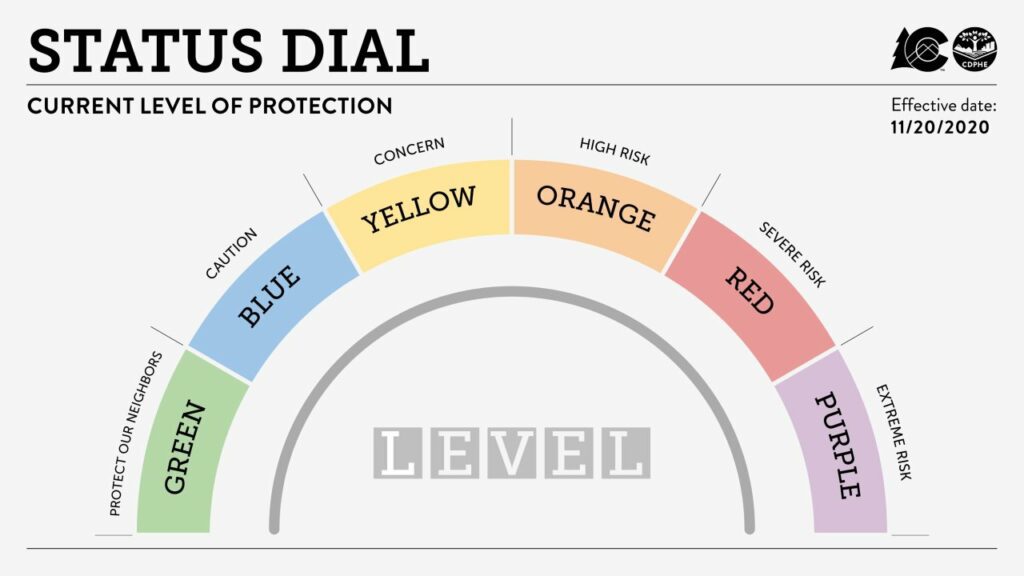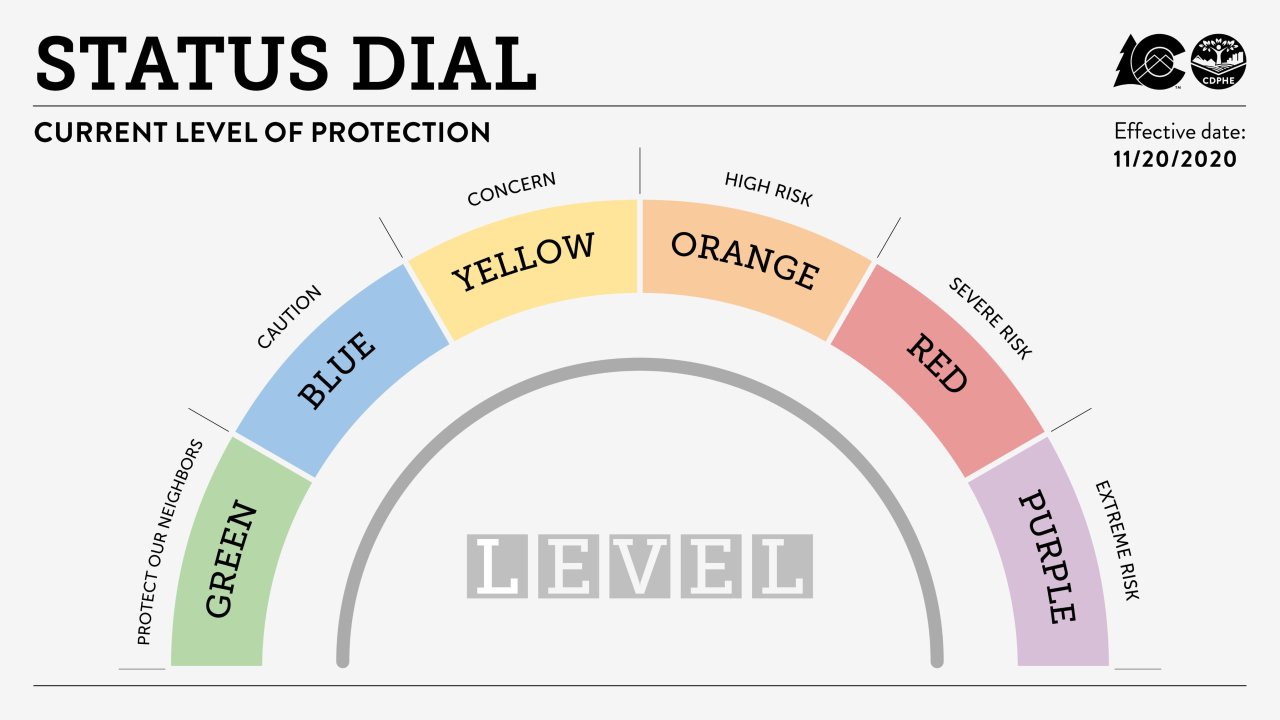 On Monday, January 4, many counties, including Jefferson and Adams, will be moved from Level Red to Level Orange following a steady decline of COVID-19 cases. What does this mean for Arvada businesses?
Level Orange Guidance and Restrictions
Variances: Not eligible
Personal Gathering Size: Up to 10 from no more than 2 households
Childcare: Open
P-12 Schools: In-person suggested
Restaurants and Bars

Indoors: 25% capacity or 50 people
Outdoors: 6 feet between parties, per local zoning
Last Call: 10 p.m. on-premises
Bars: closed

Offices: 25% capacity, remote work is strongly encouraged
Gyms/Fitness: 25% capacity, 25 people indoors, or outdoors in groups less than 10
Critical and Non-Critical Retail: 50% capacity with increased curbside pickup and deliver
See the full Level Orange guidance here.
Find a list of Arvada restaurants for dine-in and takeout options at arvadachamber.org/takeout-takeover. If you have changes to this page, please reach out to Ryan Hecht at ryan@arvadachamber.org.
---
CDPHE Approves Jefferson County's Five-Star Certification Program
On Dec. 31, Jefferson County received approval from the Colorado Department of Public Health and Environment (CDPHE) of its Five-Star Certification Program. Under this program, certified businesses are eligible for less restrictive capacity caps. With the recent announcement from Governor Jared Polis that all counties in Level Red will move to Level Orange effective Monday, Jan. 4, 2021, Jefferson County is working on adjusting the program to accommodate this change.
---
Colorado Vaccine Information
Colorado is currently in Phase 1A and 1B of its initial supply of COVID-19 vaccines. This distribution is available to eligible "Highest-risk health care workers" and "Coloradans age 70+, moderate-risk health care workers, first responders, frontline essential workers, and state government." As of this posting, 111,679 vaccine doses have been administered.
See the state's answers to your most important questions about getting a vaccine, safety and development, immunity, Emergency Use Authorization, and more at covid19.colorado.gov/vaccine.
---