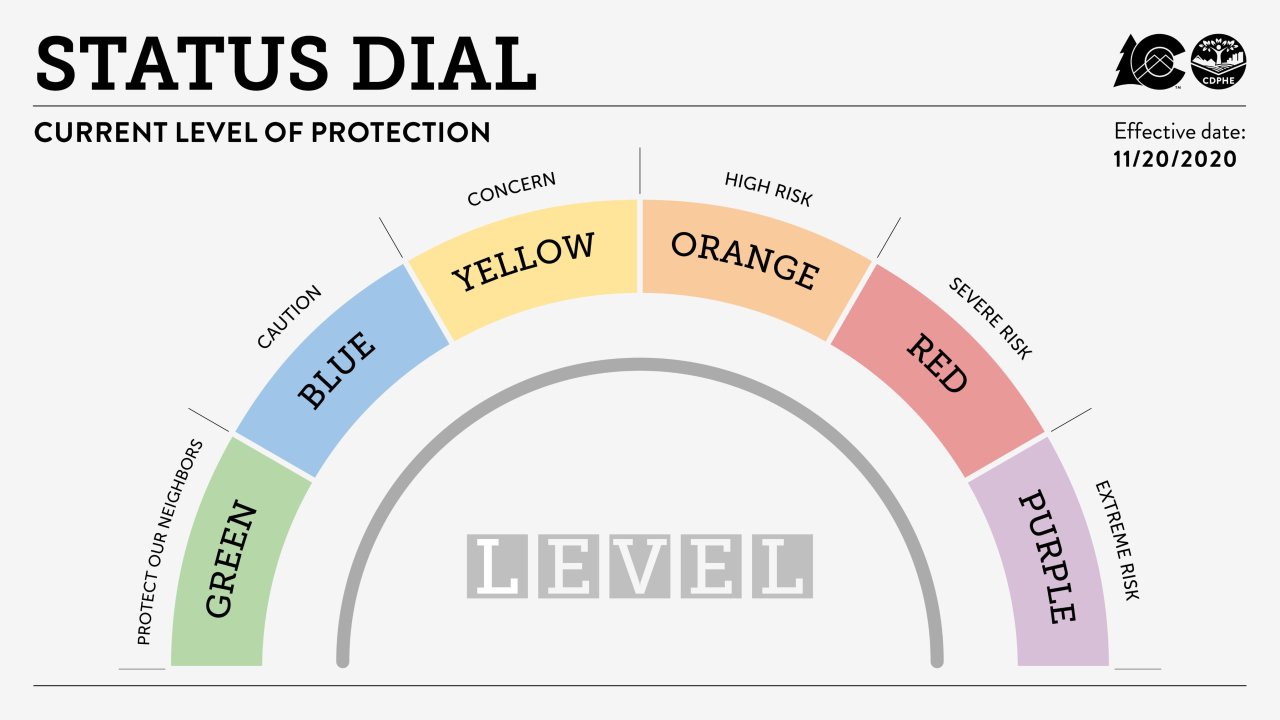 Jefferson County Public Health (JCPH) announced that it will move to Level Red restrictions on Friday, November 20. Earlier today, Governor Polis announced adjustments to the state's Dial Framework, including the new Level Red. The restrictions include no indoor dining, an 8 p.m. last call, and indoor gyms limited to 10 people per room, among other restrictions. Restaurants in counties at this "severe risk" level will be allowed to offer takeout, delivery and outdoor/open-air dining, where customers may only sit with members of their household.
"This virus is worse than it's ever been in Jefferson County and across our region. No one wants to resort to more restrictions, but frankly we are running out of options," said Dr. Margaret Huffman, Director of Community Health Services at JCPH, in a
press release
. "We are hopeful that by taking these steps as a region, we will begin to see some progress in the next few weeks."
Some key changes for the county under the state's updated Level Red requirements include:
Personal gatherings with people outside of your household are prohibited.
Indoor dining at restaurants is prohibited; use takeout, curbside or delivery options instead. Outdoor dining is permitted with those in your household.
Last call is at 8 p.m.
Gyms are limited to 10% capacity, or 10 people indoors per room, or outdoors in groups less than 10. Reservations are required.
Indoor events are closed.
Outdoor events are permitted at 25% capacity, not to exceed 75 people. You may only attend with members of your own household and you must maintain at least 6 feet from non-household members at all times.
Both critical and non-critical retail are limited to 50% capacity and should increase their curbside pick-up and delivery services.
ADDITIONAL RESOURCES
Colorado County COVID-19 Dial Dashboard


The COVID-19 dial dashboard tracks the progress of each county using key metrics. Communities will move between levels based on the metrics.

COVID

–

19

 

at

 

Your

 

Business

: What to do Before, During and After a Positive Case
Based on frequently asked questions from our businesses, this toolkit from the Arvada Chamber is a living, updated resource for employers and employees to navigate 

COVID

–

19

. Find the latest local case information, testing locations, return-to-work guidance, and communication samples to use in the event of a reported case 

at

 

your

 place of 

business

.
---
Our Commitment to Arvada Businesses
From the start of the COVID-19 Pandemic, the Arvada Resilience Taskforce has committed to providing all Arvada businesses the resources, information and opportunities to support your success. We recognize the uncharted and varied challenges that your business has experienced and those ahead over the coming weeks. The members of the Taskforce are committed to ensuring that you have all the necessary support to be successful. Below you will find our commitment to your business over the coming months:
We will continue to advocate on your behalf at all opportunities to influence guidance to better support your business and safely allow further capacity.
We will work closely with public health departments to understand and communicate guidance so you can continue to make the right decisions for your business and employees.
We will coordinate a seasonal integrated marketing and communication campaign that will drive customer engagement to Arvada businesses and organizations.
We will provide business education and innovative solutions designed to help you increase your capacity and opportunity to thrive.
We will keep a pulse on your needs and align resources to support your business, including funding, supplies, marketing, and more.
Your success is our business. We know that this is a challenging time and we are here for you. Any member of the Taskforce is willing to take your call and discuss your individual needs and how we can help. Please don't hesitate to reach out.
Sincerely,