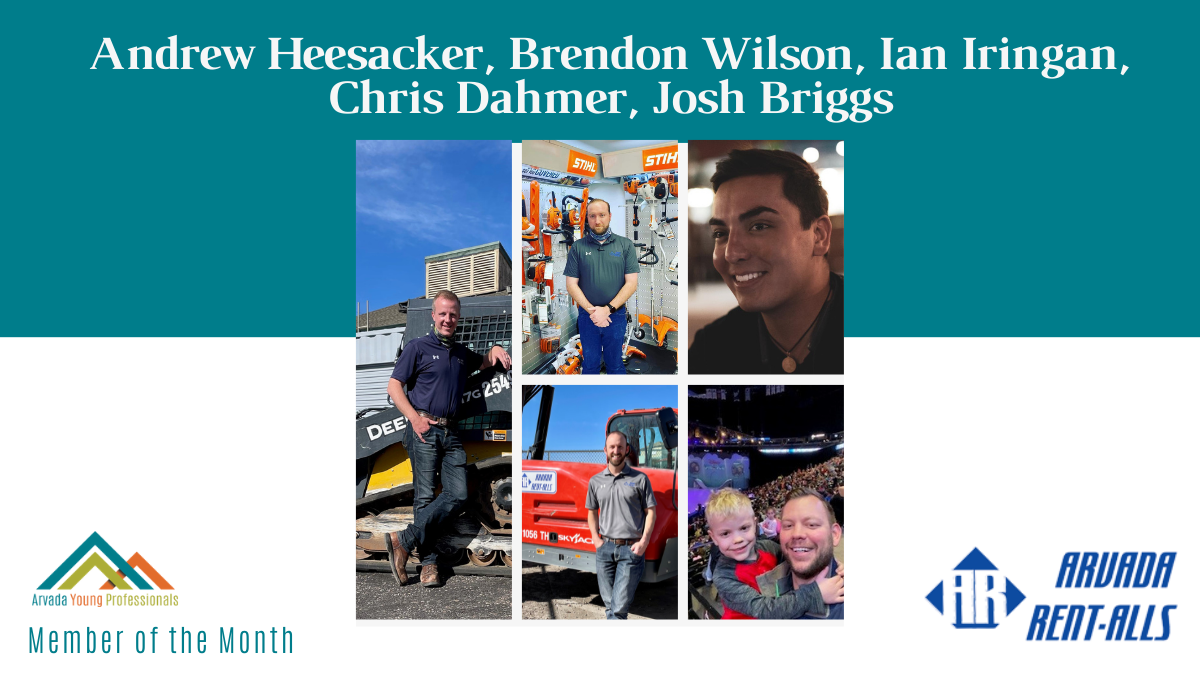 Organization name, job title and years in your industry
Arvada Rent Alls
Andrew Heesacker, President CEO
Brendon Wilson, Inside Sales Representative
Ian Iringan, Outside Sales Representative
Chris Dahmer, General Manager
Josh Briggs, Outside Sale Representative
What's your favorite thing about Arvada?
Andrew: "The people of Arvada genuinely care. They may not always agree on how Arvada should look 5 years, 10 years or more down the road, but they all care deeply about the state of the city. The population is certainly not small in the quantity of people, but it always seems small due to people knowing each other and a close network."
Ian: "Having the sense of a close-knit community and having a keen focus on supporting local businesses."
What makes you want to be involved in AYP or the Chamber?
Andrew: "The network of people that the Chamber has not only provides business leads but it also is great to be surrounded by like-minded people who are also driven."
Brendon: "I would like to grow as a leader and become more involved in the community where I work."
Chris: "Networking and trying to give back to the community."
What do you enjoy most about your work?
Josh: "Great question! I'm very much a family man, so what I enjoy most about work is their focus on family. They understand how important family is and it clearly shows by creating a great work/family atmosphere."
Ian: "I enjoy being able to travel and meet new people every day. Building lasting relationships and making customers into friends is really rewarding."
What is a piece of career advice that has served you well?
Andrew: "'Get your no' – my first true sales manager told me that the worst someone was going to say was no when you asked for the business. This advice has served me not only in my career but also my personal life."
Josh: "Being accountable, everyone will mess up – but it's how you take responsibility and learn from your mistakes that will determine how well you grow in your career."
Are there any volunteer leadership experiences you've had that have helped shape your career? Are there ways that you give back to the community?
Josh: "Helping with "Dinner In White" (supports cancer research) has helped develop leadership skills and organizational skills, which has helped in my current career. I have to be organized, and being out in the field by myself I have to show my leadership in order to be successful and effective."
Ian: "Being involved with Boy Scouts gave me much-needed training growing up while gaining skills I continue to use today. By volunteering for my Troop, I give back to the kids what I learned while in scouting,"
What else would you like fellow AYP members, Chamber members, and the community to know about you?:
Andrew: "If you need any support for anything in the non-profit world, let us know, we provide in-kind equipment to numerous non-profits."
Stay in touch!