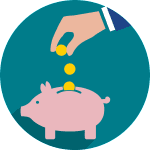 Last month, Key Private Bank released the results of a poll asking nearly 300 of the company's client-facing advisors to shed light on how high net worth women engage their families in financial conversations.
The results show that over the last three to five years, more than half of the company's wealth advisors are seeing men and women collaborating more in household finances, with one in three noting that women have become more proactively engaged when it comes to household financial planning and investment decisions. Whether it's by going to Joslin Rhodes, financial advisors in Newcastle, deciding to put money aside for retirement, or investing some of their earnings in stocks, bonds, and other trading services, there are lots of options for these couples to plan their financial future. You can visit hier to learn more about investing in stocks and bonds.
The poll also shows that 69 percent of advisors expect men and women to take more equal roles in financial conversations in the next three to five years. An additional 15 percent expect women will take on a more active role in financial conversations, whether it be about a Deserve credit card, bill payments or any other financial transactions. One-in-ten advisors believe women will become the primary leader of financial and investment decisions.
The Advisor Poll also ranked identifying the right caregiver as the top obstacle for women of the sandwich generation who juggle child and elder care responsibilities. One in three advisors also indicated financial planning and family conversations become more complex when women become primary earners.
Specifically, the poll found that men overwhelmingly dominate family financial conversations related to tax issues, such as minimizing estate tax (94%) and reducing income tax (92%). Men also take the lead when discussing leaving a family legacy (64%) and providing for the family (69%). However, advisors see women take charge of conversations pertaining to educating future generations (74%), charitable giving (74%) and death and disability (66%).
?
Click here to connect with Key Bank