The Arvada Chamber recognizes that the impacts of COVID-19 have varied by business and our commitment is to work to understand the ongoing challenges and develop timely and innovative programs, information and resources to keep businesses thriving.
Benefits and Ways to Get Involved!
---
---
2021 Arvada Chamber Resiliency Toolkit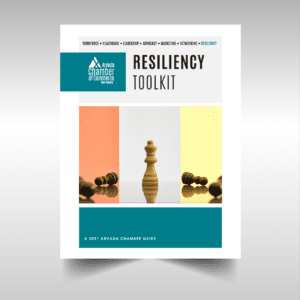 The Arvada Chamber of Commerce is proud to introduce 2021 toolkits for each of its seven priority areas. These toolkits will detail the specific challenges for our business community, critical supporting data, resources, and the Chamber's action plan to help our members thrive.
The 2021 Resiliency Toolkit serves as a guide for our response to the business challenges of COVID-19 and how members can thrive beyond this (and the next) crisis.
Included in this report:
An Introduction of Resilient Organizations
A Snapshot of the Latest Business Challenges
2021 Business Recovery and Innovation Data
5 Recovery Trends We're Watching
A Member Case Study
Your 2021 Resiliency Action Plan
---
The Latest Resilience and Recovery News