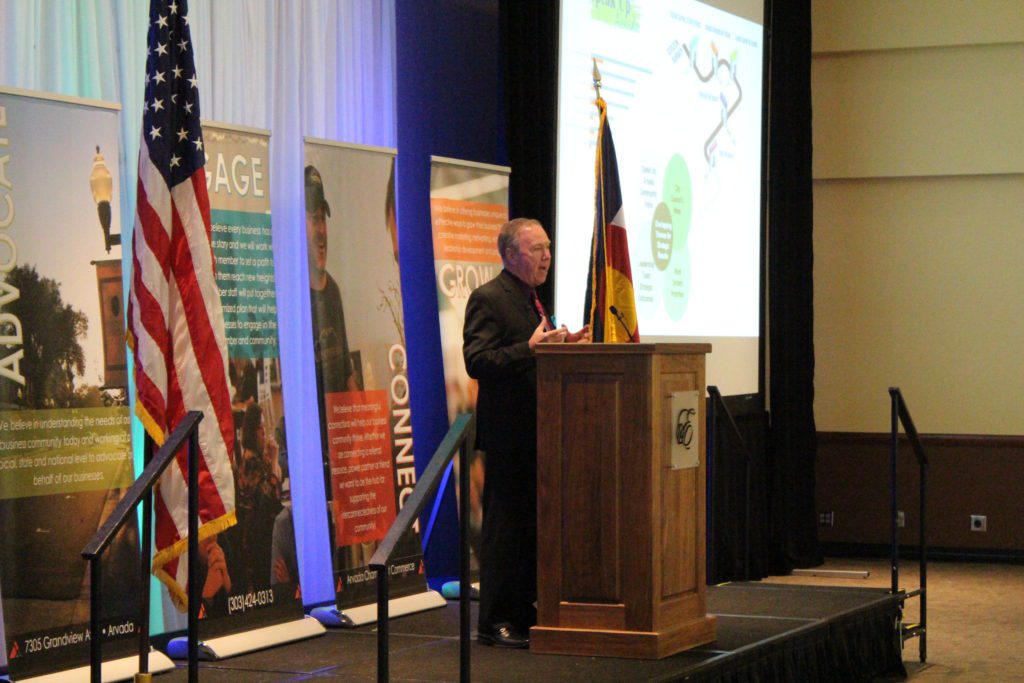 On April 19, the Arvada Chamber of Commerce hosted the annual State of the City Address from Mayor Marc Williams. In the hour speech, the Mayor addressed achievements, issues, and upcoming projects in the City of Arvada.
"We're continuing to move forward with the city's mission to dream big and deliver because it is so very important," said Mayor Williams. "We want to continue to listen to all of you. We want your input. We want to be able to keep Arvada the special place it is and make it even better."
Five key takeaways from the 2019 State of the City Address
The G Line opening was a community effort.

In his 2016 State of the City Address, Mayor Williams asked about the G Line's horn tests: "Can you hear it?" Three years later "and way too many horn blows later, the horn blows stop today," said Mayor Williams. He mentioned that at a recent RTD open house, he called for citizens to contact the Colorado Public Utilities Commission and Federal Railway Administration. In doing so, the people of Arvada helped break "the logjam of bureaucracy" that was keeping testing from happening. "You're speaking volumes to us about what makes life special in this special community that we call Arvada."

Public safety remains a top priority.

In the town's most recent community survey, Arvada citizens identified maintaining a safe community as the number one function of the city. Mayor Williams noted that Arvada has one of the lowest crime rates for a city this size in the nation and continues efforts to ensure safety for all citizens. In the last year, the police department found the northwest community lacked response times and engagement. As a result, city council approved funding for Whisper Creek Community Station, which will open soon. This station was funded without tax increase by using a portion of tax approved years ago for police protection.

Homelessness is an urgent and complicated issue.

In 2005, the police department responded to 118 police calls related to homelessness. By 2017, that number grew to 1,132. Last year: 2,037 calls. "It's up to us to do something about this," said Mayor Williams. The city is working with community partners and directing resources to address the issue head-on. For example, the police team assigned a dedicated officer to be a homelessness liaison and the city began development of The Navigator program to connect those experiencing homelessness to resources.

Learn more about how the city is addressing homelessness and how you can get involved.
Organized waste hauling decision is coming soon.  The city is looking into ways to organize waste hauling to reduce cost and pollution, while increasing options for recycling and other services. In a recent community survey, two-thirds of respondents supported the idea of organized waste haul system. Mayor Williams and the Sustainability Community have considered a great deal of research on the issue, and City Council will make a decision on this later in the year. Learn more here.  
Arvada awaits in two major traffic projects. About three years ago, the city was putting about $3 million per year into roads. Today, Mayor Williams says Arvada is investing $10 million into its roads, still a low number according to projections. Two upcoming projects have dominated the funding (and conversation) on Arvada traffic. This summer's widening of Ralston Road will result in wider sidewalks, better traffic movement, and overall safety. Additionally, the 77th Ave Project, supporting the Jefferson Parkway from Sims to Kipling, will impact traffic on a regional level. The Jefferson Parkway will operate as a toll road and is expected to begin construction early in 2020. Construction is anticipated to take two years, so expect many road delays and many road traffic cones restricting access to certain roads, entrances and exits across the region.
Watch a video of the 2019 State of the City Address below, courtesy of the City of Arvada.