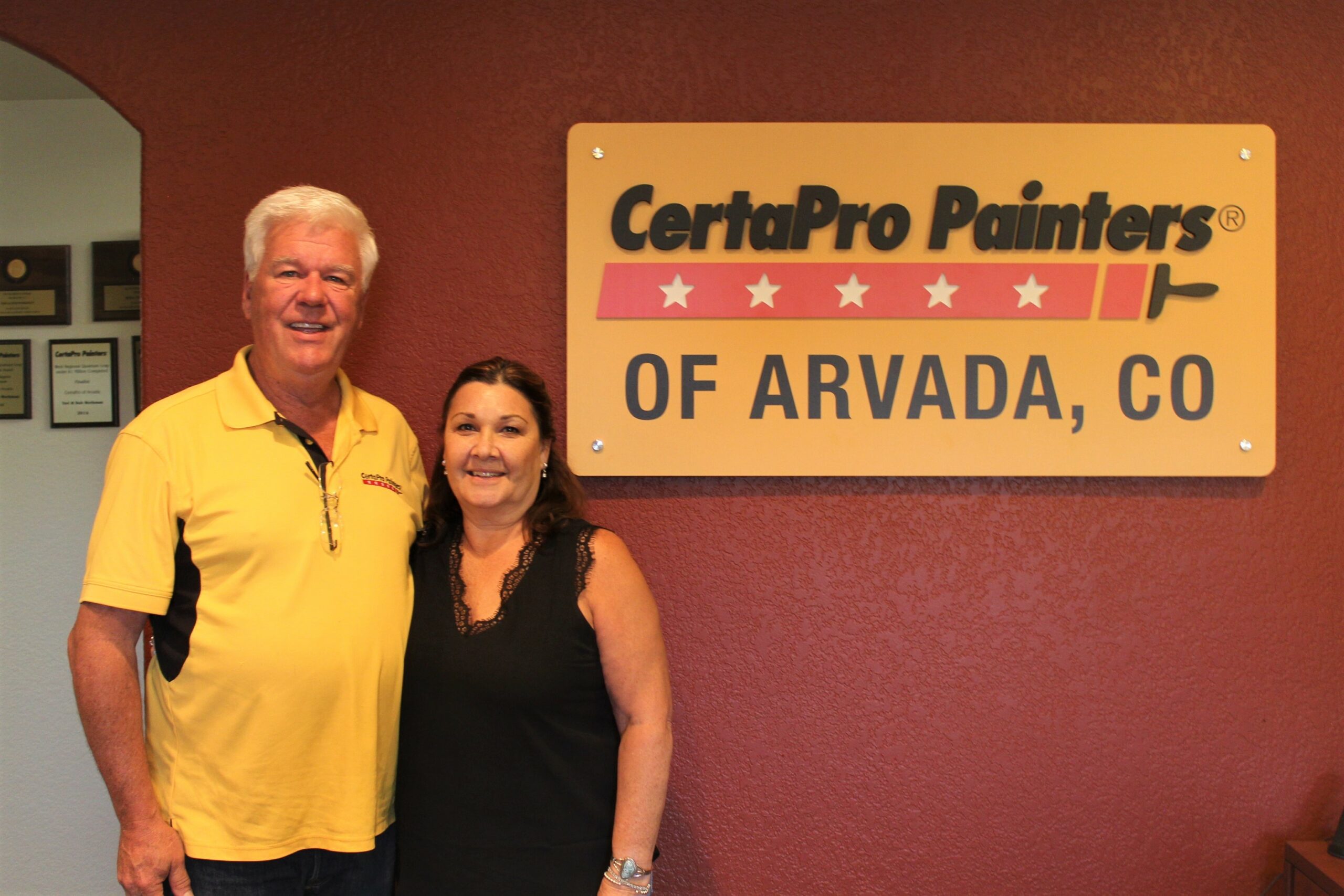 Bob and Teri Workman started CertaPro Painters of Arvada 12 years ago in 2009. Bob had previously worked on the manufacturing side with Coca-Cola for 20 years before he was let go. Not wanting to leave Colorado, the Workmans started running the CertaPro franchise out of their home. Bob handled the estimating and sales; Teri ran the office. Now with office space and double the employee count, the ten-year Arvada Chamber members have painted a successful small business story.
"I wish I had done this 20 years ago," laughs Bob. We talked to the CertaPro owners about starting a business with your partner, generating great reviews, and painting houses in the work-from-home era.
Does blue-collar work run in your family?
Bob: Well our daughter worked with us for about six years, running the office, before going to work for the corporate office. I grew up in a small Southern California farming community, so I grew up running tractors and working in fields. My dad worked at a paper mill. On my side of the family, pretty much everybody was blue-collar. Most of our family has been entrepreneurs. 
Teri: Yeah, my father was in real estate for 30 years with two offices in California.
When you started the business and you were a new entrepreneur, what were the biggest hurdles?
Teri: I would say just learning the business because neither one of us were painters. The franchise helped move things on a little bit faster. But we had to go out and talk to people and learn what they needed. He's pretty much the talker of the family so he gets along with people really well. But I tend to be a little bit quieter so that was a challenge. 
Bob: I learned that running a $38 million production facility is a lot different than running a $1 million painting company. In the corporate world, if you make mistakes, somebody else is writing the check. If you make a mistake, you're writing the check. 
On a personal side, we've never worked together, so that was a challenge. When we started the business, we literally were out estimating together and we would drive around for eight hours going from house to house and house. It was nothing for us to go sideways about something and then have to put a smile on a face when we walked in the door to somebody's home. 
Since we've grown, we've identified roles better. I don't care if it's two people or 10 people, you still need an org chart that says this is your responsibility and you report to this person. That was really a big challenge for me to go from managing 350 people to just working with your wife when you're used to telling people what to do.
What have you learned or changed about your business through COVID-19? 
Bob: One of the things that has happened recently is that people are now more in tune to using the Internet and finding out what they need. Then they just want somebody to give them the pricing and move on. So we've had to go to virtual estimating. That's something I said I would never do. I thought people were buying me because I was the salesperson: I'm going out and I'm selling you a process. We did more of that when things started shutting down and a lot of people just did not want us in their homes as much. They would hire us to paint their house but they wanted to skip over the before and after stuff.
So are people coming to you as experts now? 
Bob: Oh my gosh, yes. But they don't have all the information and we have to explain to them why we're doing things or using the products that we're using. That has been a huge learning curve for us and our crews.
We used to go to your house and you go to work and when you came home, we were done. Now people are there literally 24/7 because people are working out of their house. So it's almost like you have a constant set of eyes watching. 
From that perspective, it's made us better. It's helped us get better in dealing with customers and overall communication. It's forced us to do things differently and increase the level of communication because people are now more involved in the project.
How has that impacted your marketing? 
Bob: Our best marketing tool is our reviews. We don't have any bad reviews. We've got over 100 reviews and they are all positive.
Wow. What's your secret?
Bob: I think it's personal attention because as owners we are the ones that show up when the job is being done and if somebody has an issue, there's an owner showing up. I'm the one taking the crew out there to make sure the job is done because good reviews are hard to get. 
We've always believed in the power of the Internet and as a small business, especially a franchise, I can't afford to do a bad job. If I work in any of the new Arvada developments and it hits Nextdoor that we blew up the house and we're bad people to deal with, I can lose that whole part of my universe. My universe is confined. I can't go to Highlands Ranch or Broomfield. So we take a lot of pride in what we do. We don't market ourselves to be the cheapest but if you have a problem we're going to take care of it.
What is the biggest misconception in your industry?
Bob: I would say the first misconception is the majority of people think they know how to paint a house but they miss steps. The biggest piece to painting houses is the prep. It's not the paint and it's not the guy that's putting it on. It's the prep beforehand that makes sure the house is ready to accept the paint. A lot of people will go out there and try to do it themselves and they'll just roll it on and then it's failing in three to four years. 
I think the other biggest misconception is being a franchise owner; that we're a big business. A lot of people think because we have the CertaPro name behind us that we're this huge company.  We have four employees and we have crews that run up to about 30 painters. 
The other thing people have a misconception about is because we're a big company we don't give back to the community. We do a lot of work with Faith Christian Academy. We just got done painting the Arvada Center. Anytime we end up with a job like that we donate money back. Our contract was to paint the Arvada Center ballrooms and we donated the outside of the ballrooms to bring it all together. 
Teri: The other misconception is that while we do use subcontractors, our subcontractors have been with us for years. People are always worried if we know who these guys are and yes, we've had some subs that have worked with us for 10 years.
What's a new trend in your industry that you are really excited about?
Bob: The latest trend is people are painting their cabinets – thanks to HGTV. If I had to give you a pro-tip, it would be to hire a professional. Not only do you get more durability and longevity, but usually when you're hiring a painting company like us, we offer color consultations. I'm going to send Teri out there to help you pick colors. 
Teri: It's good to have a second opinion. We painted our house and had 10 sample colors on the walls. I still had to call my girlfriends to come over and validate that I was making the right choice – and I do this for a living.
---
CertaPro Painters of Arvada
303-274-2217
workmans@certapro.com