Hope House Colorado began when the founders, two former teen moms themselves, recognized that because 67% of teen moms live below the poverty line, they are a particularly vulnerable and overlooked population. For 18 years, Hope House has provided a number of programs through its mission to empower parenting teenage moms to become self-sufficient. We talked to Founder and Executive Director, Lisa Steven, about the evolution of Hope House's programming, the impact of COVID, and unique ways the business community can get involved to help teen moms.
What programs do you offer?
We have three programs. We have a Residential Program where we can house up to six moms and their kids. We have an Early Learning Program for the children of our teenage moms. And then our Hope House Program for teen moms that offers training for GED and high school, college and career, financial literacy, parenting and personal and spiritual growth. We also offer community-building activities and events to bring our moms together to build community among themselves and with healthy adults. 
How have those programs evolved?
In 2003, we started out as a residential program because there was no home for teen moms in the Denver metro area. We're still the only one providing housing and a full self-sufficiency program for parenting teen moms in Colorado. By 2006, we realized that there were many teen moms calling us for things other than housing and so we started a GED program. That led to the full Hope House Program. It grew from the residential seed to us being able to serve way more than six moms at a time. 
A big focus now is working with expansion partners in Colorado and elsewhere who want to start programs for teen moms without taking 18 years to do it. Our expansion partners are a 501C3 with their own fundraising so we don't have any financial or legal responsibility for them; our goal is to simply equip them to scale more quickly so more teen moms can be served across the country. We're basically handing you a proven model and doing the initial training to do the work that we do where you live. 
Teen moms are a demographic that often shoulders many unfair assumptions. What are some misconceptions that you've learned about teen moms?
First and foremost, every single teen mom who's ever walked through our doors has told us that they feel judged most places they go. One of the best ways we can impact their lives is to make sure they feel welcome and that our focus is on their strengths and not all those misconceptions that they've internalized. That can be as innocuous as walking into the grocery store with a baby on your hip and someone just looks at you curiously to a doctor who mistreated you because of a judgment made around you being a teen mom. 
There's this huge assumption that a teen mom is going to have no future and that their child will now have no future. There's a huge misconception that they're irresponsible when the exact opposite is true. They are actually incredibly responsible and take responsibility for their kids which is why they participate in our programs. They are 100% motivated to build a better life for their child and we call that their "mommy motivation." 
The vast majority of our moms have grown up in generational poverty and they simply have no idea what it looks like to build a better life for their child. They have never been exposed to banking, they have never been exposed to early education or preschool, and they don't have any family members who have ever gone to college. They just need us to give them a second chance and the tools and then they're really doing the work.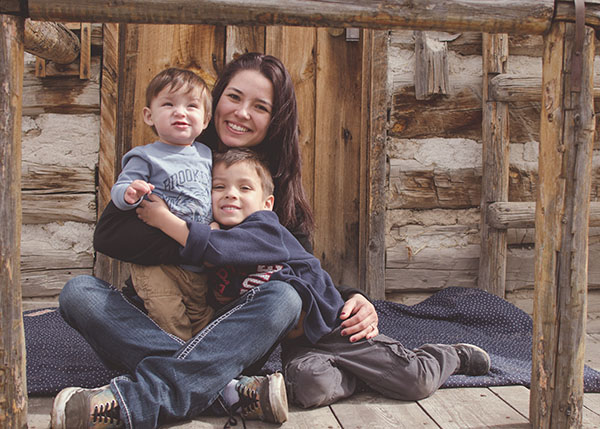 Do you have any standout success stories?
One of my moms that I talked about a lot is Janelle. When she joined our GED Program she had two little kiddos and we learned that she was living in her car. We had her apply for our residential program, where she then completed her GED. Over the course of the next couple of years, she completed an Associates's Degree in applied science and machining program and was offered a job at Ball Aerospace as a machinist. She now owns her own home, is married, and her kids are thriving. She's completely self-sufficient and has truly broken the cycle of generational poverty.
What have you learned personally through this work?
Teen moms really are, in my opinion, the best employees. They can save the world. lf you want to hire someone who can problem-solve, juggle 50 things at once, is courageous, committed, and persistent, hire a teen mom because they are all those things and more. 
What is unexpected for me is how God will bring all these amazing people, this whole community of people, around you to help you do what you feel like you're called to do. This community in Arvada has come around our moms in such an incredible way to make sure that they know that they have a home. 
How did COVID uniquely impact teen moms and your organization?
What I always say is if you don't live in a safe home you are not "Safer at Home." You were just isolated in an unsafe situation. The impact of that is 80% of our children who were on track in March of 2020 have declined in their developmental scores, their social-emotional scores, and their language scores. The impact on our moms is a drastic increase in relationship violence, an increase in substance abuse, the largest increase in homelessness we've ever seen, and a big challenge with mental and emotional health. We need to shift the entire way we perform our programming to meet the needs of their mental and emotional health needs, for both our moms and children. We have moms who have been moving forward for a number of years with us and now are so deeply depressed they aren't getting out of bed. It's hard to articulate the impact of isolating already at-risk youth in very unstable home situations.
How can individuals support Hope House?
Individuals can apply to volunteer through our website. People can also donate items that can't be purchased with food stamps, such as diapers and wipes, personal hygiene products and cleaning supplies. There are slightly larger items we're always in need of, like brand new car seats. We have a donation list on our website. 
Also, our teen moms earn points all year in their programs and then they get to spend those points at our Christmas Shop for their kids. At the top of our website is a link for people to donate toys and items we need for the Christmas Shop. 
How can businesses support Hope House?
If your business provides a service or a product that could benefit our teen moms, you can donate your time and services. For instance, if you're a mechanic and can fix one car a month or a hairstylist, chiropractor, or yoga instructor, we can typically find a way to connect you to what teen moms need. 
How has Arvada Chamber involvement impacted Hope House?
I cannot say enough good things about the Arvada Chamber. We initially got involved with the Chamber years ago because you joined the community chamber to go to a networking meeting once in a while. But the longer we were involved with the Chamber, the more clear it became that the Arvada Chamber is way more than that. 
For example, in the beginning stages of COVID, we were utilizing the communication from the Chamber to make decisions in a daily check-in meeting with staff. From what happened when COVID hit to knowing how legislative regulation impacts our community, that's all a big deal for us. The fact that we're learning about those things through the Chamber as a resource, I never would have expected that. 
---
Hope House Colorado
(303) 429-1012
info@hopehousecolorado.org