LUKI Brewery opened in the summer of 2020 as Arvada's eighth taproom. In a city and state with no shortage of excellent beer options, LUKI's unique drinking experience goes beyond the colorful, circus-themed aesthetic. The brewery promotes "Entertainment, Wonder, Community, and Astounding Beer for One and All." We talked to owner Jeffery Smith about accomplishing those high-flying feats and what the ringmaster has planned for the marquee in year two.
How did LUKI Brewery get started?
Jeffery Smith: I previously worked in manufacturing for 22 years. My wife and I had homebrewed as a hobby long enough that the name LUKI is a combination of our daughters' nicknames, Lulu and Kiki. So it was a name that kind of stuck. I enjoyed the homebrew challenge of trying to match other commercial recipes and, as an engineer, understanding the science behind it. 
Around 2016, I started looking at the bigger picture of what I wanted to do with the second half of my life, so to speak. My father-in-law was a business owner – he started Boulder Sausage – and all along had really been pushing us to start our own business. So I started putting some math together of what it would take to run a taproom-driven brewery, without distribution. 
It took us four years to actually get open and a lot of that was about finding the perfect location, which we got really lucky with. We were excited to sign the lease, found some architects who loved our vision, and started spending lots of money on construction, and then two-thirds of the way through, the pandemic happened. When the Governor announced restaurants would reopen, we brewed our first batches of beer to sell and officially opened on July 3rd of 2020.
What inspired the circus theme?
That was actually kind of a tough decision to make. My great-grandmother and great-grandfather were in the Ringling Brothers Circus in the 1920s. They met in the circus and got married. They had a son and my grandfather continued in advance sales for the circus, trying to drum up business in town. That led to some fascinating stories about competing circuses and how cutthroat they got from town to town. But as they left the circus and put it behind them, a lot of that history was lost. 
I started going through old memorabilia and did research to piece together the history of the circus family. From our perspective, we were really nervous about using that as a theme because we didn't want it to come off as garish or a joke. We really wanted to focus on more of a contemporary feel to everything. We were lucky our architect and some of our branding people helped create something really unique with the art. I mean certainly, there's no other circus brewery in Colorado but even nationally, there are maybe three other breweries that have this theme. So it's nice to do our own thing out here in Colorado and it's even better that we've got some circus family heritage tied to it. 
You mentioned finding your family's memorabilia. Is any of that in the taproom?
We're slowly working on bringing it all out. We've got photo albums that are legitimately 100 years old and we will get those photos reprinted to put in the brewery. There's a picture of my grandmother on elephants. She was Mademoiselle Chloe and she was the elephant rider. She also did some acts where she had snakes all over her. There are pictures of my grandfather in front of the sideshow thing where you had all the banners of all the freaky sideshow acts. It's cool seeing these photos and we will bring them in, but you know, we were just worried about getting open and having good beer at first. 
When you opened, what were some of the challenges and lessons learned of operating in the pandemic? 
For us to be open for COVID-19, we had to have an official restaurant partner. Everybody said to use a food truck, but that provided its own challenge because we're an unknown brewery and food trucks are going to go to where the crowds are. So we didn't know what it was gonna be like when we opened the doors in the first couple of months of operation. 
We got really lucky the community within just this parking lot here helped us out. We had restaurants who let us put their menu on the wall and that worked for a while. But Malone's Clubhouse Grill at the other end of the strip here is probably the biggest and best partner for us. They don't do delivery but they were willing to deliver here. It was huge for us. 
Then, right before Thanksgiving, things started shutting down again and there was no more inside seating. We turned our entire taproom into a retail place. We hung up all of our sweatshirts and T-shirts and some of our glassware we packaged with hot chocolate for gifts. We bought outdoor tables with propane-powered fire pits and about 40 nice fleece blankets that we took home and cleaned every day. All in all, we kind of consider ourselves pretty lucky; it's all gonna get better from here.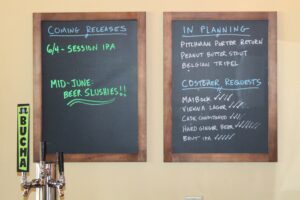 Since you started a business in a very crowded industry, what do you focus on to set yourself apart? 
For us, it's really about the people interaction. Since we're a family brewery – the owners are my wife, myself, my mother-in-law, and my father- we are very transparent. We're not owners that hide; we're here all the time. I think it's our approachable nature that's given us a lot of early success here and it's something that we're not going to change. 
We are doing two things with the community that are just that little step above and beyond. First, on May 1st we made a batch of beer but we didn't make it all the way. So we had a homebrewer competition to come in and get some of our wort and you finish it off any way you want. You can create a sour, you can make a milkshake IPA, you can do it any way you want and then submit your beer by the end of the month. So people are starting to submit right now and we're gonna do some judging and whoever wins it can come back and brew the beer with us in a big scale format. We're going to put it on tap and every dollar of the pint goes to the charity of their choice. 
The other thing that we do all the time is we have a board showing our upcoming releases and we have a spot where customers make requests and vote on the next beer. Right now ginger beer has a lot of votes so we'll figure out a ginger beer and make sure that that's within our license (laughs). So yeah, we've got a very long list of stuff that we want to throw against the wall and see what sticks because, you know, we'd like to have the problem of too many fun things and not enough nights of the week.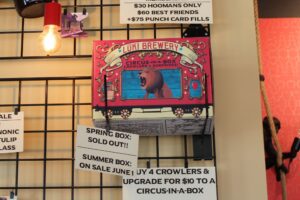 Speaking of fun ideas, tell us about the Circus-In-A-Box concept. 
Very early on when we had a lot of loyal customers come in and buy multiple crowlers and we were looking at new ways to carry these out. There's not a good off-the-shelf solution for a 6 pack of 32-ounce growlers. About that time we found a picture of my grandfather and he's got his hat on and he's selling crackerjacks. We liked the idea of the crackerjack prize inside and that led to this box concept. We decided to throw some fun stuff in there that is either a limited edition or an early release. We partnered with a company called The Inventing Room in Lakewood to include some Willy Wonka-type desserts, like glow-in-the-dark rice crispy treats. The box design itself has fun elements like a QR code to a collaborative Spotify playlist from the community and a picture to color. We enjoy having fun with all those branding elements.
What's your favorite style of beer and a style you have learned to appreciate?
My personal favorite style is all darker beers. Maybe that's because before I was a beer geek I was a coffee geek, so I really appreciate different coffee beans and roasts. Dark beers are really kind of the same thing; you just take the same grain that goes into a lighter beer and you just roast it differently to get different flavors like chocolate, toffee, caramel and coffee. 
I'm not a fan of sours, but it was nice to get challenged that way, especially when people write suggestions on the wall. A great example of that recently was about three weeks ago we released the hard seltzer. Everybody here is asking for a seltzer and I get this idea that we can make it like an Arnold Palmer with a lot of hibiscus. Our beer last year, Grammy's Pumpkin Pie was a beer that I absolutely hated because I'm just not big into spices. It was a beer we had only brewed once before in the homebrewing days and knew people were expecting a pumpkin beer in October. We still laugh that it's been our most popular beer since we opened.
---
LUKI Brewery
14715 W 64th Ave Units A&B, Arvada, CO 80004
Monday through Thursday: 3pm to 9pm
Friday and Saturday: Noon to 10pm
Sunday: Noon to 8pm