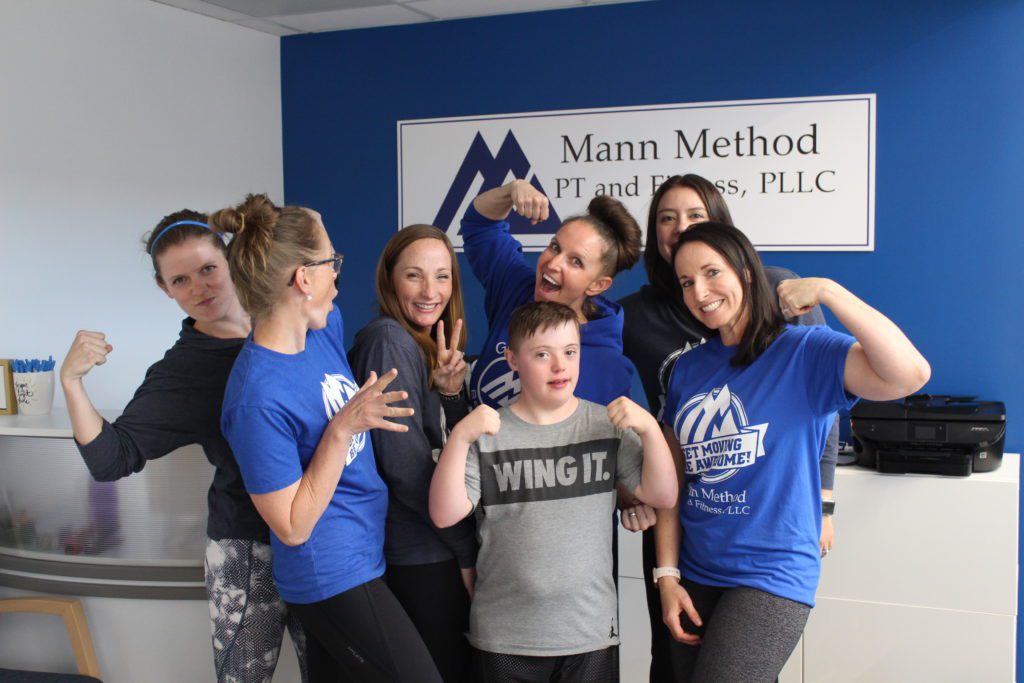 In 2004, Dr. Sarah Mann (PT, DPT, MBA, NSCA-CPT) was working as a personal trainer in the Denver Tech Center when a family asked if she could work with their son, a 40-year-old with Down syndrome. Through a shared love of Arnold Schwarzenegger and the golden age of bodybuilding, Dr. Mann quickly found that this was her favorite client to work with. Soon after, she went back to get her doctorate in physical therapy (PT) and started a clinic with an all-star team to provide pediatric and orthopedic PT, plus occupational therapy (OT), for teenagers and adults with Down syndrome. In 2015, a connection with Jack's and Steamers led Dr. Mann to move Mann Method PT and Fitness to The Village of Five Parks in northwest Arvada. "This was such an amazing, natural fit because people with developmental disabilities are embraced and accepted in this community," said Dr. Mann. "It was so many good things in all different directions."
Describe the need you're filling in this community.
Dr. Mann: There's not a lot of resources out there from a physical therapy perspective or occupational therapy for teens and adults with developmental disabilities. There's great resources for early intervention, so babies to infants. There's good resources when you're in school but by the time you're about 12 years old, you're often discharged from PT and OT. The underlying physiology for people with Down syndrome doesn't change. They're still going to have loose joints, more flexible ligaments, and lower resting muscle tone. It's going to take more energy for them to do things if they don't know how to use their body best. And they're still growing. There's a lot of great pediatrics out there but not transitional medicine, as we call it.
People with Down syndrome, 40 years ago, lived to a max of 30 years old. Now the life expectancy for a person with Down syndrome is 60. With different communities and support over time, now people are living longer and are a part of society. They're working at Jack's and Steamers, they're having purposeful, wonderful lives and they're getting the same aging experience, but with a different physiology. This field of transitional medicine has been identified as a priority by the American Physical Therapy Association, but there's still not a huge presence yet of providers that like to work with that group.
What are some unique PT challenges for people with Down syndrome?
Dr. Mann: For people with Down syndrome, they have really strong visual processing. So they're amazing visual learners. But for PTs especially, we tend to want to talk through things. That's not always successful for people with Down syndrome. Here, we've spent the last 15 years working on our approach to target the strengths of our population and make everything we do successful. Learning a new movement, which can be challenging, we teach it for them so that they are empowered through their strengths. Like with visual cues and pictures, as opposed to lots of verbal instructions. Then we design a very clear progression of activities and they're hearing positive reinforcement. It's hugely important for our people with down syndrome to feel that success so they want to participate and follow through on the whole program and parents are feeling like they've got it.
Do your patients tend to be more long term?
Dr. Mann: Yes, in a traditional orthopedic model, people will come for six to 12 visits and you're off and away. We see people on a more long-term perspective because it takes a little bit longer to learn how to do the movements and build the trust that we know what we're doing. We see patients starting at birth and our oldest patient with Down syndrome is 58. For people with Down syndrome, it takes longer to learn a new skill. It takes 52 practices of a movement to feel successful with it. For our patients and families, it's important to us that everyone feels like they are getting strong and good at what they do.
In what ways have you seen your patients overcome obstacles?
Dr. Mann: Jonathan, for instance, started riding a bike without training wheels this summer. That's a pretty big deal. It's taken a long time but he loves it. He likes to say "Sarah Mann, let's go practice bike riding. I'm going to make you exhausted." And it's true. We do laps. He just did a great program called I Can Bike.
One of our friends Stephen, he lives up in the mountains and just turned 25. He's so excited because he's going to college next year. A huge reason he's going to college is he's independent in his PT program. He does his exercises at the rec center like any other 25-year-old. He is more regimented than a lot of other PT patients we work with. The fact that he has Down syndrome and has overcome some health challenges to be so strong and healthy, he's confident enough to move out of state for college next year. It's so awesome. The parents and caregivers come in and say "This is a huge part of how he defines himself. He's strong. He's amazing. And that's why he's going to do these things." We get to hear amazing stories every day.
Dr. Lauren Theune (PT, DPT): It's just a different vocabulary here. When I started my clinical, I thought, "This is a vocabulary I want for my life, not just for work." It's such a positive, successful feeling. I want my family to feel that. I want my friends to feel that. Our patients feel successful and awesome and it makes you feel the same.
---
Mann Method PT and Fitness is part of an internationally-recognized nexus of research and resources for people with down syndrome in the Denver metro. Mann Method is grateful for the support and collaborative efforts of Global Down Syndrome Foundation, Rocky Mountain Down Syndrome Association, Jack's and Steamers, and Gigi's Playhouse, with whom Mann Method designed a national PT program. Visit Mann Method PT and Fitness at 13825 W. 85th Drive, Suite 200, Arvada, CO.