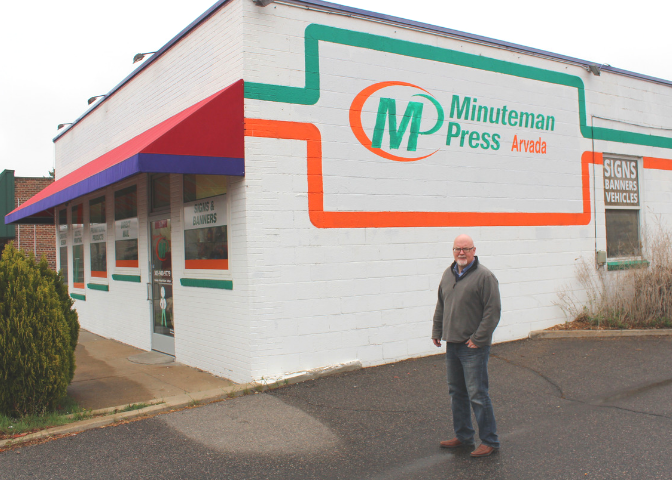 When Dwayne Cameron opened Minuteman Press – Arvada two years ago, he knew he'd need more than a Google listing and his noble shop dog, Pepper, to stand out. "There's probably ten other print shops in Arvada. For what I do, there's plenty of others out there."
In the last year, the Lakewood resident says the Arvada Chamber has been a key to connect with the Arvada community and contribute to his business success. In fact, in 2018, Dwayne counted 65 invoices totaling over $10,000 that he could attribute to Chamber leads. Dwayne explains how he used his Chamber membership as a catalyst for business growth in a crowded market.
How did you advance your Chamber membership from joining to belonging?
If you can get involved with the community, that's going to get you further ahead just in the close radius of your business. I would say 80% of my business is within a mile or two of my store. Being involved with the community and other businesses through the Chamber gives you a leg up. It's huge.
Can you point to one single part of the membership that you can say has led to the best benefit for your business?
The connections I've made through my leads group, if not just the business in the leads group itself, is the most significant. From my perspective, we're very tight. You get to be friends too.
What advice do you have for a new Chamber member?
Get involved. I don't think it matters what level your membership is at, if you don't get involved, then it's just a bill to put a sticker on the door. You're going to get more out of it than you put in. Absolutely more. Being involved in the local Chamber wherever you're at, but especially here in Arvada, I think it's key to being successful in your business.
What have you learned about the people here in Arvada and the business community?
It's a great, vibrant business community. Everybody in Olde Town is really tight, everybody talks to each other. If you work for a big company, your fellow employees become your tight-knit group. Ultimately, joining the Chamber, all the business owners, that's my group. That's what the Chamber brings.
Minuteman Press – Arvada
5840 Olde Wadsworth Blvd
Arvada, CO 80003
---
We want to share your success stories and highlight how your business has been positively impacted by your Chamber membership! To submit your story, please click here.