This summer, entrepreneur Scott Spears quietly celebrated ten years of unique, family-friendly stores in Olde Town Arvada. On June 21, 2010, the Arvada native opened Scrumptious ice cream, followed by School House Kitchen and Libations, Sock, Super Zoom Bang Bang, and So Radish. Through the stay-at-home orders and business restrictions of this unpredictable anniversary year, Spears is putting all his positive energy into creative solutions to keep his businesses safe and open. 
We talked to Spears about the origins of his two retail shops, Sock and Super Zoom Bang Bang, and the challenges of running five small businesses in 2020.
When did you start Sock?
This will be our fourth Christmas with Sock. One of our reps for Scrumptious used to also be a sock rep. She kept telling us, "Hey, these socks are selling like crazy." For years I wouldn't bring in socks and then finally we brought them in for Christmas and we sold out of them super-duper fast. We re-ordered every week for a while. 
When Arvada Beer closed, they had that little space and we told the landlord we'd rent that space for a little bit. We did that and early on we were selling just ludicrous amounts of socks. It was literally the first Christmas in that store, we would get boxes in and before we could put them on the shelves, people were digging through the boxes.
Did you have any idea a sock store would be successful in Arvada?
Growing up, we spent a lot of time in Breckenridge. Breckenridge had a store called The Joy of Socks. We always watched that and when we decided to do it, we thought, "If it can work in Breckenridge, we can probably make it work down here." And yeah, the community was great and they flooded us. Socks a few years ago became really, really hot again. Super trendy. We were one of the first in the area to open a sock-only store. 
Socks are great, any-occasion gifts. Have you found any surprising consumer trends with socks?
Yeah, you can never go wrong with socks as gifts. The other thing too is that people express themselves through their socks, especially people who have to wear uniforms to work with a suit and tie; they want to have their own expression. We get guys coming in all the time in suits and ties. They seem to look around to see if anyone's judging them (laughs). Everyone just wants to wear rad socks.
What's new in the sock game?
Unicorns were the hot thing in general, with toys and everything. It's moved into sloths. Sloths are pretty hot right now. Another big one is mismatched socks. People are loving them.
When did you start Super Zoom Bang Bang?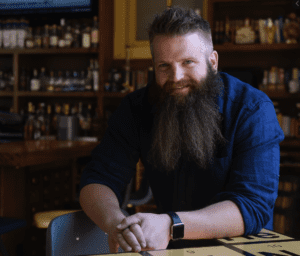 Nine months after Sock. I like to look at what was missing in Olde Town and what could bring more people that could help everybody. Every cool, hip town had a toy store. So we went with Super Zoom Bang Bang.
What's the benefit of going to a local toy store rather than just ordering online?
We try to bring in things that you can't find easily on Amazon or you can't find at big box stores. The harder to find, cool stuff is always what sells the best. People can also ask for recommendations and we can help with that. 
You can touch and feel the toys, which helps. It's the shopping experience, I compare it to farmer's markets. People like going to farmers' markets because it's locally sourced stuff, you can pick your own stuff and feel it. It's a more personal, fun experience.
What challenges have you faced during COVID-19?
All of our businesses fit into the category of places that got shut down. That was really hard. All the retail stores were fully shut down and restaurants were to-go only. We have employees that we had to let off for a while and that was the hardest for us.
Then it was getting re-open and getting people comfortable with going back out. I get it. I don't go out to a lot of places all the time. But it's really important that people come out and support small businesses. It really is safe. The streets being closed has been a life-saver.
We want people to come down for the holiday season. Get here early and start shopping in October and November for Christmas so hopefully you'll miss the big crowds. Shipping has already been delayed. It's gonna be awful when it gets closer to Christmas. So come down and get all your packages in the mail early to go to friends and family.
As for the recent restrictions, we didn't make the rules, but we're following them. Be nice to us and our employees. Remember, we're a family-owned business. My wife does the ordering. Without my wife none of this would be happening. My mom does the accounting. We're just going for it and continuing to invest in Arvada.
What have you learned about doing business in Olde Town?
Everyone in Olde Town is on the same team. If we all just work together, we can continue to make Olde Town grow and make it better than it already is. I always say have fun. If you can get through this, you can probably get through anything. Try to have fun, stay positive, and work together.
---
Sock.
5625 Olde Wadsworth Blvd
303.422.SOCK
Super Zoom Bang Bang
7505 Grandview Ave
(303) 424-7922