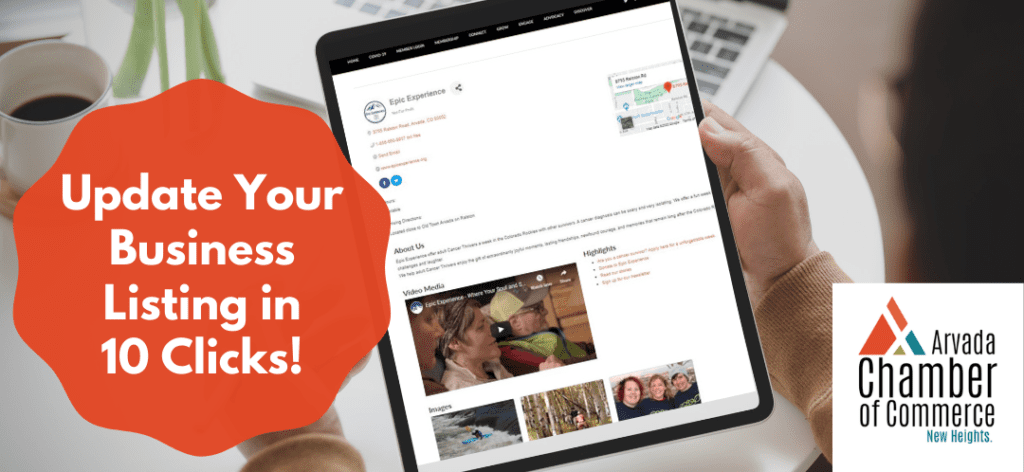 Did you know, the Arvada Chamber's Business Directory is one of the most-visited pages on the Chamber website? This year, the directory has been viewed over 7,000 times by members of the Chamber and community. Plus, with a newly launched redesign to the Chamber website, the directory will be easier to find and navigate than ever before. In short, now is a great time to make sure your listing is updated and maximized for visitors to the directory!
Rachel Sheikh, Estate Planner and owner of RBS Law, has found her updated listing on the Chamber directory to be a huge benefit to her business.
"The Chamber member directory is a great way to connect with other chamber members and even generate leads," says Rachel. "A handful of my clients have found me through the Chamber member directory since it is accessible to anyone through the chamber website. I've also used the member directory to connect with other chamber members and form meaningful referral partnerships."
You can update your digital business listing in less than 10 clicks on the member portal with the recommended updates below. Click here for the full Tips Guide!
Contact Info: Verify your company name, addresses, email, phone and website. Homebased business? Note "By Appointment Only" or similar for a physical address.
To update, visit the Organization Information tab on your member portal. 
Description

: Describe the benefits of doing business with your company in about 1,600 characters.

Search Results Description:

This is your pitch statement that conveys Who, What and Why — 200 characters. It appears on the initial search results page.

Highlights

: List benefits, special credentials or accolades as bullet points that can be linked to web pages.

Keywords: Help customers find you! List keywords that describe your business. Your listing will appear in predictive search results as the keywords are entered in the search field.
To update #2-5, visit the Website Information tab on your member portal.
Member Logo AND Search Results Icon: Make your listing eye-catching. Add a Search Results Icon to your search results listing. Add a Member Logo that appears at the top of your business listing page.
To update your logos, visit the Logos tab on your member portal.
Photos & Videos:

Add a gallery of photos and a video to illustrate your services and tell your story.

Employees tab:

Update employees to engage them with your business's membership and receive emails. Send a link for the employee to create a login and utilize the digital benefits.

Full-Time Employee Count: This gives the Chamber an increased opportunity to better serve our members by employee size.
To add and update employees listed on the membership, visit the Employees tab on your member portal.
Rachel adds that utilizing this free chamber benefit is one of the easiest ways to generate leads as a Chamber member. "If you don't have time to join a networking group or your industry is already represented, take advantage of the chamber directory and you can start making connections immediately. It's definitely worth taking a few minutes to update your listing. Molly and the Chamber team are always willing to help and give you tips on how to make your listing stand out!"
It's simple to update your business listing – click here to log in and get started! For a printable Tips Guide go to arvadachamber.org/BusinessListingTips. Contact Molly Kust with questions! Email molly@arvadachamber.org or call (303) 424-0313.
---