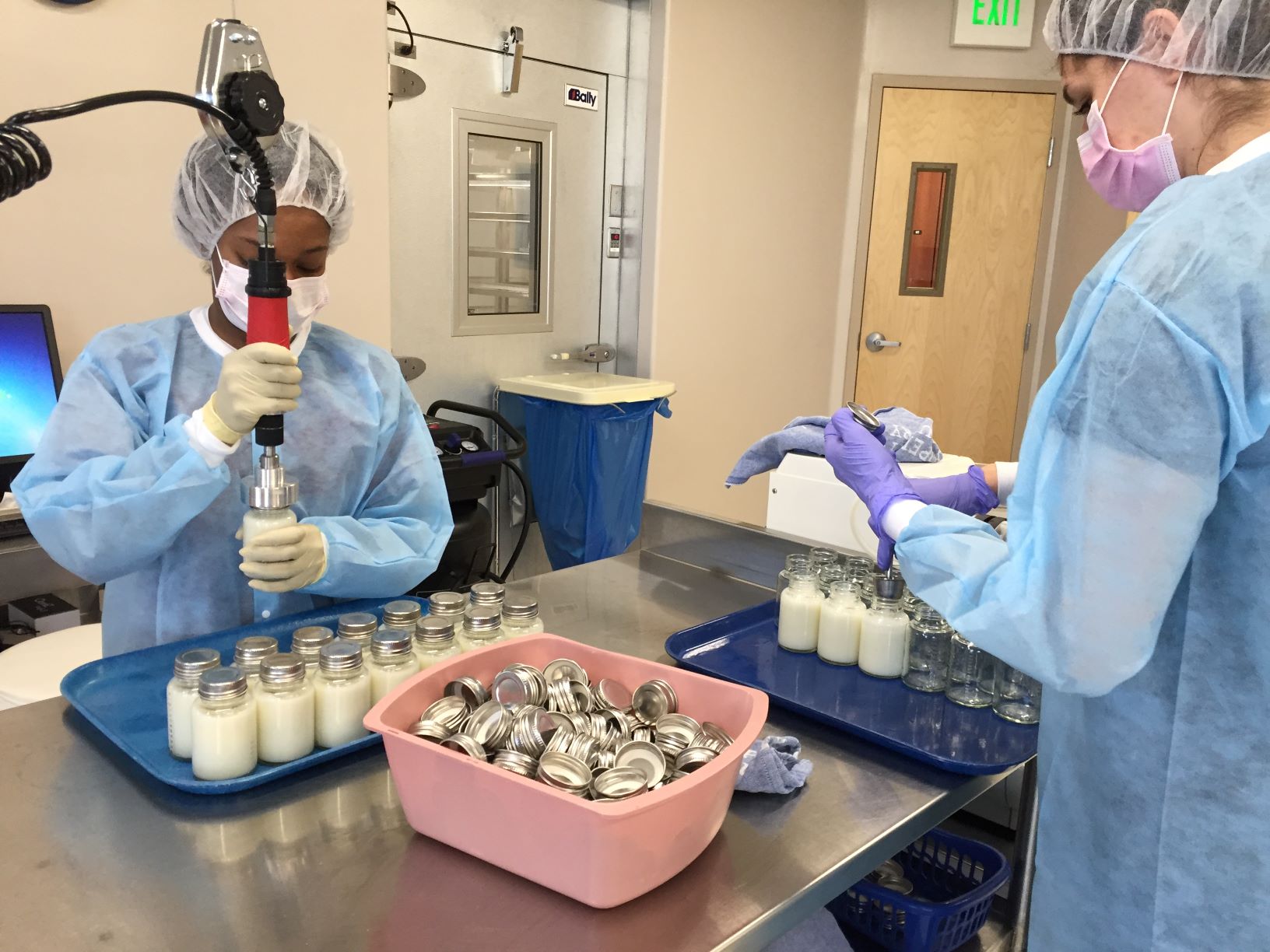 The dangerous pandemic sweeping the planet may have an immeasurable impact on its newest residents.  Messages about the safety of breastfeeding can be confusing and some hospitals are instituting separation rules for new mothers who have shown signs of or tested positively for COVID-19. Human milk is a baby's best first food and milk banks are in a key position to help fill the gap, providing essential nourishment for newborns if their own mother's milk is not available.
The work of Mothers' Milk Bank in Arvada, CO is critically essential as fragile and premature babies need pasteurized donor human milk in order to survive and thrive.   Mothers' Milk Bank, one of the nation's largest nonprofit milk banks collects, pasteurizes, tests and distributes milk as critical nourishment for babies in hospitals across the nation.   As an essential health care provider, the milk bank is fully staffed and operational and will continue to work through the pandemic focused on increasing donor screening and the milk supply to ensure that frail infants across the United States will have access to life-saving milk.  It is crucial to procure and process milk as rapidly as possible to safeguard the supply.
Mothers' Milk Bank's long-standing commitment to safety is superior, having established a super clean ISO-7 laboratory and testing for drugs of abuse. MMB follows the strict guidelines of Human Milk Banking Association of North America, instituting rigorous measures to ensure the health and safety of our team, our donors, and milk recipients.  Milk recipients can be assured the milk their baby receives is safe, despite the fear of COVID-19 and other such viruses.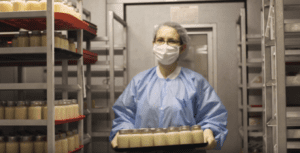 "Mothers' Milk Bank has long known that our standard process of pasteurizing donated human milk to kill viruses and bacteria, should they show up in milk, is effective in inactivating any potential harmful microbes," said Laraine Lockhart Borman, Director of Outreach at MMB. "We have also been aware of studies showing inactivation of the family of viruses in which COVID-19 fits. Now, given a recent report published in The Lancet, we can be even more assured that non-profit donor human milk banking is continuing to provide safe donor human milk to babies who need it, even in the time of this new coronavirus.
"Recent scientific studies examining inactivation of the COVID-19 virus by heat reaffirm that the standard pasteurization process for donor human milk used at the Mothers' Milk Bank and all HMBANA facilities successfully eliminates the threat of viral disease in donor milk," stated Jan Kennaugh, MD and Medical Director of Mothers' Milk Bank.  "As a neontologist, I have always been confident about feeding donor human milk from MMB to the preemies in my care and this new research increases my confidence in these times of uncertainty."
Mothers' Milk Bank will continue to administer our thorough screening of new applicants, and make sure moms are healthy when pumping for donation.  Donation guidelines are like those for blood banking and women who expect to have at least 150 ounces of milk to donate are encouraged to see if they are able to join the selfless community of generous donors who are in the unique position to offer other families the gift of life.
As families are sequestered in their homes and the milk drop locations in hospitals have been closed to visitors, MMB is arranging for FedEx to pick up milk directly from approved milk donors.
 "MMB and many other nonprofits, have seen a huge outpouring of support recently, proving that our communities are made up of compassionate individuals. We are so grateful for the donors who are willing to give the life-saving magic of human milk to babies in need.  In addition to helping them grow, human milk helps develop the immune system of fragile infants," explained Rebecca Heinrich, Director of Operations at MMB.  "There is an unprecedented need in NICUs for a safe, reliable supply of donor human milk so we need continued support from the community, and especially our generous donor moms.  If you have additional milk stored up beyond what your own child needs, we would be grateful to start the screening process with you. Please call 303.869.1888 or visit rmchildren.org/mothers-milk-bank/donate-milk/ to become a donor."
Human milk donors are an inspiration, offering peace of mind for families who are having their babies during this time.  They are doing something tangible and meaningful to make a real difference in a baby's life, and providing relief for a family knowing their baby is getting the best first food, boosting baby's immune system, providing them with important vitamins, minerals, and so much more.
---
RMCHF Contact
Christine Patoff
Director of Communications and PR
Rocky Mountain Children's Health Foundation | Mothers' Milk Bank
christine.patoff@rmchildren.org
5394 Marshall Street, Suite 400, Arvada, CO 80002
Website | Facebook
Our mission: to improve the quality of  life for families, sick children and infants throughout our communities by providing support when and how they need it most.