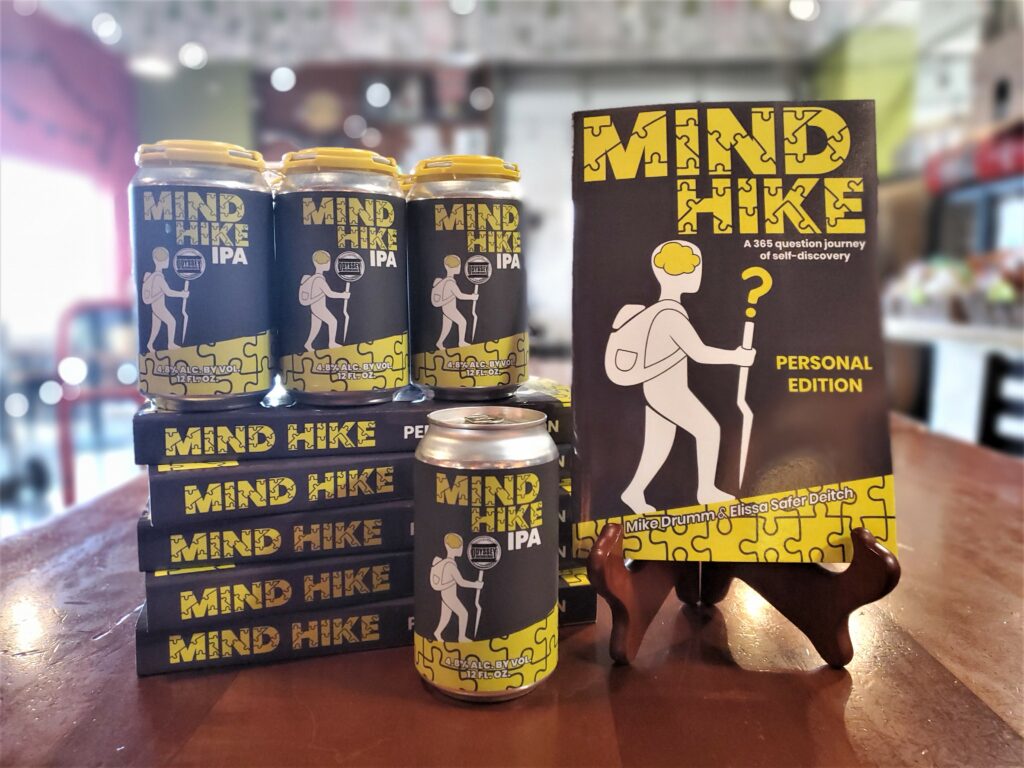 The latest project from Arvada's Odyssey Beerwerks is a collaboration president Chris Hill says is the first of its kind: a beer and a book! "You don't need to look this up…take our word for it," he jokes.
Arvada resident and brewery attorney, Mike Drumm, co-authored the new self-help book, "Mind Hike: A 365 Question Journey of Self-Discovery." The book, available in a Personal and Business edition, offers a series of 365 targeted questions in a journal format suitable for just about everybody. It's a two-way journey. After you complete the initial questions, you will revisit each one a second time to see how you and your life have changed over time.
Odyssey and Mike Drumm collaborated on a Mind Hike Session IPA to celebrate the book's release. The low alcohol, crisp, crushable IPA is brewed with fruit-forward hops exuding bright flavors and aromas of tropical fruit, tangerine, and stone fruit.
Enjoy the Mind Hike collaboration starting Friday, January 22, 2021. Visit the Odyssey Beerwerks taproom (5535 W 56th Ave.) or order online (www.odysseybeerwerks.com, click on Order Online Here). For $25, Odyssey is offering a 6 pack + the book, and $17 for a pint + the book.
We talked to Chris and Mike about the origins of this heady, hoppy collaboration.
When and how did the collaboration start? 
Mike: As soon as the book was published. The collaboration started the way most great ideas start – I was sitting at a brewery (Odyssey), enjoying an evening and a fine beer with a friend (Chris).
Chris: We've been "collaborating" for years, generally over some great beers, discussing business stuff in general and just bouncing questions/ideas/music/comic books/random streams of thought back and forth. This was just a natural progression.
Mike, did you have any input on the beer?  
Mike: Chris and I worked together on the label, tagline, and the artwork, and Chris and I collaborated on the excellent beer.
Why did you choose a session for this collaboration? 
Mike: We wanted an easy-drinking, approachable beer. The tagline is "A Good Book, A Good Beer, A Good Day." We didn't want a beer with a high alcohol content because then you may not be in the best state of mind to enjoy the book.
Chris: Basically, we didn't want to hurt our brains while trying to answer thought-provoking questions.
This book seems perfect for starting a new year fresh. What's been your favorite question so far? 
Mike: Oh, that's such a hard question. You might as well be asking me who my favorite child is (FYI, they are all my favorite). It really changes by the day, but here's my favorite today:  MindHike Business Edition, Question #176: If you had to send one person to live on a distant planet, who would it be?
Chris: I'm only 21 questions in right now (one a day), but the one that stuck with me, and kinda hurt a little bit to answer, was "When was the last time you crossed the line?" I hope I have a much different answer when I come back around to the question next time.
What style beer will pair with the inevitable Mind Hike motion picture collaboration? 
Mike: While we don't have the style locked down, we have already reached out to Keanu Reeves to play the role of Chris Hill.
---