Are you planning a meeting or event and need a venue in Arvada? Click here to view of list of options in Arvada! The Arvada Chamber Conference Room is also an option for Arvada Chamber of Commerce members. Please complete the below form to request a reservation.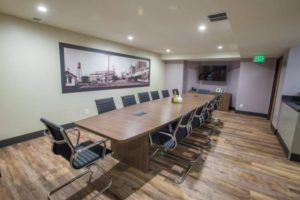 Rental hours are Monday-Friday

9:00am-5:00pm

.
To reserve, please complete the request form located below. A member of the Chamber team will be in touch within 48 business hours.
Included in the conference room rental is access to a computer, TV screen with HDMI cable, a board-style table, 14 chairs, and white boards.Stairs are required to access the conference room.
Please bring your own food and beverages for guests.
Please close the door during your meeting to allow for your privacy and reduce noise for office staff.
Please leave the room as it was found ~ chairs back, clear the table, counter and dispose of trash.
Please turn the lights off when you leave.
For parking information, click here for all options in Olde Town. Free street parking is available on Grandview for 2 hours and on Upham for 4 hours. Additional free parking is available in Olde Town in the Hub and parking lots. Do not use the lot on Teller St (east of the Chamber) – it is private parking.
Check out other options to plan your meeting or event in Arvada!
In alphabetical order / Click here for a printable version of this list!
**FEATURED** On Tap Credit Union
5675 Olde Wadsworth Blvd, Arvada, CO 80002 in Olde Town Arvada
Open rooms that provide multiple layouts and seating arrangements, warm and inviting
Large screens and white boards available for presentations
Flexible hours with on-site parking
To reserve, contact Ryan Talotta at (303) 384-5940 or rtalotta@ontapcu.org 
AirVenues
An online booking platform for traditional and non-traditional venues for events & meetings
VIsit www.airvenues.com to explore venues | Email info@airvenues.com 
Apex Parks & Recreation
For information, visit www.apexprd.org/activities/parties-room-rentals
Arvada Events at the Arvada Center for Arts & Humanities
6901 Wadsworth Blvd Arvada, CO 80003 / (720) 898-7330
Several options available for small meetings to large events
For more information and to book, visit www.arvadaevents.com/colorado-meetings-and-events  
Arvada Elks Lodge #2278
To reserve, call (303) 422-2278 
Candelas Swim & Fitness Clubs
Parkview: 19865 W. 94th Ave Arvada, CO 80007 | Townview: 9371 McIntyre St. Arvada, CO 80007
Both Candelas Swim & Fitness Clubs are open between 5:00am and 11:00pm daily
Available to rent to non-residents outside of pre-scheduled resident events. 
The facilities differ in size and A/V capabilities. 
Current rental rates and amenities offered at each in the linked docume below
For more information or to book a rental, please contact the Lifestyle Director, Tori Minovich, at 720-625-8080 or tminovich@ccmcnet.com.  http://www.candelascommunity.com/downloads/2019-Candelas-Rental-Rates.pdf
City of Arvada Community Rooms

The Arvada Police Department has meeting rooms at our three Community Stations which are available for use, free of charge. For a full list of locations and to reserve, visit: https://arvada.org/residents/police-services/community-room-reservations
For meetings of 50 or more, consider the Alice Campbell room. Call for reservations (720) 898-7602
Community First Foundation
5855 Wadsworth Bypass, Unit A, Arvada, CO 80003 / (720) 898-5900
Meeting spaces for non-profit organizations seats 8-56 people / projectors available
Free to non-profits
To reserve, visit www.communityfirstfoundation.org/nonprofits/meeting-space
Conundrum Escape Rooms
6350 Wadsworth Blvd Unit B, Arvada, CO 80003 / (720) 441-3011
Conference/party rooms available to rent for up to 27 people.
Conference room seats up to 14; may also reserve adjacent event room with additional seating/tables.
Large screen TVs available for presentations.
Counters/refrigerator/microwave available for renters in conference room. / Food and drink may be catered in.
Team-building options available.
Flexible hours with large parking lot.
Contact info@conundrumescaperooms.com or call (720) 441-3011 for rates and availability
Gallery 1874
5665 Olde Wadsworth Blvd. Arvada, CO 80002  / ​(303) 952-7814 / www.gallery1874.com 
Small to large meetings and events
To book, call for cost and availability
Hilton Garden Inn
5455 Olde Wadsworth Blvd, Arvada, Colorado, 80002
Small to large spaces for meetings and events are available
For reservations, call 303-420-9799
Cost varies depending on food and beverage inclusions and time of year
Jefferson County Public Library 
Arvada Branch: 7525 W. 57th Ave, Arvada, CO 80002
Standley Lake Branch: 8485 Kipling St, Arvada, CO 80005
Small study rooms: 1-6 people at both locations / Standley Lake has a large meeting rooms
To reserve, visit www.jeffcolibrary.libcal.com/spaces or call (303) 235-5275
Lake Arbor Golf Club (operated by Arvada Events)
8600 Wadsworth Blvd, Arvada, CO 80003
Available for small meetings to large events
For more information and to book, visit www.arvadaevents.com/colorado-golf-events 
Lamar Street Center
5889 Lamar Street, Arvada, CO 80003 / 303-552-7588
Unique Event Venue for up to 500 people / projectors, screens, microphones available
Cost to reserve varies by day of the week and group size.
To reserve, visit www.lamarstreetcenter.com or call Tammy Sullivan at 303-552-7588
Red Silo Coffee Roasters
6590 Holman St. Suite #207, Arvada, CO 80004
Private space for meetings for a fee / A/V available
For pricing and to reserve, email Shelley Flood at sflood@redsilocoffeeroasters.com 
So Radish
5711 Olde Wadsworth Blvd, Arvada, Colorado 80003 / 303-632-8681
Private space available for meetings and events.  
Contact audrey@soradish.com for pricing and availability
Thrive Workplace
5610 Ward Road #300, Arvada, Colorado 80002 / (720) 800-9946
Conference rooms and training spaces available
For more information, pricing and to reserve, visit www.thriveworkplace.com/west-arvada/ or email westarvada@thriveworkplace.com 
Want your meeting space to be included on this list? Please contact Molly Kust at molly@arvadachamber.org.