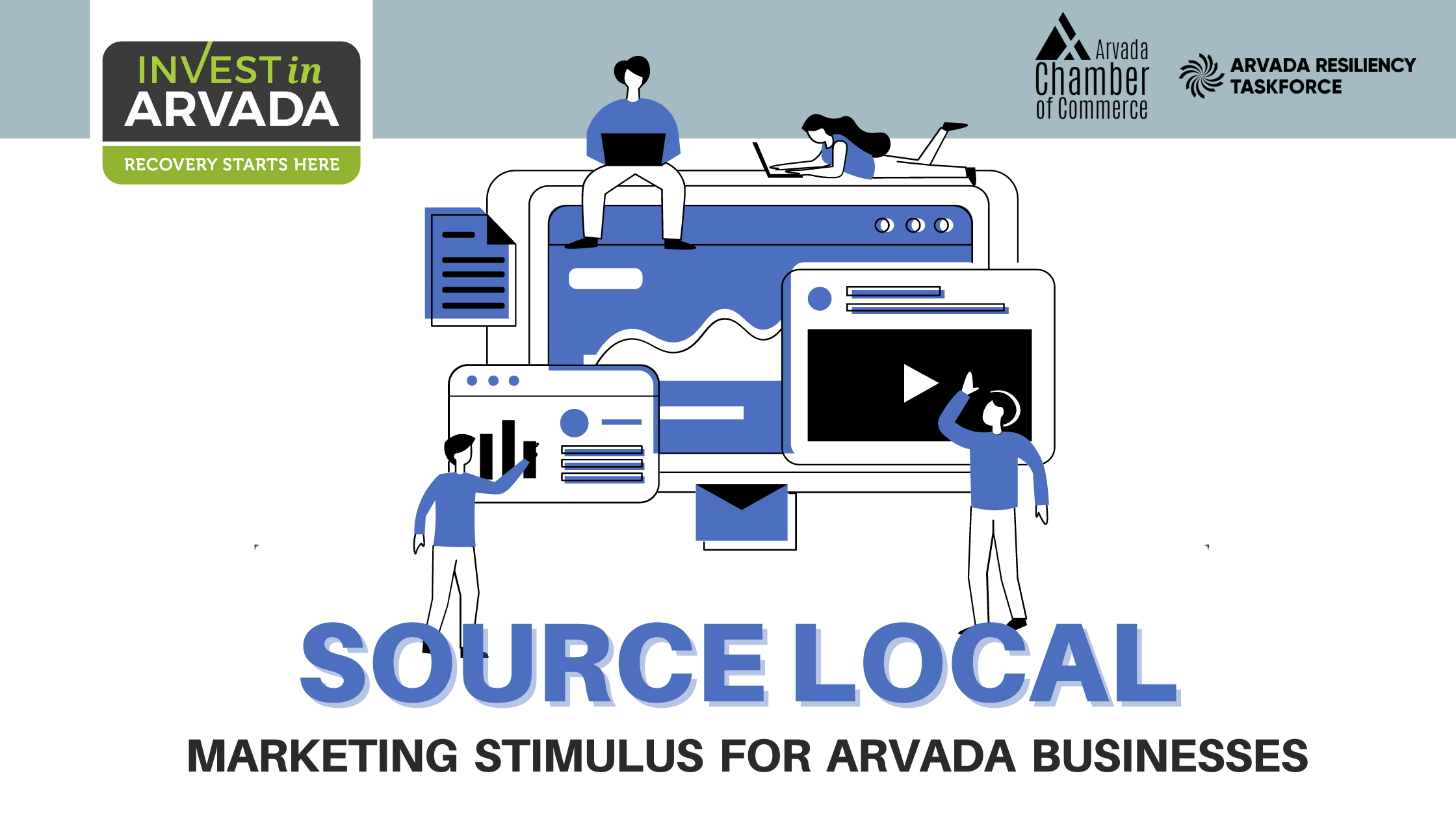 The Arvada Chamber, along with the Arvada Resiliency Taskforce, is dedicated to COVID-19 recovery efforts by encouraging the community AND businesses to #InvestInArvada! We're asking businesses to Source Local when it comes to buying the products and services that make your business successful. This includes marketing, telecommunications, logistics, insurance, accounting, human resources, raw materials and more. Arvada's B2B companies hire local workers and contribute local taxes, meaning $100 spent at Arvada independents generates $45 of secondary spending for our community, compared to just $14 for a big‑box chain. When you and your business Source Local, you are investing in the future of Arvada. 
As part of our commitment to Source Local, we've partnered with Arvada-based marketing firms to offer 10 free marketing, communications and printing stimulus packages. See the winners of the marketing packages below, each valued at $500 or more!
---
Social Media Makeover | For The Win Communications
Want to create a new Instagram page? Unhappy with the look of your Facebook page? Get a check-up on your social status with For The Win Communications, Ltd. We'll perform a review of your current social medial platforms and channels, from Facebook to Twitter, YouTube as well, and shape up your social impression making sure your profile is on point with this package from For The Win!
Winner: RMH Kitchen and Bath!
Business Makeover | AlphaGraphics
Valued at $3,500, this package of window clings, an A-Frame sign, posters, one-page spread in VAL-U-ADS (of Arvada), and more is an incredible opportunity available to one lucky Arvada small business.
Winner: La Dolce Vita!
Business Profile Video | Mountain Media Production Co.
A professionally filmed and edited business profile video with a run-time of up to 2-minutes. Winner receives an on-location shoot of up to 1-hour. This would afford the recording of footage (b-roll) showing the company's establishment, interactions with customers, close-ups of products, etc. Opportunity to record your interview on-location. Titles/basic graphics featuring the company logo and call-to-action at the end of the video also included. More details here. Value of $1,200+.
Winner: Country Financial!
1/2 Page Ad | Your Neighbor Magazine
One 1/2 page ad to run in Your Neighbor Magazine.
Winner: Lesch Family Dental!
Custom Print Package | The Digital Frontier
Collection of printed business cards, letterheads, envelopes, signage, wall or floor decals, and/or banner(s) depending on the client's need, up to a total value of $500.
Winner: La Patisserie Francaise!
1/4 Page Ad | Arvada Lifestyle Magazine
Winner receives one 1/4 of ad in a future issue of Arvada Lifestyle Magazine. Ad value $580 + design fee $100 = $680 value.
Winner: Calm Spirit Acupuncture and Wellness!
Custom Print Package | Fastsigns
A customized package based on the recipient's needs. Items might include banners, yard signs, window graphics, vehicle graphics, COVID-related like safe distancing floor decals, sanitization related signage, etc.
Winner: Royal Bakery!
Design Consultation | John Carlson Design
Consultation on basic branding or design advice for a business, such as what you can do to upgrade the brand's creative or steps to take for branding consistency. Alternately, the winner can receive a custom illustration at a value of $500.
Winner: Sock.!
Business Cards, Banner, Postcards | Minuteman Press
500 Full Color 2 Sided Business Cards printed on 16pt stock.
1 – 3 x 6 Full Color Banner with Grommets
1000 Full Color, 2 Sided 6 x 11 Postcards printed on 12pt stock
1000 Mailing addresses
Package is approximately a $600 value. If purchased, we would also include 1 hour of graphic design. (Postage cost is the responsibility of the customer, we would process the mailing.)
Winner: The Butchery!
Digital Marketing Consultation | MediaWorks
Evaluation of current Website and Digital Marketing efforts. Search engine scans and website health statistics provided. Written recommendations for improvements provided with downloaded data.
Winner: Odyssey Beerwerks!
*Must be an Arvada-based business and an Arvada Chamber Member or free Arvada Strong member to win. One winner will be selected at random per package. Packages are funded through CARES Act funding. No purchase necessary.