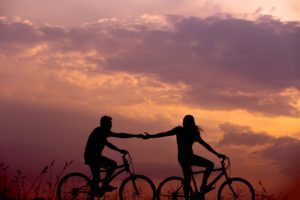 In honor of National Heart Month (February!), I have chosen to share with you a little bit about how the heart is viewed in Traditional Chinese Medicine (TCM)! The heart is associated with a number of qualities that would be described by its corresponding element, Fire. The color is red, its emotion is joy, and its sound is laughter. In the foundational teachings of TCM, the heart is said to control the vessels, govern blood, and house the mind. This is similar to the way we view the heart in Western culture as having a role in the circulation of blood and referring to the "heart" when speaking of mental-emotional well-being.
Being that the heart "controls the vessels and governs blood," a great way to keep your heart healthy is to do things that improve circulation, so your heart is supported by your lifestyle. Exercise is a great way to achieve this! Acupuncture also facilitates circulation and is an effective tool to enhance blood flow as well as feelings of well-being or "joy."
"Joy makes the mind peaceful and relaxed, it benefits the nutritive and defensive qi and it makes qi relax and slow down"-(from Simple Questions; ancient Chinese literature text).
"Qi" is, for simple translation, considered energy: the moving force inside the body that can promote or hinder the healing process based on its condition. To think that an emotion, such as joy, can influence the energetics of the body is actually quite realistic. Positive emotions release endorphins and physically create a sense of well-being. In opposition, negative feelings and stress can do very different and damaging things to our body, immune suppression, slowed healing, etc. Meditation is an incredible way to facilitate healthy emotions and a feeling of joy in one's life, and of course acupuncture is as well!
In relation to heart health, exercise, acupuncture and meditation all play a role from an East or West perspective. There is increasing evidence that CBD oil can help improve heart health as well. People who feel like this is the correct route to go down and would like to see what type of CBD products are on the market, they could go over to websites like every day optimal cbd and check out their range of CBD. However, we must not forget nutrition. Healthy eating habits and high-quality food choices can also contribute to heart health tremendously. Giving your body the healthy nutrients it needs to create a substantial and nutrient-rich blood volume to nourish all of your organs and tissues is integral to supporting the heart. A healthy diet also prevents chronic disease and leads to improved mood and immune response. The heart seems to connect these concepts of health and wellness for the purpose of supporting overall health and well-being, not only for national heart month, but all year!
---
If you are interested in how acupuncture, Chinese medicine, meditation, exercise, and nutrition can help you to nourish your heart and well-being, please contact us at Life Long Acupuncture, Arvada CO. www.lifelongacu.com
Heide Manns, Licensed Acupuncturist, Pilates Teacher
photo credits:
cherry blossom heart; Faye Cornish
couple on bicycles; Everton Vila