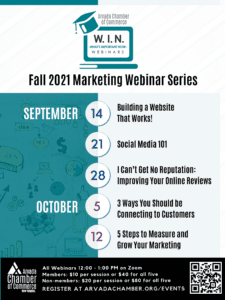 Starting September 14, the Arvada Chamber of Commerce will host the What's Important Now Webinars: 2021 Marketing Series, a five-part, crash-course in marketing for small businesses. One of the biggest challenges we hear from our small business owners is having the knowledge (and time) to properly market their business. Now more than ever, it's critical to have a timely and strategic story to tell your audience.
This brief series will bring together top experts from Arvada and across the Denver metro to address key marketing tactics that will give our members the tools and confidence to successfully execute their own marketing strategy.
Members: $10/session or $40 for all five
Non-members: $20/session or $80 for all five
Register for one session or the whole series at the links below. Each session will include a Q&A with marketing experts. Recordings will be sent to all attendees after the event.
REGISTER FOR ALL SESSIONS HERE!
---
Session 1: Building a Website That Works!
Tuesday, September 14, 12:00 – 1:00 PM
Get to know the most important elements to include on your business website and how to effectively drive traffic to your digital content.

Speakers:
Sara Fulmer (CFO and Customer Relations, Mondo Solutions)
Marcus Turner (Director of Communications and Audience Services, The Arvada Center for the Arts and Humanities)
---
Session 2: Social Media 101
Tuesday, September 21, 12:00 – 1:00 PM
Join us for a review of the top social channels, how to best use them, how to measure success, and best practices to improve your profiles.

Speakers:
Katie Winner (Owner, For The Win Communications)
---
Session 3: I Can't Get No Reputation
Tuesday, September 28, 12:00 – 1:00 PM
According to a recent study, 90% of consumers read online reviews before visiting a business. And customers are likely to spend 31% more on a business with "excellent" reviews. Learn how to clean up your reputation marketing and drive awesome customer reviews.
Speakers:
Denny Basham (CEO, Subsilio Consulting)
---
Session 4: 3 Ways You Should be Connecting to Customers
Tuesday, October 5, 12:00 – 1:00 PM
From email to print and video, we look at the most impactful, efficient communication tactics to reach your customers.
Speakers:
Chris Woodley (Owner, Mountain Media Production Co.)
Ryan Hecht (Marketing Director, the Arvada Chamber of Commerce)
---
Session 5: 5 Steps to Measure and Grow Your Marketing
Tuesday, October 12, 12:00 – 1:00 PM
This presentation will help you identify your marketing strengths and weaknesses and where to invest your time, money and energy to best serve your target audience.

Speakers:
Holli Arnett (Owner, Your Neighbor Magazine)
Ryan Hecht (Marketing Director, the Arvada Chamber of Commerce)
---
Questions? Contact Ryan Hecht at ryan@arvadachamber.org.
---