Starting September 9, the Arvada Chamber of Commerce will host a Marketing Education Series, a three-part, crash-course in marketing for small businesses. One of the biggest challenges we hear from our small business owners is having the knowledge (and time) to properly market their business. Now more than ever, it's critical to have a timely and strategic story to tell your audience.
Many small businesses are also unsure of what equipment they might need to expand. Expanding businesses might not have the right equipment to be able to keep up with their growing demand, leading to issues supplying clients and customers with their orders. This can be a disaster for a small business trying to build its reputation, so it's a good idea to head to https://www.duplointernational.com/ for all of the office equipment that you might need. From professional printers to industrial shredders, it's important for small businesses to have the right tools at their disposal in order to grow and build on the quality that their clients and customers have come to expect.
This brief series will bring together top experts from Arvada and across the Denver metro to address key marketing tactics that will give our members the tools and confidence to successfully execute their own marketing strategy.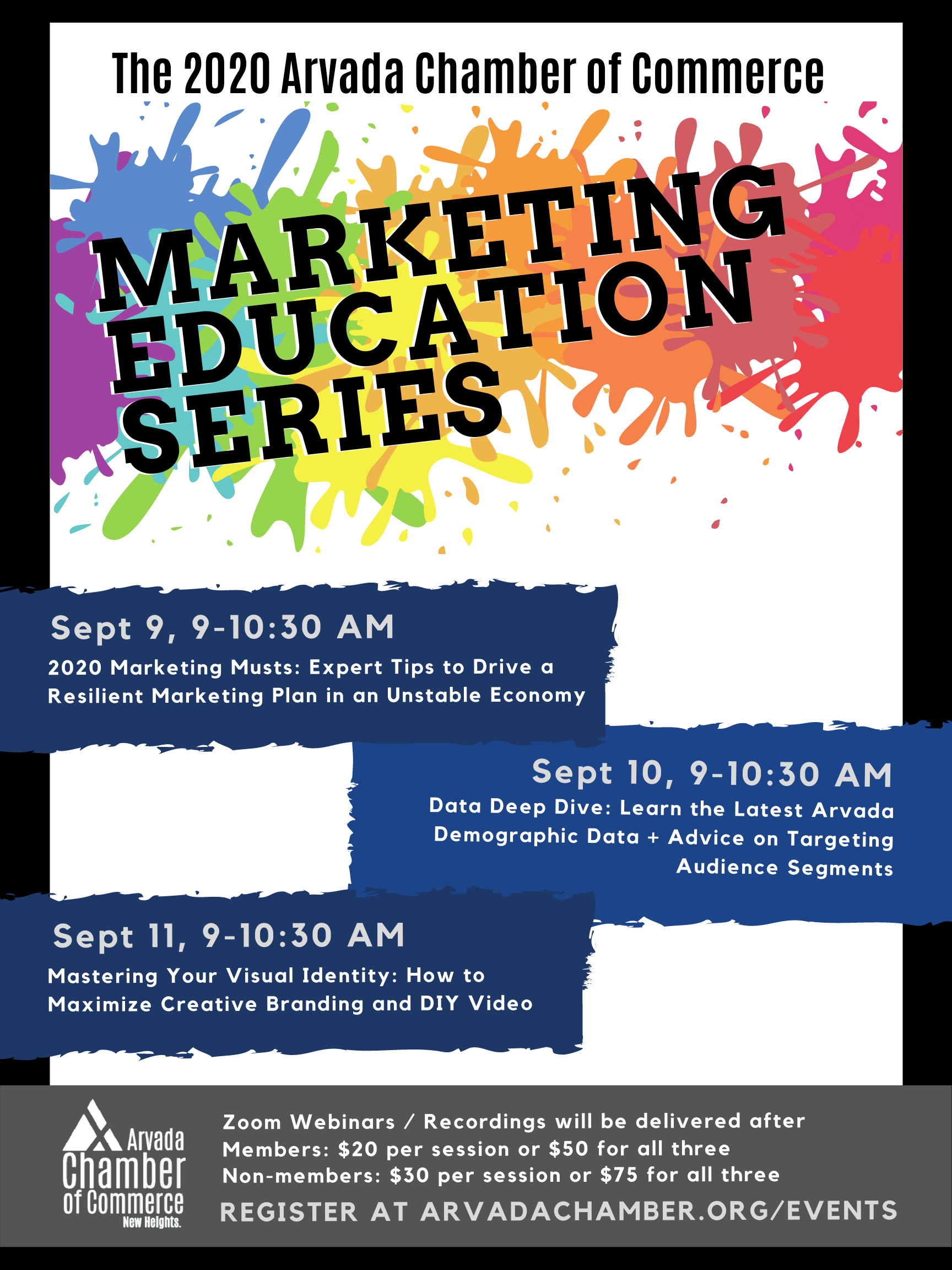 Members: $20/session or $50 for all three
Non-members: $30/session or $75 for all three
Register for one session or the whole series at the links below. Each session will include a Q&A with marketing experts. Recordings will be sent to all attendees after the event.
---
2020 Marketing Musts: Expert Tips to Drive a Resilient Marketing Plan in an Unstable Economy
Wednesday, September 9, 9:00 – 10:30 am
Speakers:
Holli Arnett (Owner, Your Neighbor Magazine)
Marcus Turner (Director of Communications and Audience Services, The Arvada Center for the Arts and Humanities)
Lindsey Honaman (Marketing Director, Piper Electric)
Deana Hill (Co-Founder and Mavon of Miscellany, Odyssey Beerwerks)
---
Data Deep Dive: Learn the Latest Arvada Demographic Data + Advice on Targeting Audience Segments
Thursday, September 10, 9:00 -10:30 am
Speakers:
Katie Winner (Owner, For The Win Communications)
Denny Basham (CEO, Subsilio Consulting)
Ryan Hecht (Marketing Director, Arvada Chamber of Commerce)
---
Mastering Your Visual Identity: How to Maximize Creative Branding and DIY Video
Friday, September 11, 9:00 – 10:30 am
Speakers:
Chris Woodley (Owner, Mountain Media Production Co.)
Sara Fulmer (CFO and Marketing Manager, Mondo Solutions)
John Carlson (Owner, John Carlson Design)
---
Questions? Contact Ryan Hecht at ryan@arvadachamber.org.
---