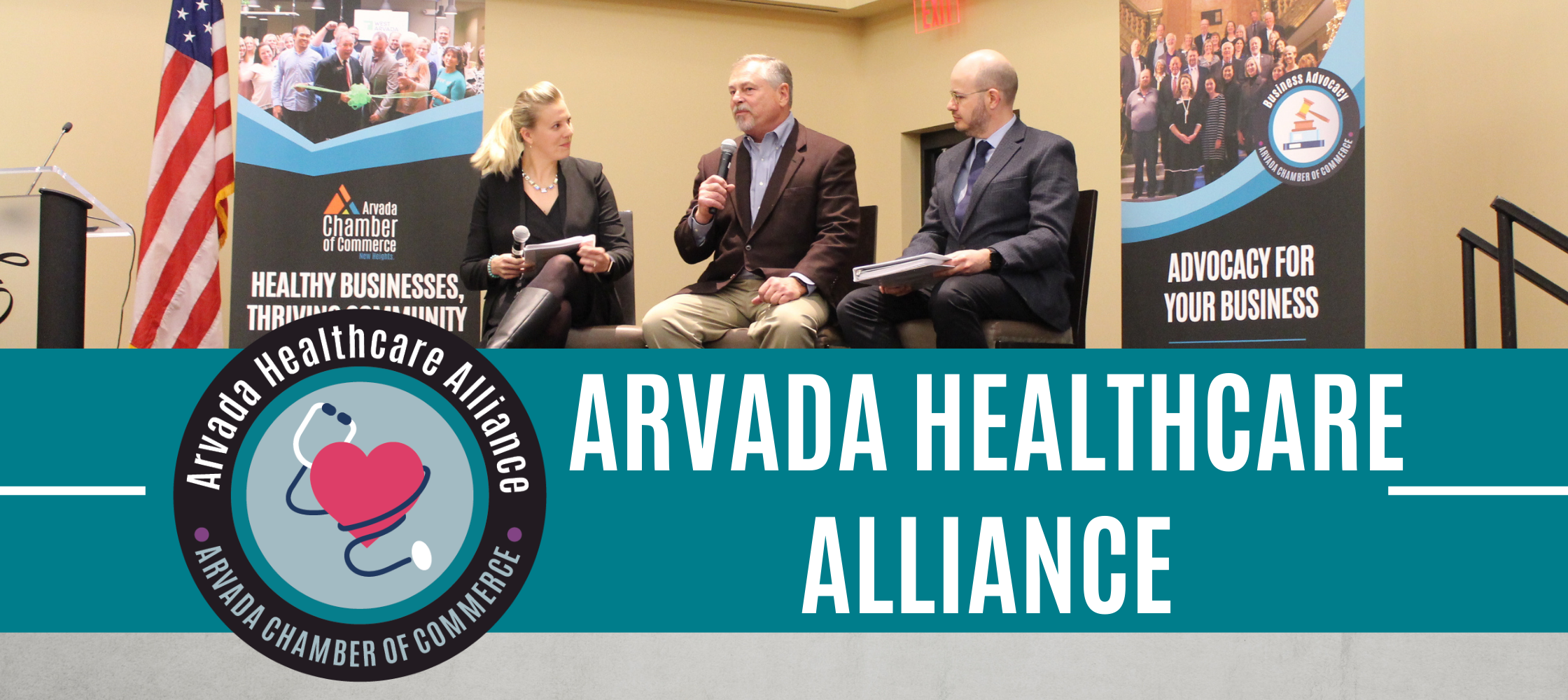 The Arvada Chamber of Commerce is pleased to offer the Arvada Healthcare Alliance (AHA) as a benefit to Chamber members. Healthcare concerns are growing for our members and their families, especially with COVID-19 related health and financial issues. As such, AHA was designed to improve local healthcare rates and access through the collective negotiating power of the Chamber. Our commitment is to identify local partnerships that will lead to Arvada having the healthiest workforce in Colorado.
Why join AHA?
For a number of years, we have heard from businesses that they are struggling with average premium increases on their healthcare plans of 8-10% annually. Many other businesses in our Chamber currently do not have healthcare coverage or benefits for employees.
AHA Options
Preventative Care
The AHA program includes preventative care options through Amaze Health for just $15/month, which includes telehealth services, empathetic support and a suite of knowledge resources. The Arvada Chamber has also partnered with 9Health to provide preventative screenings for just $99/year.
Proactive Care
AHA is an affordable healthcare solution for members with no current coverage or those evaluating your healthcare model on quality, cost, innovation, or access to local care. With the AHA program, Arvada Chamber members can receive Direct Primary Care through Everside Health at just $99 per month. The AHA program also now offers discounted monthly Massage Therapy and Health Coaching through Boundless Body & Wellness and discounted eye care through Five Parks Vision and Eye Care! Learn more about how these providers work below.
Catastrophic Care
The Arvada Chamber of Commerce is pleased to offer a catastrophic care pilot program with Vault. This program includes negotiated small and large group health plans, Guaranteed Issued products, and ICHRA health plans.
We are committed to expanding this program to other local partnerships, including evaluating options related to behavioral health, catastrophic coverage, and additional local wellness solutions. Local healthcare providers interested in providing a per member per month (PMPM) model as part of AHA should apply here.
CLICK HERE TO RECEIVE MORE INFORMATION ABOUT THE AHA PROGRAM 
---
All AHA Providers

9Health:365 Your Way | $99/year
9Health:365 is your community non-profit providing trusted resources to help you live your way. We are here for you 365 days of the year offering the same affordable preventive screenings now at Quest Patient Service Centers across the state. The Arvada Chamber has also partnered with 9Health:365 to provide preventative care through a blood chemistry screening, unlimited telehealth and educational information for just $99/year."
Preventive Screenings
Get the 9Health:365 screenings you know and love in a new way!
COVID-19 Information
Access more information about COVID-19, vaccination and testing!
Live Your Way Resources
Connect with local health experts!
Amaze Health | $15/month
We are changing healthcare in America, one patient at a time.
With Amaze's easy-to-use patient empowerment platform, we provide all of the tools, resources, and medical support you need to manage your own healthcare.
One partner, one platform, one name to trust.
According to the National Business Group on Health, employers and their employees suffer from "point solution fatigue" that results from too many independent apps and services that are failing to live up to their promises of better care and lower costs.
Amaze's integrated platform leaves employees and their families with just one partner, one platform, and one name to trust to manage all of their healthcare needs.
Amaze Services Include:
Knowledge Resources
Medical research tools, just-in-time education, a medical-grade symptom checker, price-checking tools, health plan integration, and much more…
Telehealth Services
Virtual urgent care, primary care, workplace injury triage, medical advice, referrals, prescriptions, remote monitoring, and so much more…
Empathetic Support
Provider & price navigation, health plan interpretation/advocacy, healthcare financial consulting, case management, and legal advice…
Everside Health | $99/month: Direct Primary Care
For employers | Offered as an optional benefit to eligible employees & dependents
Pay the Everside Health monthly per-member fee only for enrolled employees and dependents. Cost per month is $99 for adults and $59 for children. Fee can be paid by employers or the employee.
Can be offered by employers with current health coverage or employers without a current health plan
Partner with the Arvada Chamber of Commerce and Everside Health to educate about the program in order to drive enrollment and engagement
No need to modify current benefit plan design in most cases
"I have greatly enjoyed my experience with AHA and Everside Health. The process is so easy, from straightforward membership plans to online booking and even same day appointments. The Everside staff have been very knowledgeable and seem to really care about my health. I'm very pleased with the attention and the quality of care." 
– Amber Stevens, Boundless Body & Wellness
For employees and dependents | Enjoy an innovative new benefit that includes:
A primary care physician who is an advocate and coach for all healthcare needs
Primary, urgent, & preventive care; pediatrics
24/7 access to the physician via a convenient clinic, the physician's cell phone, and email
Same or next-day appointments available; 30-90 minute appointments
Active management of chronic diseases
Coordination with other healthcare providers
Basic labs and over 50 generic drugs on-site
Online access to medical records and appointment scheduling
Transparency tools to compare costs and quality for services needed outside of Everside Health®
NEW: Unlimited in-person and virtual care with our providers in clinic for participants, for COVID and non-COVID related care
NEW: Access to screening protocols and communication support
NEW: Mental health screenings and necessary treatment for anxiety and depression
Boundless Body & Wellness | $80/month: Massage OR $100/month: health coaching
Massage Therapy
Enjoy an hourly therapeutic massage once a month for $85 (a $100 value). Sessions are fully integrated and designed to meet your individual needs. Sessions may include CBD or Essential Oils as part of an exclusive, inclusive deal with AHA.
Health Coaching
Embrace your optimum health with support from a health coach. Health Coaching packages include 2, half-hour sessions each month for $100 (a $130 value). Sessions will help guide you on your path to better nutrition, movement, stress management and more.
"I'm thrilled to support the community and businesses in their health and wellness goals. Regular preventative care is an important part to maintaining your health. Teaming with AHA stresses this importance and brings more opportunity for me to reach those in need of therapeutic touch and compassionate listening and coaching." – Amber Stevens, Licensed Massage Therapist & Health Coach. Amber won "Best of the Best Arvada" in 2018, 2019 & 2021 for Massage Therapist & Health Coach.
Click here to learn more about Boundless Body & Wellness.
Five Parks Vision and Eye Care | $12/year for vision discounts
Discounts for members include:
Comprehensive Eye Exam: $89 – Reduced $100 from $189
Complete Frames and Lenses 25% OFF
CL Exam – Standard Fit: $99 with free trial CL if available, reduced from $189 (save $90)
Multifocal or Astigmatism Premium Fit: $129 with free trial pair if available, reduced from $189 (save $60)
Free Contact Lens shipping to your house with a 1 year supply
Laser Retinal Imaging. No Dilation with this option! $25 for members, normally $39
20% off any medical procedure(if medical insurance not available) – Examples: "pink eye", infection, scratched cornea, Dry eye, Diabetes
Catastrophic Care
Vault (Pilot Program) 
The Arvada Chamber of Commerce is pleased to offer the below-outlined pilot program with Vault.
Small Group Health Plans
The Level-Funded VAULT Health Plan is for employers with a good health experience who feel they are paying too much premium for too little in benefits. If you have 75 employees or less this may be the plan for you.

Guaranteed Issue Products
Retain, attract, and reward your employees by offering them an affordable benefit plan. With our Guaranteed Issued products, you can provide exclusive access to affordable, configurable benefits solutions for the physical wellbeing of your staff and their dependents—no matter the size of your company.

Large Group Health Plans
The VAULT Health Plans for large groups of 75 or more are fully customizable. These traditional partially self-funded plans incorporate interdisciplinary, comprehensive, and integrated health care strategies unique to VAULT and provide both employees and employers with improved health care coverage and benefits.

ICHRA Health Plans
The Individual Coverage Health Reimbursement Arrangement (ICHRA) represents a big shift in the way health insurance is delivered. It enables employers of all sizes to reimburse their employees tax-free for health insurance premiums and qualified medical expenses.

Connection to Local Healthcare Brokers
---
Arvada Healthcare Alliance – Frequently Asked Questions
---
The Arvada Chamber of Commerce (the "Chamber") is not a provider of health care services or health insurance.  The Chamber, through the Arvada Healthcare Alliance ("AHA") acts as an administrator connecting Chamber members to healthcare service providers, such as Paladina and Accressa ("Servicer Providers").  To the maximum extent permitted by applicable law, the Chamber (and the AHA) disclaims all representations, warranties and conditions relating to your use of this website, including without limitation, any implied warranties with respect to the quality, fitness for purpose and/or the use of reasonable care and skill of the Service Providers.  By your use of this website and participation in the AHA, you agree to defend and hold harmless the Chamber, the AHA, and its members, Board of Directors, officers, employees and volunteers from any and all claims relating to your participation in the AHA or the services received from the Service Providers.
During your participation in the AHA, the Chamber will not collect any Personally Identifiable Information ("PII") except your name, email address and phone number.  By participating in the AHA, you agree that we may collect, use and disclose such information for the purpose of connecting you with the Service Providers. The Chamber may use the information you provide as part of the ongoing operation of the AHA, including activities such as oversight, quality control and responding to any concerns regarding this information.  The Chamber will never sell any information collected as part of the AHA. If you do not agree with these terms, please do not provide your personal information.