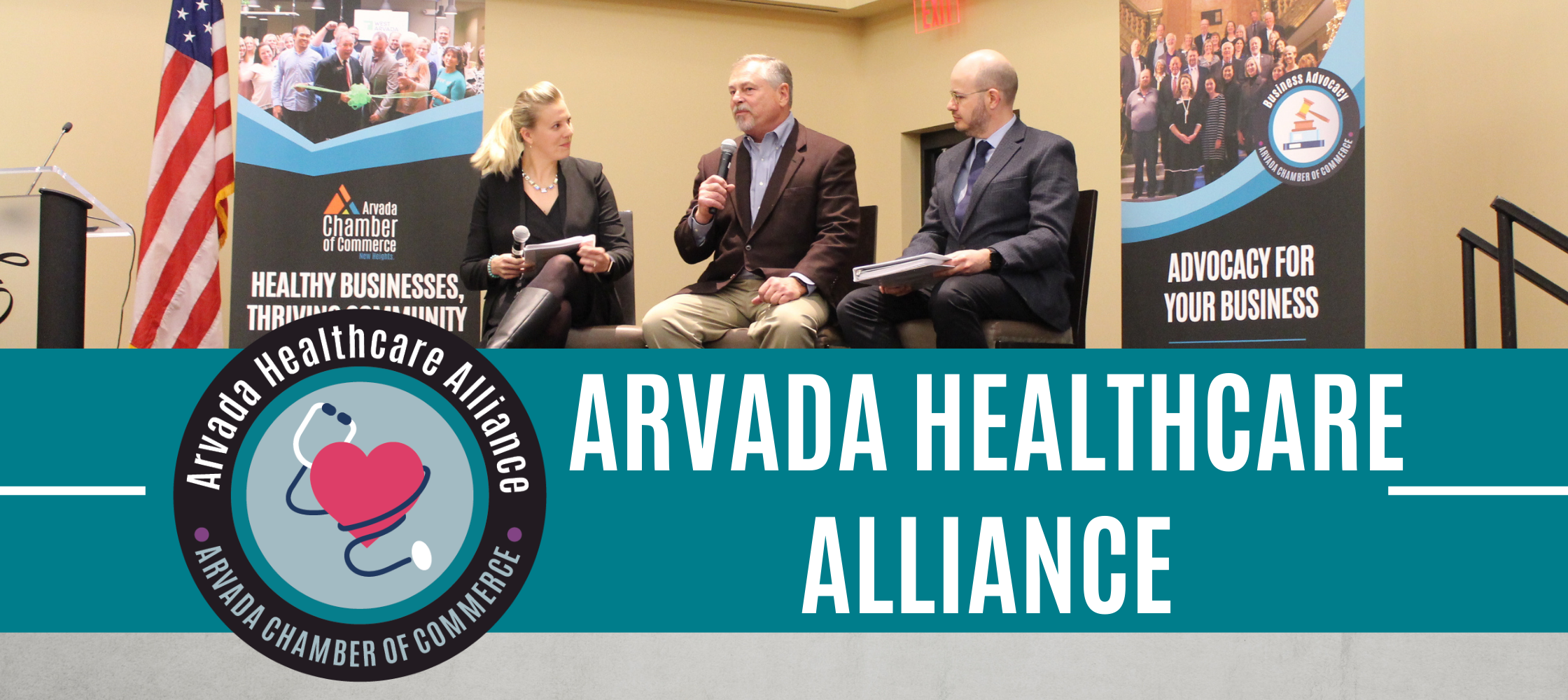 The Arvada Chamber of Commerce is pleased to offer the Arvada Healthcare Alliance (AHA) as a benefit to Chamber members. Healthcare concerns are growing for our members and their families, especially with COVID-19 related health and financial issues. As such, AHA was designed to improve local healthcare rates and access through the collective negotiating power of the Chamber. Our commitment is to identify local partnerships that will lead to Arvada having the healthiest workforce in Colorado.
Why join AHA?
For a number of years, we have heard from businesses that they are struggling with average premium increases on their healthcare plans of 8-10% annually. Many other businesses in our Chamber currently do not have healthcare coverage or benefits for employees.
AHA is an affordable healthcare solution for members with no current coverage or those evaluating your healthcare model on quality, cost, innovation, or access to local care. Currently, AHA membership includes Direct Primary Care through Paladina Healthcare for just $99 a month for adults. Learn more about how Paladina Healthcare works below.
We are committed to expanding this program to other local partnerships, including evaluating options related to behavioral health, catastrophic coverage, and additional local wellness solutions. Local healthcare providers interested in providing a per member per month (PMPM) model as part of AHA should apply here.
---
How does Paladina Healthcare work?
For employers | Offered as an optional benefit to eligible employees & dependents
Pay the Paladina Health monthly per-member fee only for enrolled employees and dependents. Cost per month is $99 for adults and $59 for children. Fee can be paid by employers or the employee.
Can be offered by employers with current health coverage or employers without a current health plan
Partner with the Arvada Chamber of Commerce and Paladina Health to educate about the program in order to drive enrollment and engagement
No need to modify current benefit plan design in most cases
For employees and dependents | Enjoy an innovative new benefit that includes:
A primary care physician who is an advocate and coach for all healthcare needs
Primary, urgent, & preventive care; pediatrics
24/7 access to the physician via a convenient clinic, the physician's cell phone, and email
Same or next-day appointments available; 30-90 minute appointments
Active management of chronic diseases
Coordination with other healthcare providers
Basic labs and over 50 generic drugs on-site
Online access to medical records and appointment scheduling
Transparency tools to compare costs and quality for services needed outside of Paladina Health®
NEW: Unlimited in-person and virtual care with our providers in clinic for participants, for COVID and non-COVID related care
NEW: Access to screening protocols and communication support
NEW: Mental health screenings and necessary treatment for anxiety and depression
---
Arvada Healthcare Alliance – Frequently Asked Questions
---
The Arvada Chamber of Commerce (the "Chamber") is not a provider of health care services or health insurance.  The Chamber, through the Arvada Healthcare Alliance ("AHA") acts as an administrator connecting Chamber members to healthcare service providers, such as Paladina and Accressa ("Servicer Providers").  To the maximum extent permitted by applicable law, the Chamber (and the AHA) disclaims all representations, warranties and conditions relating to your use of this website, including without limitation, any implied warranties with respect to the quality, fitness for purpose and/or the use of reasonable care and skill of the Service Providers.  By your use of this website and participation in the AHA, you agree to defend and hold harmless the Chamber, the AHA, and its members, Board of Directors, officers, employees and volunteers from any and all claims relating to your participation in the AHA or the services received from the Service Providers.
During your participation in the AHA, the Chamber will not collect any Personally Identifiable Information ("PII") except your name, email address and phone number.  By participating in the AHA, you agree that we may collect, use and disclose such information for the purpose of connecting you with the Service Providers. The Chamber may use the information you provide as part of the ongoing operation of the AHA, including activities such as oversight, quality control and responding to any concerns regarding this information.  The Chamber will never sell any information collected as part of the AHA. If you do not agree with these terms, please do not provide your personal information.