My Head Is Spinning!
5 Tips To Help Your Business Understand What Is REALLY
Happening In Politics & What You Can Do About It.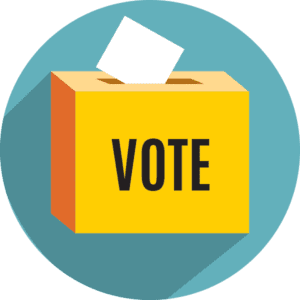 On a regular basis we are all bombarded with political rhetoric, campaign advertisements, fear tactics and more. This constant and overwhelming information can leave all of us feeling confused, concerned and quite frankly totally OVER IT! Here's the million dollar question: How do you cut through the fluff, get to the real root of the issues and candidates to make sure you are making qualified and informed decisions that are best for your business.
While there is no magic bullet to fully understanding all aspects of our political climate there are a few tips and resources that will help you to make sure you have a stronger grasp.
Attend forums to meet the candidates and understand the issues: Many local Chambers of Commerce and organizations offer opportunities to meet candidates, learn about the issues and collaborate with other business leaders to understand the impact of the proposed issues.
Look at both sides of an issue: No matter what political party you associate with, take the time to understand both sides of the conversation. As you review web sites and talk to informed leaders consider the big picture of the proposed changes. Look at who is supporting and/or opposing both sides. Review current law and understand the history of the proposed legislation. Has something like this been proposed before? Why did it fail?
Ask around: Talk to other business leaders, contact your local Chamber of Commerce, talk to neighbors and find out what they know about the proposed candidates or legislation. Other peoples' perspectives can be extremely powerful in working toward a complete understanding.
Understand biases: Everyone has their own opinions. Be cautious of media, web sites, social media posts and more. There is always a slant to each of these. Work to open your mind as you research and understand the issue.
I am MAD! Now what?: You did your homework, you understand the impacts on your business and you are ready for action. The good news is that there is quite a bit you can do to have your voice heard. Depending on if the issue is local, state or national there are different paths you can take.

Local issues: Attend a City Council meeting, contact one of your local City Council Members, call your Chamber of Commerce to find out their position and if they have plans for advocacy, join a campaign committee, educate your neighbors.
State issues: Consider testifying on an issue at the Capitol (many Chambers can help you with this), contact your state legislators, look in to signing on to statewide coalitions.
Federal issues: Contact the offices of your Congressman/Senator and share your concerns, contact local organizations that focus on federal advocacy (typically these are in specific industry sectors).
There are MANY resources available to support you and your business in understanding exactly what is happening that may impact your business. You may have noted throughout the article that there is a trend of Chambers of Commerce as a support in this arena. Chambers have a long history of advocating on behalf of businesses and work to hear and communicate a variety of perspective all while maintaining a PRO-BUSINESS mindset. Consider what your role can be in these conversations and take part in them!
Learn more about the Government Affairs Committee and how YOU can get involved here