Proposition HH is one of the most complicated and controversial ballot measures ever presented to voters. It is a proposition the Arvada Chamber is tracking closely given its potential impact on income-aligned housing for Arvada employees.
The proposition modifies or reduces taxation rates and exemptions for multiple types of property while increasing taxes by allowing the state to retain more tax revenue. Proposition HH gives Coloradans a choice; trade some property tax relief, for a long-term increase in state taxes.
Common Sense Institute of Colorado (CSI) recently released a report evaluating the long-term impacts of the proposition. According to CSI, while any revenue forecast is uncertain, under normal economic conditions, taxpayers would bear the full tax increases under Proposition HH even if the economy faced a sizeable downturn. While all Coloradoans benefit from TABOR refunds, only property owners would see direct benefits of the property tax decrease.
The bottom line for CSI: When comparing the property tax increase to lost TABOR refunds, most taxpayers will pay more over the next 10 years if HH passes than if HH fails. Prop HH does not provide certainty or help to regulate the fluctuations in property taxes. A median-priced home under current law would see a 36% tax increase from 2022 to 2023, and under Prop HH that same median average home still sees a large tax increase of 26%.
Property Tax Calculator
MyPropertyTaxCO is an online resource to help Coloradans navigate the issue of rising property taxes. Will proposed fixes save you money or cost you more in the long run?

Simply enter your address and calculate your bill.
---
Questions? Join us on October 20 for an Extended Conversation on Prop HH at "Ballots and Breakfast"
For a further discussion of Prop HH, join us for Ballots and Breakfast on Friday, October 20. We will present a detailed breakdown on the pros and cons of Prop HH, plus hear from the School Board candidates on your ballot and information on Prop II (Tobacco Product Tax Revenue).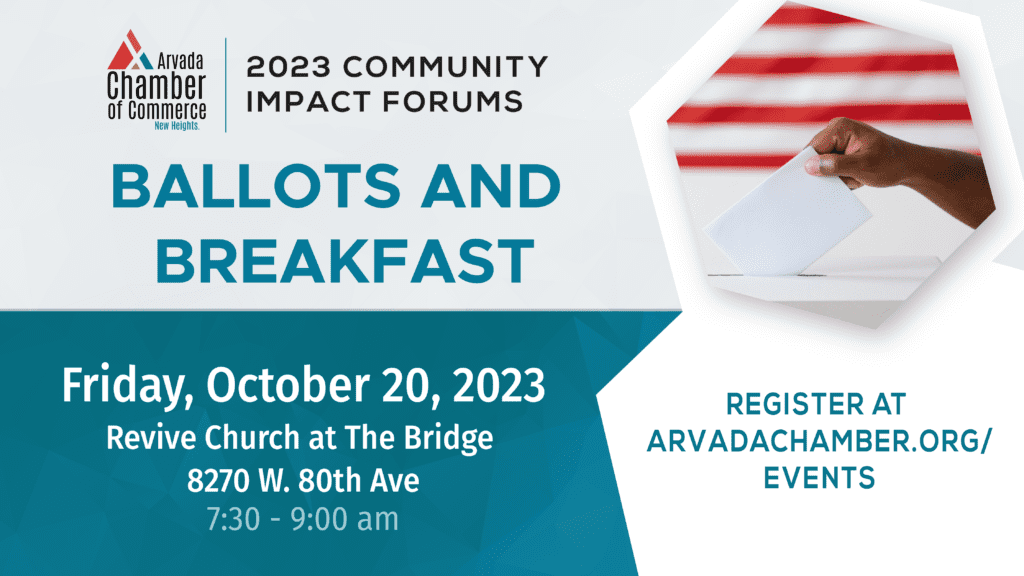 ---