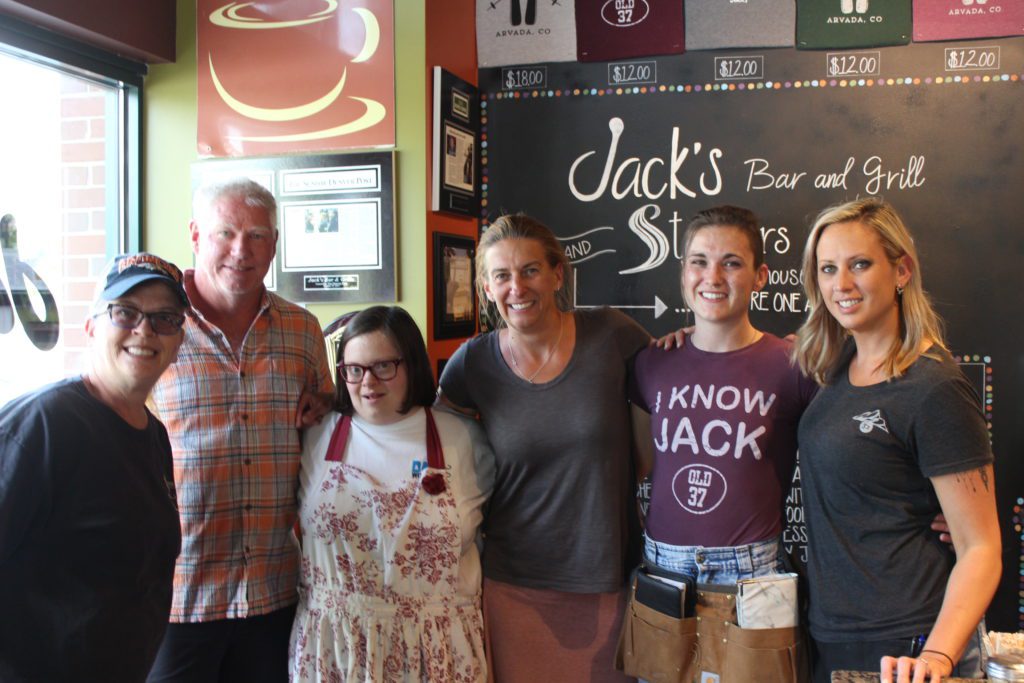 Before Jack and Athan Miller got into the restaurant business, he was an Olympic skier and she worked with the developmentally disabled as a social worker. Now, for over a decade, the Millers have operated Jack's Bar and Grill & Steamers Coffeehouse with the mission of hiring and training special needs individuals. Located in the Village at Five Parks, the restaurant has expanded numerous times, including a 1,300-square-foot commercial prep kitchen across the street. This growth and introduction of new training programs has allowed the business to employ over 90 individuals with developmental disabilities at one time. Learn how Athan and Jack serve up delicious, fresh ways to change lives in Arvada and influence inclusive employment opportunities across the country.
How have you designed your business to be inclusive of all employees?
Jack: This is how it works: we have a pretty small kitchen here. Across the street, it's a full commercial prep kitchen. In the restaurant business, you can buy everything: cheese that's already shredded and prepared stuff that you just heat up. We choose to do everything from scratch.
Athan: We have a lot of labor, so instead of buying cut carrots, we cut the carrots ourselves.  Instead of buying our muffins, scones and cookies, we make them from scratch. Our drinks at our bar are made with homemade simple syrup.
Jack: Each day, the kitchen will ask for an order, say, 3,000 sliders with 50 pounds of cheese shredded, lettuce chopped up, and tomatoes. The order will go across the street and there they start prepping the food. It's a large enough setting that if it took one person 10 minutes to chop up a carrot, that was fine because we had the whole crew chopping up carrots at the speed they're capable of. If someone was super fast or took a little longer it wasn't a problem. Whereas if in the kitchen here, it's such a small kitchen, we simply didn't have room.
When we were building our prep kitchen, our architects and designers would say "That's not very efficient, you'll want to do it this way." I told them we want to build in inefficiency. Because the more inefficient we are, the more opportunities we can provide people that don't have the opportunity to work. Our goal with this restaurant isn't to make a bunch of money. Our goal is to keep the lights on and provide opportunity.
What are some major misconceptions of hiring employees with developmental disabilities?
Athan: Mainly people think that people with developmental disabilities can't do the same jobs that typically abled people can do. That's the biggest misconception. A good example is when we first opened the restaurant, we hired some cooks who were not disabled. They weren't social workers and didn't know much about working with people with developmental disabilities. So one day, one of the cooks told one of our disabled employees to cut the french fries. My first thought was, "Oh he can't, he doesn't have fine motor skills." But the disabled employee went and did the french fries. This was someone whose support team said he couldn't do that. I learned you have to give everyone the chance to do everything. It was a good lesson for us and likely an even better lesson for him.
It's opening everybody's mind in a different way. And there's a lot of laughing. There's a lot of hugging. It's much more light-hearted than I think it would normally be.
How did your gourmet Jams and Jellies business start?
Jack: The first summer when we were open, a bunch of boy scouts came by selling peaches. We took all the peaches and started making jam. We quickly learned that these jam recipes are the perfect training tool for people with disabilities. 
About five years ago, The Chew tv show, reached out to do a story about the jams. This was the #1 daytime show on ABC at time. So they came here to film and we went to New York to do some interviews. This was right before Christmas and we sell gift boxes of the jams. About 10 minutes after the story aired, our website crashed. That really put our jelly business on the map. Through that, Fed-Ex reached out with interest in the jellies for their employees. Now we make jelly in bulk and ship it to all the catering companies that put together meals for the Fed-Ex pilots. We also just did a deal with Stranahan's Whiskey and now make a Stranahan's Peach Jelly. 
What's next for Jack's and Steamers?
Jack: In the front half of our prep kitchen, we're going to build a deli. The second half of the prep kitchen will be a culinary school where we can bring in individuals to teach them skills. At first, they're going to come in and learn, and as they get closer to graduating, it's going to turn into a paid internship. And then once they graduate, they'll have a certificate and a number of different organizations, including us, will help place them into the workforce. It's unrealistic to have all these employees here; it is bigger than our restaurant. We have a total of 150 employees right now across our programs. But can you imagine if every restaurant or business in Arvada had one special needs employee? That segment of the workforce is probably 80-90 percent unemployed. There's a lot of people out there that desperately want to work, that are capable and aren't having a chance. It's little deal but we're doing as much as we can to help that.
We hire great people. It doesn't matter where they come from or what their background is. Everyone that we hire is good at something and we find that.
Visit Jack's and Steamers for breakfast, lunch, and dinner at 8565 Five Parks Dr #100, Arvada, CO 80005.