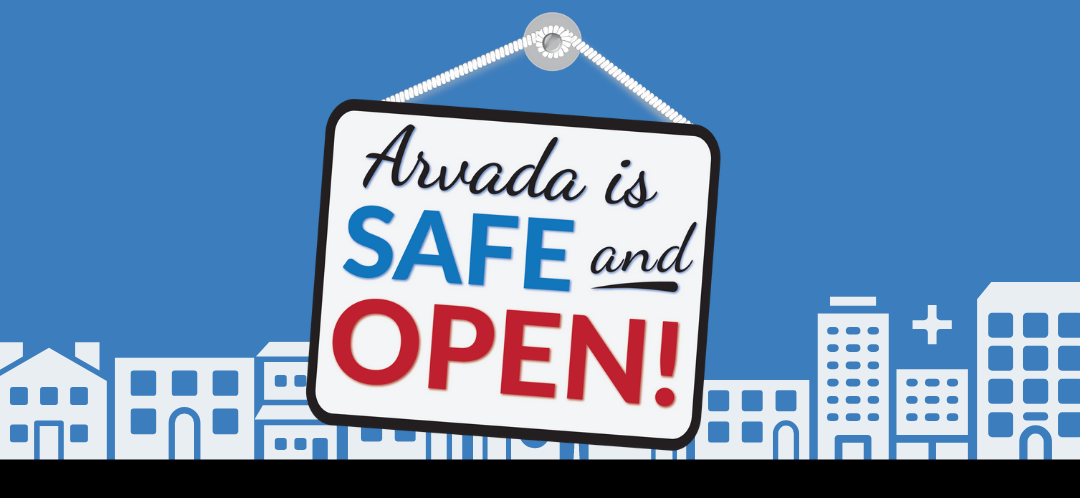 The Arvada Resiliency Taskforce developed the Safe and Open campaign to help Arvada businesses communicate widely to the community a return to economic activity in accordance with public health and safety best-practices. The goal of this campaign is to offer a marketing opportunity and is not regulatory or punitive in nature. In support of the State of Colorado's Safer at Home plan, the business community of Arvada stands ready to move towards a thriving economic environment once again, while protecting against the renewed spread of coronavirus.

1. Review the sector-specific guidelines for your business on the State of Colorado's Safer at Home page. Also, review sector-specific Jefferson County Public Health guidance and Guidance for Retail Curbside Service. For those in Adams County, please review the Tri-County Health Department Public Health Order.
2. Take the Safe and Open pledge HERE.
3. Upon completion, you will receive access to a self-service Google Drive to download the branding assets that will help you communicate your Safe and Open status.
4. Additionally, your business will be listed below. This message will be shared widely via social media, print, public relations and more.

The following businesses have taken the Safe and Open pledge. The Safe and Open directory will go live on May 9, 2020 at 9 am. If you have questions regarding any of these businesses' health and safety protocols, please reach out directly via the contact information below. If you have serious health and safety concerns, please contact Jefferson County Public Health or Tri-County Health Department. If a business is not shown, please reach out to that business directly and ask if they can take the pledge. 
Child Care FacilitiesEducationField Services & Real EstateFood & BeverageHealth & WellnessLocal & Personal RecreationOffice-based BusinessesNursing Homes & Care FacilitiesPersonal ServicesRetailOther
The Arvada Resiliency Taskforce developed the SAFE AND OPEN campaign to support Arvada businesses with communicating widely to the community regarding safety best-practices adopted in response to the recent Coronavirus (COVID-19) pandemic. The SAFE AND OPEN campaign is intended to serve solely as a marketing opportunity for member businesses during the upcoming recovery period, not to be a regulatory effort or punitive in nature. Our role is simply to support and assist member businesses going forward by providing a marketing platform by which each business can highlight its safety efforts during this time. Each participating business is responsible and accountable for its own actions, efforts, and representations made in connection with the SAFE AND OPEN campaign. The Arvada Chamber of Commerce and the Arvada Resiliency Taskforce cannot and does not guarantee that any particular business is (or will be) employing or undertaking any particular safety measures, nor will the Arvada Chamber of Commerce or the Arvada Resiliency Taskforce be held responsible for the same.
Safe and Open is endorsed by Jefferson County Public Health's Open for Business campaign.