ostpon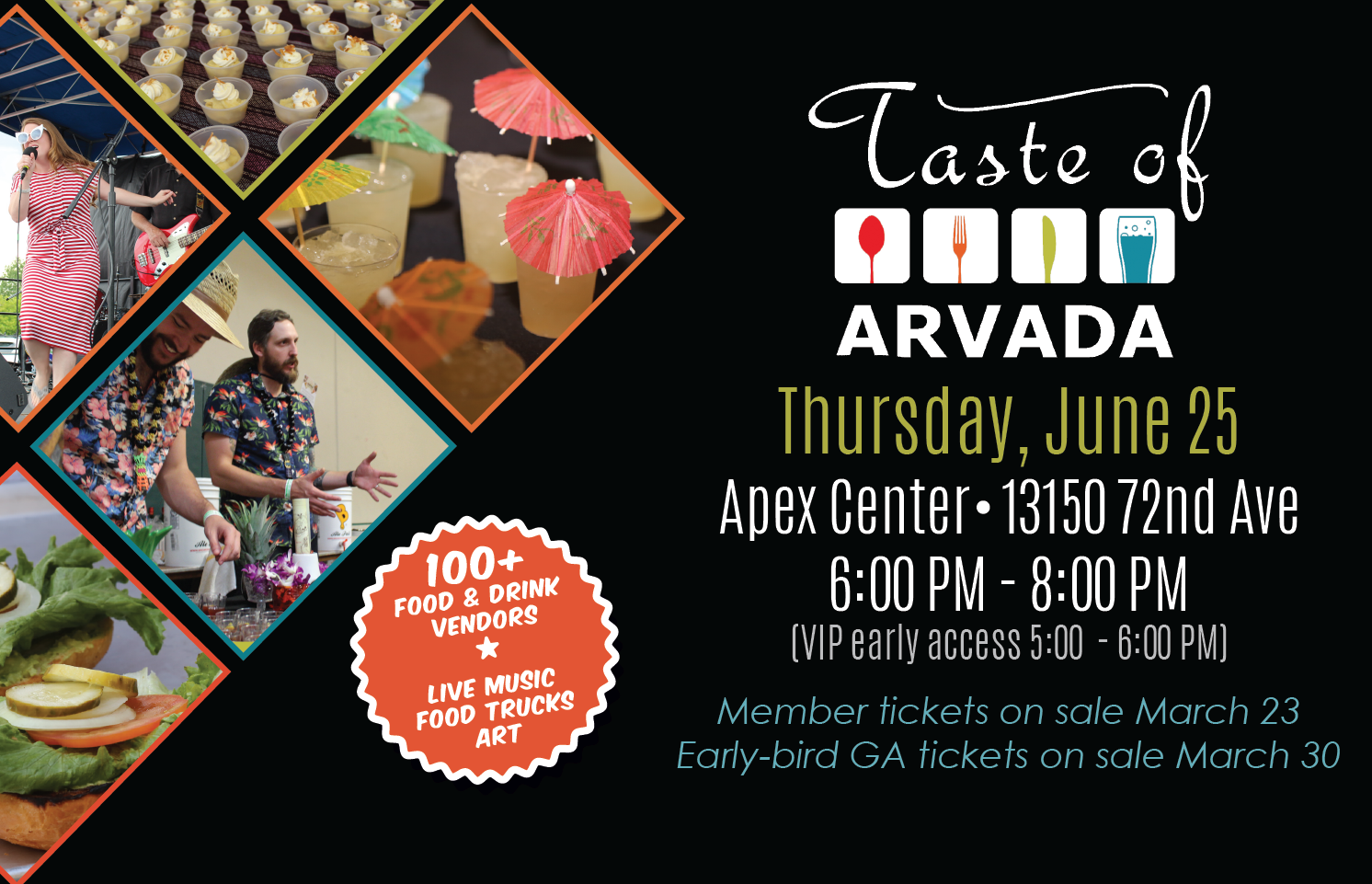 This event has been postponed. Please look for an update announcement with details of date and location of Taste of Arvada.
Taste of Arvada returns on Thursday, June 25 at the Apex Center, 13150 72nd Avenue. More than 100 Denver Metro and Arvada restaurants, craft breweries and non-food vendors will display their finest culinary bites, sips and offerings from 6:00 to 8:00 PM. This year's event will include an outdoor section, with a multitude of food and drink options, live music, art vendors, and more! In addition, restaurant and bar vendors will compete for coveted prizes in their categories, voted on by attendees. 
---
Ticket Information
Tickets to the event include all the samples from both food and drink vendors. Please bring your photo ID if you plan on sampling alcoholic beverages.
VIP Admission: $40
General Admission: $30 ($35 at the door)
Children (3-12): $10
*Children 2 and under are free; Strollers are not permitted inside the event
Arvada Chamber members tickets go on sale March 23
Early-bird general admission ticket sales go on sale March 30th through April 12
---
Food Vendors – Apply by May 1, 2020
We are now accepting applications for restaurants, breweries, wineries, distilleries, food trucks and more to participate at Taste of Arvada. There is no charge to Chamber members to be a vendor. To learn more about this opportunity to meet over 2,000 attendees, please view our restaurant vendor registration form.  
Business Vendors – Apply by May 1, 2020
Taste of Arvada will also feature booth space for non-food and drink vendors. These opportunities are very limited. Learn about costs and sponsorship upgrades at our business vendor registration form.
Sponsorships Available
View all our available sponsorships here.
Sign up to Volunteer!
Help us throw the most delicious party in Arvada! View all volunteer positions here.
Questions about Taste of Arvada? Please contact Samantha Geerdes at Samantha@arvadachamber.org or call (303) 424-0313.
---
Taste of Arvada 2020 Participating Restaurants
Coming soon!