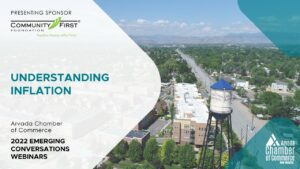 On March 18, 2022, the Arvada Chamber hosted "Understanding Inflation" as part of the Emerging Conversations Webinar series. The Arvada Chamber welcomed keynote speaker Matt Kukla, Senior Research Analyst at Syntrinsic, who provided the latest research on the pandemic's impact on inflation and projections for the rest of 2022.
A panel discussion followed, featuring Sean Kaiser (Lodo's Bar & Grill), Tyson Miller (CFO at Hill Petroleum), and Curtis Dubay (Economist at U.S. Chamber of Commerce). We want to thank Christine Jensen, Branch Manager at Fairway Independent Mortgage Corporation, for moderating the event. We also thank Community First Foundation for sponsoring the Emerging Conversations Webinar series.
Find a copy of the presentation here and key takeaways, a recording of the webinar, and speaker bios below.
5 Key Takeaways from "Understanding Inflation"
"Inflation is a hidden tax that essentially reduces purchasing power requiring a trade-off in the portfolio of consumption patterns for households, businesses, and governments," according to Matt Kukla. There are two types of inflation, Asset Price Inflation (impacting the investment economy) and Goods/Services Inflation (impacting the real economy). Goods/Services Inflation reduces purchasing power and is particularly harsh for lower-income families.

Current inflation is at 7.9%, a 40-year high. A number of factors are leading to today's inflation, including the fiscal stimulus, monetary stimulus, pent-up demand in spending, supply chain constraints and the rising cost of labor.

Businesses can take a varied approach to combat inflation rates. Overall, businesses will need to decide on three scenarios: pass on costs to customers, reduce costs, or absorb costs. To reduce costs, businesses can improve productivity, automate where possible, bundle services, form group purchasing networks or simply the supply chain.

The Fed's targeted level of inflation is 2% in 2023. The expectation is that inflation rates will peak in the first half of 2022. High levels of inflation do not persist indefinitely, however, persistent worker shortages would prolong the current high rate.

Today's inflation can be compared to the immediate period after WWII. Many are comparing today's inflation to the wage-price spiral of the 1970s, when inflation occurred as demand and output exceeded potential supply in the economy. At that time, wages rose in line with inflation. Although wages are increasing today, they are currently increasing less than the rate of inflation. The years following WWII saw the removal of price controls, supply shortages and pent-up demand, which caused prices to jump 20%. Inflation rates normalized in about a year before reaching 10% at the start of the Korean War.
Webinar Recording
Speaker Bios
---
Join the Arvada Chamber in person on April 15 for the Annual State of the City Address. Register for all upcoming Arvada Chamber events at arvadachamber.org/chamber-events.