[slide-anything id="13340″]
On October 6th, the Arvada Chamber hosted the 70th Annual Awards Luncheon, a long-standing tradition in Arvada recognizing outstanding community involvement, generosity and overall impact. This year's luncheon was hosted at Social Capitol Events. Read about the award winners below and watch videos of the Man and Woman of the Year.
Man of the Year: Edward Rothschild
Edward is the business owner of AlphaGraphics, a business advocate and a dedicated servant and volunteer for his community. His many leadership roles in the community include serving on the Arvada Chamber of Commerce Board of Directors, Executive Committee and Advocacy KAPS Council, the Sooper Credit Union Community Foundation Board, the Bike Friendly Arvada Board, the City of Arvada Charter Review Committee and the Whisper Creek Townhomes HOA. He has also volunteered his time with many worthy organizations such as the Arvada Planning Commission, Foothills Animal Shelter Foundation and MS Society of CO/WY. Through his many philanthropic, leadership and service efforts, Edward has proven himself to be an advocate for businesses and individuals alike in the City of Arvada.
Learn more about Edward and his contributions to Arvada in the below video. Read his interview in the Arvada Press here.
Woman of the Year: Marie Beeler
Marie is a local hero that advocates for our neighbors and their children and that enriches all of Arvada. Through her work with HOPE (Help Our People Eat), Arvada High School, the Severe Weather Network, migrant ministry, Hope House and a variety of other causes and organizations, she has helped feed thousands of Coloradans in need. Marie sees the good in people, especially the students, and encourages each individual to become their own personal best.
Learn more about Marie and her impact on Arvada in the below video. Read her interview in the Arvada Press here.
Image Award: Police Officer Gordon Beasley and Justin Andrade
Fallen Arvada Officer Gordon Beesley was honored for his commitment to the Arvada community in 19 years on patrol and as a school resource officer. He was awarded Arvada Employee of the Year in 2015 and his dedication to a student at Oberon was profiled in this video by 9News.
Justin Andrade is a selfless, extraordinary, and inspirational young man. Justin recently ran 280 miles home from Adams State University in honor of his childhood friend, Cameron Holland, and to raise funds for the Cameron Holland Scholarship. Justin raised over $7,000 for his ultra marathon-like efforts, with another $3,300 pledged for the Cameron Holland Scholarship Fund.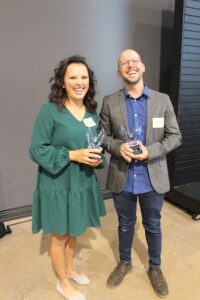 Arvada Young Professional Leadership Award: Joe Hengstler and Deanna Mayberry
As the Executive Director of the Olde Town Arvada Business Improvement District, Joe Hengstler works tirelessly to support Olde Town businesses and the community as a whole. He led the organization in pivoting during the COVID pandemic and finding new and innovative ways to support businesses through such a trying time. He came up with creative ideas and also cultivated the ideas of others. His leadership skills shined through the Covid pandemic and continue to make Olde Town Arvada a destination for locals and tourists alike. In addition to working for the BID, he volunteers his time with the Arvada Festivals Commision.
As the Associate Director of BeyondHome, Deanna Mayberry has led by example and helped grow the programming of the organization over her 3 years with the organization. She more than doubled the grant income of the organization in just one year, helping many low-income families graduate from public assistance and purchase their own homes. She is passionate about bringing together local government churches, businesses and other non-profits to improve the lives of our community's most vulnerable.
Rising Star Award: Curtis Fay
Curtis is a student at Arvada High School and demonstrates leadership by helping his fellow students and the school staff with technology. He created his own position, a technology internship.He was the sole responsible party for it and did an amazing job. Over the summer the school hired him this summer to do all tech support for summer school, building inventory, imaging, surplus, and tech support for main office staff. He is also in charge of all technology that has to do with the auditorium and theater. Curtis has a real knack for teaching complicated content in a way that anyone could understand. For the last two years, Curtis has served as sound manager for theater and has taken such ownership of his position that he has eliminated the need for the theater department to bring in industry professionals to teach the new members. Instead, Curtis takes on that responsibility and has taught the new members of crew with excitement and kindness.
---