Quickly becoming recognized as a premier family-friendly destination in Arvada, Archery Games Denver celebrated its one-year anniversary in November of 2019.  The home of Archery Dodgeball and located near the corner of Sheridan and Ralston, Archery Games has proudly hosted family gatherings, birthday parties, business team building events, bachelor and bachelorette parties, and everything in between.
Always committed to customer requests, Archery Games Denver went through the process of obtaining a new liquor license in November 2019, adding a selection of adult beverages for its 21+ patrons to enhance their Archery Dodgeball experience.
The unique experience of Archery Dodgeball both invigorates and challenges combatants in a way that is exhilarating and strategic.  Combining the rules of dodgeball with bows and specially engineered foam-tipped arrows, Archery Dodgeball is guaranteed to get the heart rate rising and the adrenaline pumping.  With up to 20 people on the battlefield at any given time, Archery Dodgeball is equal parts chaos and tactical planning.
Since opening in November of 2018, Archery Games Denver has been recognized by ABC7 as a "Mile High Must", and has also been featured in The Denver Post, 303 Magazine, 5280 Magazine and on FOX31.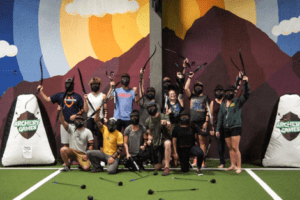 With the addition of the new liquor license, Archery Games hopes to accommodate larger corporate events as well as attract a wider expanse of adult thrill-seekers.  Offering a variety of beers, wines, ciders and hard seltzers, Archery Games will be the perfect place to have a blast or kick back and relax.
Through partnerships with neighboring Talnua Distillery, Archery games has hosted groups as large as 100 people.
Reservations and event booking for Archery Games can be made online either as an individual or as a group. Bookings are $27 per person for individuals, or $475 per hour for groups.