(Arvada, Colorado – August 25, 2022) – Today, business and community leaders joined the Arvada Chamber of Commerce to launch the public phase of a $2.725 million initiative called Big Opportunities for Leaders To Deliver (B.O.L.D.) 2026. The campaign has already secured $2.1 million and is eager to engage the public in the next phase. This initiative is a call to action to increase business engagement in key issues impeding economic growth in our region. Through coordination of private and public sector investment and engagement, the Arvada Chamber will create action from the ground up that will have a direct impact on businesses and the community at large.
B.O.L.D. 2026 includes four mutually supporting goals that will ensure the economic strength and opportunity for Arvada and Jefferson / Adams Counties:
GOAL 1:

Grow our talent

to meet the needs of employers and job seekers

GOAL 2:

Increase our stock of workforce housing

to ensure workers can attain housing within reasonable proximity to their jobs

GOAL 3:

Increase childcare capacity

to enable caregivers to join the workforce and give children the quality early learning experience they need to thrive

GOAL 4:

Strengthen the business environment

to ensure economic opportunity for all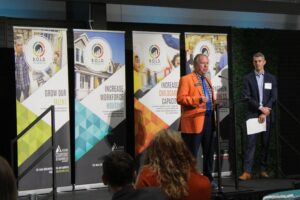 Business and community leaders have stepped up in big ways to align with the goals. The Arvada Chamber is pleased to announce campaign co-chairs Matt Malone (President & CEO, Barber Nichols), Tracie Wilcox (President & CEO, On Tap Credit Union), and Kelly Dunkin (President & CEO, Community First Foundation).
"Barber-Nichols joined B.O.L.D. 2026 to actively engage in the continued growth and prosperity for the local community in which we live and work, Arvada," said Matt Malone. "The initiative will strategically tackle challenges that directly impact our employees including talent pool, workforce housing, childcare capacity, and business environment. We, Barber-Nichols, are excited to be a leading benchmark to prototype ideas."
At the kick-off, Colorado State Demographer and Economist, Elizabeth Garner, presented a summary of population trends in Colorado and Arvada that highlighted numerous labor force concerns for the near future. Arvada Chamber President & CEO, Kami Welch, then unveiled details of the B.O.L.D. 2026 plan and explained the critical nature of the partnership that the initiative is driving.
"We have strategically designed the initiative with the language 'Serving Arvada and Jefferson/Adams Counties,' as we know we can't do this work without the incredible partnership and collaboration that comes along with effective regionalism. We are ready to join already existing efforts and lead where needed to ensure that we are effectively tackling problems from the local level all the way to the top," said Kami Welch.
Learn more about the campaign at arvadachamber.org/BOLD2026. 
View a gallery of photos from the kickoff event here.