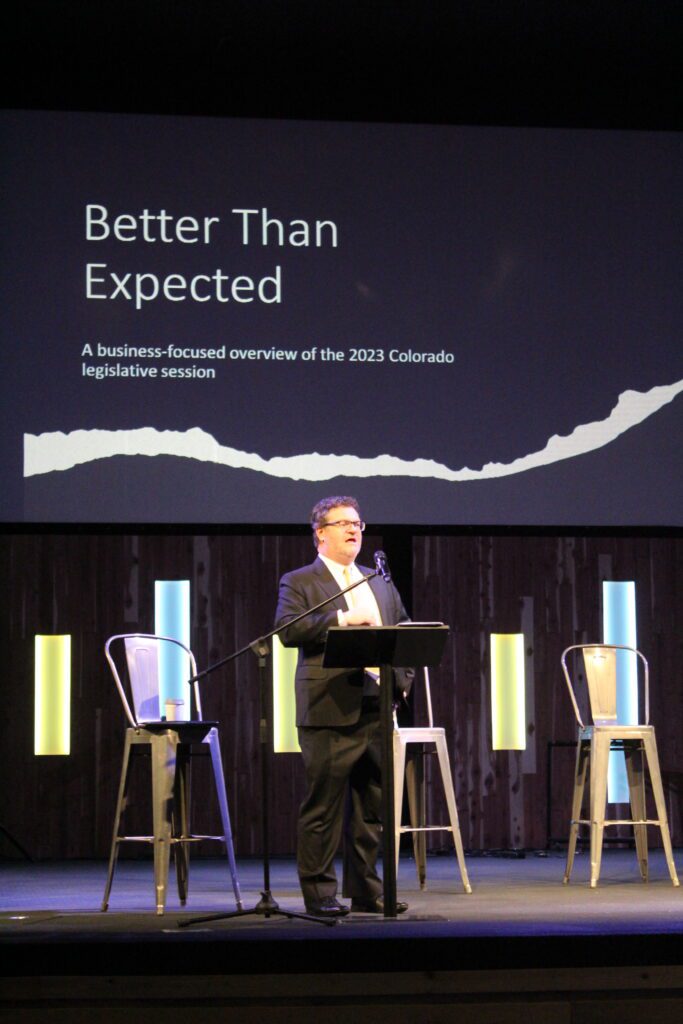 By Katie Winner, For The Win Communications, Ltd. and the Arvada Chamber Advocacy KAPS Council
Better than expected. That was the emerging theme of this past legislative session at the Arvada Chamber Community Impact Forum: Legislative Recap 2023. As big-picture bills ended their journey in the halls of the capitol, a panel of local experts and elected officials from Arvada broke down the good, the bad, and the ugly of legislation impacting employees, employers, and our community.
The Sum and Substance
The business-focused recap, moderated by former Denver Business Journal reporter turned Vice President of Strategic Initiatives for the Colorado Chamber of Commerce Ed Sealover, opened with a review of a session that was predicted to be not so great for the business community, but turned out to be not so bad.
To set the stage and the players on Colfax Avenue, Sealover pointed out the super majorities held by the Democrats in both chambers, with 46 of 65 seats in the House, and 23 out of 35 seats in the Senate. But the bigger factor hidden within was the overall number of first-time freshman legislators. "Thirty-three of the 100 legislators were new. I don't know if that's a record," said Sealover, "But it sure felt that way. When you have one-third of the people having never served in elected office at the state house before now making our laws."
In Moderation
While the session was packed with bills, Sealover moderated the hour-long discussion reviewing the 2023 session and taking a closer look at the top bills, and issues the Jefferson County Business Lobby were following for the 120-day session. Lobbyist Jeff Weist opened the panel conversation by applauding the business community for areas where action was taken, such as when the community came together against the Fair Work Week bill, and where the group was more strategic in their approach.
"We spent a lot of time with our clients at the beginning of the session saying, this is a different political reality. We had a very different political climate, and we were much more selective and strategic in how we triage bills," said Weist. "There were bills this past legislative session that we didn't fight against, and in previous years we would have. We really needed to focus on the big ones," as Weist described the approach this year of taking action on specific, targeted bills to get results.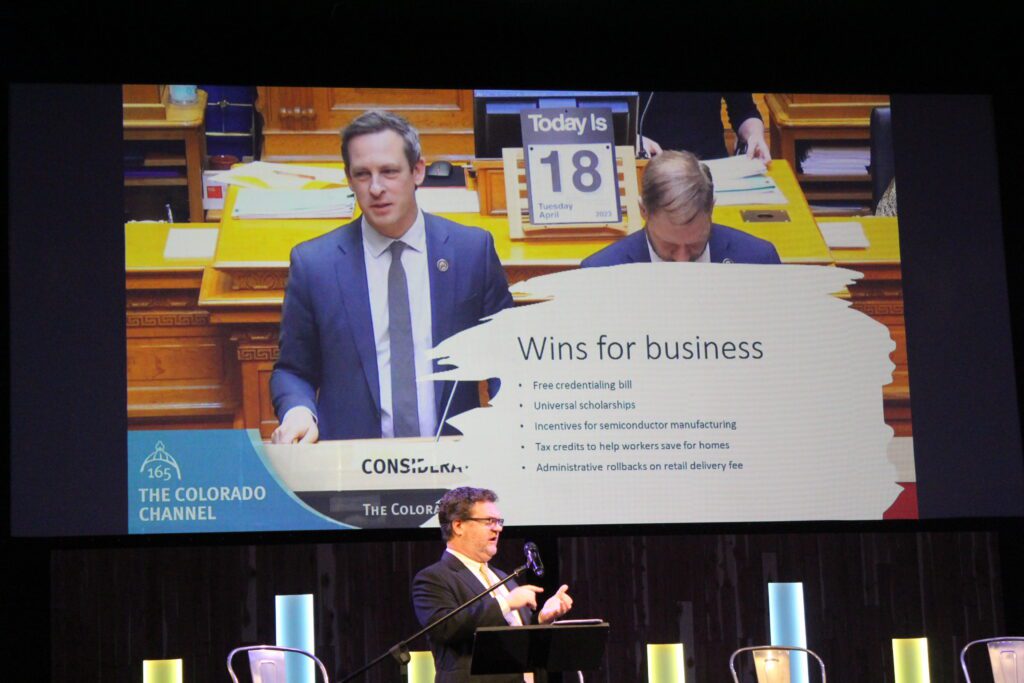 Land Use
The first bill up for conversation was one that did not pass this session, the highly controversial Governor's Land Use Bill, Senate Bill 22-213. Arvada's Senator Rachel Zenzinger played a pivotal role in the last dying days of the bill this session, but sees an effort to address affordable housing from the Governor coming again in the future.
"The goals of the bill were very worthy, " said Zenzinger. "My opposition to the bill was not my opposition to the individual strategies inside the bill…in fact, I embrace many of those strategies." Zenzinger went on to highlight items already in use in Arvada, such as Accessory Dwelling Units (ADUs), transit-oriented housing and prioritizing key corridors for development. Zenzinger explained her opposition came from the many preemptions in the bill, such as taking local control of city and county governments to the state level, a move Zenzinger cited as potentially unconstitutional in her opinion. "The problem from my perspective with the bill is that it was a top-down approach. And I don't believe that Colorado is about a top-down approach. I think we are a bottom state, and you're gonna be far more successful when it comes to things like development and affordable housing if you adopt a bottom-up strategy rather than a top-down strategy."
Property Tax
Another bill that caused controversy, but managed to pass, was the Governor's solution to Property Tax, otherwise known as Senate Bill 23-303. Sealover provided a very rough summary of the bill, to be seen on your ballot this November, that among other things would reduce assessed evaluations for many classes of property, including adding new subclasses of property, extended those reductions for the next 10 years, put a soft cap on how much property value could rise by inflation each year, allows the state to backfill the lost revenues to local governments by increasing the TABOR cap by 1% each year, and rental assistance, all if the voters allow.
"I was very disappointed in the process on this one because it was so complex," Colorado Competitive Council Executive Director Rachel Beck stated. "The initial bill was introduced with a week to go in the session at a time when the legislature still had a ton of important business to deal with. This is a problem we knew was coming for more than a year and to wait until the very last minute to drop such a complex bill meant that there wasn't enough time to analyze it, understand a lot of the provisions that were in the bill, or to have the conversation with stakeholders. And so from a citizen's perspective, and as well as from the business perspective, I don't think that's a good way to make policy. We truly believe that when you get a lot of stakeholders in a room and you discuss policy options, that's when you make the best policy."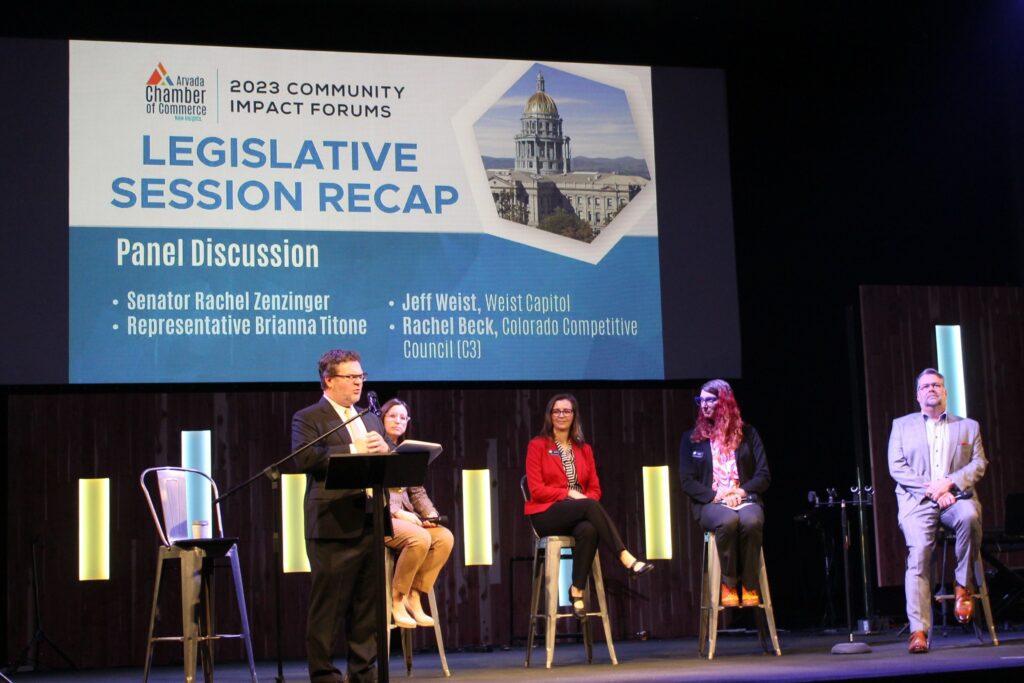 Air quality
With a brown cloud looming above the capitol at times, the issue of air quality was addressed in House Bill 23-1294, Air Quality Permitting. The bill, with revisions in Representative Brianna Titone's committee, underwent major changes bringing it down into a study session bill, not major reforms as intended by environmental advocacy groups.
"How do we stay out of the news for not having good air quality? How do we balance that with the businesses that we have?" questioned Titone. "And that is a difficult thing. We should be doing our part here in Colorado. A lot of people say what about the ozone, the pollution comes this way, it crosses over Colorado, it settles down to the valley of Denver and creates that cloud. What are we doing to stop that? That's a federal issue as well. So we have a lot of things, kind of a perfect storm of problems happening here, but we're trying to do what we can in Colorado."
The High Notes
Ending the legislative recap on a positive note, Sealover asked the panelist to share what they were most proud of and their individual or collective accomplishments from the 74th general assembly.
Rachel Beck shared that after years of arguments and disagreements, she was most proud of the collaboration that brought about the passage of the POWR Act, or workplace harassment bill, Senate Bill 23-172.
"That's a bill that the business community fought for a number of years, as it would change the definitions of harassment and discrimination. Businesses were really concerned that changes would open us up to frivolous or meritless lawsuits. It was very personal to the proponents, and there were a lot of stories about people who have been affected by this issue that we're not getting the justice that they sought," Beck shared. "This is one of those good news stories of the State Chamber, C3, the Special Districts Association, and some attorneys who donated their time, sitting down over the course of months to work through what the proponents wanted to see, and what businesses were worried about. After years of arguing we were able to come to something that made the proponents feel like the people they were trying to protect had better access, or a better system to depend upon, and we were able to protect businesses who are working to create respectful working environments."
"The highlight for me was chairing the Joint Budget Committee," Senator Zenzinger said. "For the first time since 2017 we had a unanimous vote in favor of the budget by the budget committee. All six members, both Republicans and Democrats, worked really hard together. Ultimately, we delivered the budget on time. It's a balanced budget. It's not a very sexy budget, but that's okay because it's a practical budget."
For Representative Titone, true to her roots, it was all about science and technology. "There was a lot of federal money that was put on the table for states to take advantage of this year, and we really worked hard to make sure we were leveraging all of those opportunities. The bill that I did for clean hydrogen, we stand to get $600 million for that to start a whole new industry. And broadband," Titone stated proudly. "We removed a prohibition on municipalities and counties owning any kind of broadband infrastructure without having a vote first, so now we can make sure local governments are able to get all of that funding to supply that service in their communities. We saw that federal money on the table so we wanted to make sure we brought it down here to Colorado and that's gonna help our economy grow and I can't be more proud of that."
Bringing it back home, Jeff Weist reminded the audience that with action by the Governor on land use coming back next session, we should continue conversions about increasing housing supply, and meeting demand, by decreasing regulation and legislation. "We saw a very stark contrast this legislative session between two different visions of how we're going to address affordable housing in Colorado. One is to increase supply to address the supply and demand problem. There were two major bills that would've significantly expanded litigation against new construction into single-family homes in addition to our existing problems with multi-family and condos and affordable housing. We were able to stop both of those efforts, but it's really this difference between do we increase supply or do we regulate it? And we strongly believe that regulating is not how you increase supply in any industry, especially in housing."
And that's a wrap for your Arvada Chamber Advocacy KAPS Council and Jefferson County Business Lobby, the unified voice of business in Jefferson County. See you back next year for another riveting legislative session at our state capitol!
Resources:
Upcoming Community Impact Forums:
---