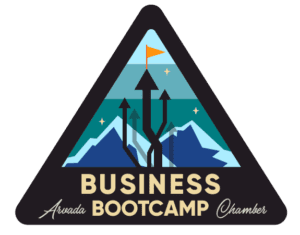 The Arvada Chamber of Commerce is dedicated to developing the catalytic leaders of the future to contribute to the success of local businesses and the community.
The Arvada Chamber of Commerce has two exciting Leadership Arvada Programs to offer you in 2021: Leadership Bootcamp and Business Bootcamp. You can apply for either program or both. 
Applications close January 8, 2021. Partial scholarships are available! Please reach out to Samantha Geerdes at samantha@arvadachamber.org or call (303) 424-0313 and we can work with you on accommodations to attend.
---
Business Bootcamp 2021
This weekly course is designed for small business owners and executives who are looking to strengthen and grow their business, rise above the competition and create lasting change to benefit your business and employees. 
Why Business Bootcamp?
This 12-week program will focus on topics such as:
Leadership during a crisis

E-commerce solutions

Technology/digitizations enhancements

Managing teams

HR/Workforce challenges

Future of work

Marketing and communicating

Health and safety best practices

Building operational strength (agile, project management)

Financial best practices/Increasing access to capital/expense reductions

Disaster preparedness

Supply chains

Business sustainability

Workplace violence/conflict de-escalation and resolution

Pivoting your strategy during a crisis
Through the course, we will have amazing guest speakers and participate in group discussions that will spark conversation and help you develop as an individual and professional. This is a program that you will want to be a part of!
Who?
Space is limited to 30 people. Candidates for the program come from diverse backgrounds and each person contributes to the group dynamic. Participants must be able to commit the time needed for completion of the class, eager to learn and willing to get involved.
When & Where?
There will be a 90-minute session every Tuesday, April 13-June 29, 8:00 -9:30 am. Plus bi-weekly small group sessions from 9:30-10am. These sessions will be held primarily online via Zoom. There is a possibility we could meet in person later in the session if group gatherings are permitted. You are highly encouraged to attend these sessions live, but if an occasional conflict arises, these sessions will be recorded and be available for viewing on your time. 
How?
A selection committee will make the final determination based on applications submitted. If you have questions please call (303) 424-0313 or email samantha@arvadachamber.org. To apply for this program please fill out the application here. You can also download the PDF version here. Applications are due by JANUARY 8, 2021 BY 5:00 PM.
Tuition
$500/Arvada Chamber Members
$600/Non-members
OR do both Leadership Bootcamp and Business Resiliency Bootcamp
$800/Arvada Chamber Members
$1000/ Non-members
Partial scholarships are available- please note your need for a scholarship in the application.
All applicants will be notified by January 13 on their status in the program. Participants will be given more information prior to submitting payment. Please don't hesitate to reach out to (303) 424-0313 or email samantha@arvadachamber.org with any questions you may have!