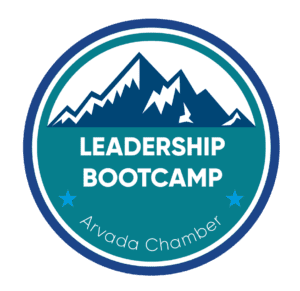 The Arvada Chamber of Commerce is dedicated to developing the catalytic leaders of the future to contribute to the success of local businesses and the community.
The Arvada Chamber of Commerce has two exciting Leadership Arvada Programs to offer you in 2023: Leadership Bootcamp and Business Bootcamp. You can apply for either program or both. 
Partial scholarships are available! Please reach out to Samantha Geerdes at samantha@arvadachamber.org or call (303) 424-0313 and we can work with you on accommodations to attend.
Leadership Bootcamp: Wednesday, May 3 – July 19
APPLY BY APRIL 21, 2023!

Leadership Bootcamp was designed for current managers or supervisors or anyone who is looking to move into more of a leadership role in the future as well as anyone interested in honing their management and leadership skills. Apply today for this powerful program!
Why Leadership Bootcamp?
The framework of Leadership Bootcamp includes the below three sections focused on different areas of leadership. Each week, we'll explore one or two topics on a proven leadership methodology taught by an expert in that field.*
Personal Leadership
Sessions include a personality assessment, emotional intelligence, public speaking and goal setting.
Leading Others
Sessions to include developing a rockstar team, instinctual leadership and conflict management.
Leading a Business
Sessions to include strategic planning, hiring best practices and workplace culture.
*Sessions subject to change based on speaker availability and needs of the 

Bootcamp

 participants. 

Here's what previous graduates of Leadership Bootcamp had to say:
"This program is a great opportunity to develop leadership skills and form lasting relationship with fellow leaders in the community. I would highly recommend the program to anyone interested in personal and professional development!"
"The program was great as it gave me practical tools that I could take back to my office and begin implementing immediately. It also gave me a great deal of insight into my management style and how I could be more effective."
"A must have for anyone making the transition from employee to management"
Who?
Space is limited to 30 people. Candidates for the program come from diverse backgrounds and each person contributes to the group dynamic. Participants must be able to commit the time needed for completion of the class, eager to learn and willing to get involved.
When & Where?
There will be a 90-minute session every Wednesday, May 3 – July 19, 9:00 – 10:30 am. 75% of these sessions will be on Zoom, but we plan on meeting in-person once a month.
You are highly encouraged to attend these sessions live, but if an occasional conflict arises, these sessions will be recorded and be available for viewing on your own time.
How?
A selection committee will make the final determination based on applications submitted. If you have questions please call (303) 424-0313 or email samantha@arvadachamber.org. To apply for this program please fill out the application at the link above.
Tuition
$500/Arvada Chamber Members
$600/Non-members
OR do both Leadership Bootcamp and Business Resiliency Bootcamp
$800/Arvada Chamber Members
$1000/ Non-members
Partial scholarships are available- please note your need for a scholarship in the application.
Participants will be given more information prior to submitting payment. Please don't hesitate to reach out to (303) 424-0313 or email samantha@arvadachamber.org with any questions you may have!